Tips for Moving Out on Your Own: Why You Can't Afford It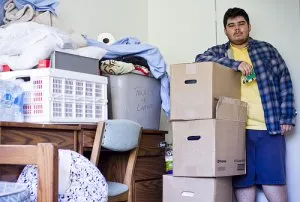 As the economy slowly improves and young adults are finally able to start their careers, many are moving out of their childhood homes and starting off on their own. For most  18-year-olds, the idea of getting an apartment of their own is exciting — but moving out is often more expensive than they ever imagined. If you're planning to move into your own first apartment, preparing ahead for the costs and saving properly before making the move will ensure you don't end up back home with Mom and Dad.
Running the Numbers on Moving Expenses
While moving costs can vary by neighborhood, there are a few general moving expenses you need to keep in mind when you're out on your own.
Rent/Housing Expenses
Easily one of the biggest monthly expenses, finding a good apartment that is affordable is key. USA Today noted that the median rent for an apartment is $855 a month. Having a roommate or two can be very cost-effective, but make sure you agree beforehand — and in writing — how the bills will be divided.
Besides covering rent, you'll need to figure out utility bills such as electric and renter's insurance. Yep, many apartment complexes now require that you secure a rental insurance policy when you get a place with them. It's for your protection and it is very cheap. Just do yourself a big favor and shop around. The company the complex offers for a policy may not be the cheapest and it may not give you enough coverage.
Food and Other Expenses
A person has got to eat, right? If you're just starting out, learning to develop some cooking skills can not only save money, but it can help you eat more healthily and become popular. (Yes, people gravitate to people who can cook.)
When you eat out with friends, you can make your dollar go further if you follow these tips:
Eat vegetarian. Some of the better deals on a menu are the vegetable-heavy dishes.
Get the half portion. As some restaurants are becoming more health conscious, getting the smaller size for a meal can help you eat out without going broke.
Go on a slow night. Weekends are busy and packed with people. You can save money with weeknight restaurant specials and get a better atmosphere by switching when you go out.
Cars and Transportation
While cars are common for many young adults, a vehicle may not be the best option for you — or even needed — depending on where you live. If you're moving to a metropolitan area, check out the mass transit system. You may find that it can take care of your needs and you can save big money. You can also plan to live near when you work and simply walk or bike to your job.
How to Save Money on Moving Expenses
The good news is that typically 18 year old have relatively few items accumulated so moving is less of a chore than someone who has a house full of stuff. It can be much easier and affordable to have a moving party with your friends than to rent a moving truck, which can cost around $100/hr.
With a moving party, provide the food and drinks and ask your friends to help out for a couple of hours. The move itself will go quickly with lots of hands helping out. When moved from one apartment to another a few years ago, we grabbed some great food at Costco. Seeing as their portions are big, the costs were relatively low ($100) and we got plenty of food for everyone.
Preparing for the Move Out – Saving Ahead of Time
If all these expenses have got your head spinning and your wallet shrinking, then you may want to hold off just a bit until you have some money saved up. That would include getting your security deposit ready and emergency fund ready. Check out your local rental listing to get an idea of how much you need to save for a security deposit and start asking around to get an idea of what would be a good bargain for your first place.
Start small and automate your money transfers to put into savings. You'll become use to the slightly small paycheck as you start build your moving out funds. Once you've made the move, make sure you still something left in that account for emergencies.
While you may not think of it as an adult choice, seeing the money saved growing your bank account can certainly put you one step ahead of your peers.
I'd love to hear you about your experiences. How many of you have made the move recently? How much were your out of pocket expenses?
Image: charliekjo via Flickr