6 Daily Habits That Stretch Your Paychecks Further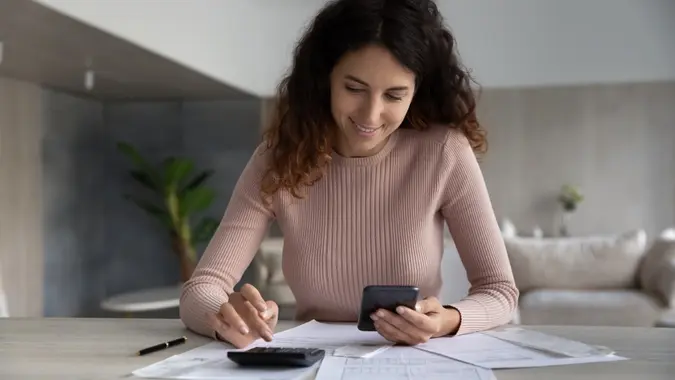 fizkes / iStock.com
Last year, inflation hit a 40-year high. And Americans have been feeling the pinch. More than half (58%) of all Americans currently live paycheck-to-paycheck, according to the CNBC Your Money Financial Confidence Survey. Additionally, about 70% say they feel stressed about their finances, mostly due to inflation, economic uncertainty and rising interest rates.
Though inflation is finally showing signs of slowing this year, it's still far from the Federal Reserve's target of 2%. And interest rates are expected to continue rising. So what can you do to stretch your paycheck in the meantime?
With a few small changes to your daily habits, you can find extra savings and help your dollars go further.
Review Your Daily Transactions
One of the most effective ways to stay on top of your finances and prevent overspending is checking your credit card and bank account transactions on a daily basis. "Otherwise, it's easy to overlook the true amount you've spent at any given moment until it's too late, and you don't have enough cash to cover necessary bills or other unexpected expenses," said money-saving expert Andrea Woroch.
She recommended signing up for a budgeting app such as Mint, which links all your financial accounts in one place and makes it easy to check in on your spending and saving habits at any given time. "They even offer alert settings when bills are due or you're about to go over in any budget category based on your settings," Woroch added.
Take Our Poll: Are You Concerned About the Safety of Your Money in Your Bank Accounts?
Plan Meals in Advance
Food costs are one area that inflation hit the hardest. Derek Sall, founder of Life And My Finances, said that putting in the effort and time into planning meals ahead of time has helped him create grocery lists and stick to them. "This meant that I was able to avoid impulse buying food and snacks at the store, knowing very well it was a silly short-term craving," Sall said. "Moreover, knowing your diet and what kind of food you eat helps make sure that you can buy ingredients in bulk or ingredients that are on sale." 
Buy Generic
Another way to save money when shopping for groceries or household items is to opt for generic or store-brand products instead of name-brand ones, according to Puja Sohi, CEO and co-founder at Core Family Office. "These are often just as good, if not better, and can save you a significant amount of money." In fact, buying generic products could save you as much as 25% on your grocery bill.
Pay With a Cash-Back Credit Card
Using a credit card to pay for daily essentials like groceries and gas can give you extra cash back in your pocket and help you stretch your income further, according to Woroch. After all, you might as well earn money back on spending you have to do anyway. The key is to pick a cash-back card that offers the highest rewards in spending categories that match your shopping habits. And of course, it's important to only charge what you can afford to pay off at the end of each month, otherwise, interest charges will quickly wipe out any cash-back savings.
Or Stick With Cash
Alternatively, if you don't want to risk accumulating debt with a credit card, try going on an "all cash diet." Sohi said that using cash instead of credit cards for your daily expenses can help you keep track of your spending and avoid overdoing it. 
To keep your cash organized, consider taking it a step further and using the envelope method of budgeting. This involves using labeled envelopes (such as "gas" and "cellphone") as a way of allocating various budgets throughout the month. Once you decide on the budget amount for each envelope, that's the only fund you can use for the entire month. Once you run out of cash, you stop spending in that category.
Take Pictures of Every Receipt
Woroch said you can also turn everyday purchases into cash back by using a free rewards app like Fetch. "Get in the habit of taking a picture of every receipt when you complete a transaction to earn points toward free gift cards like Amazon and Target," she explained. Those gift cards can then be used to offset future purchases.
More From GOBankingRates