Fight Inflation: Buy These 10 Items Now Before Prices Go Up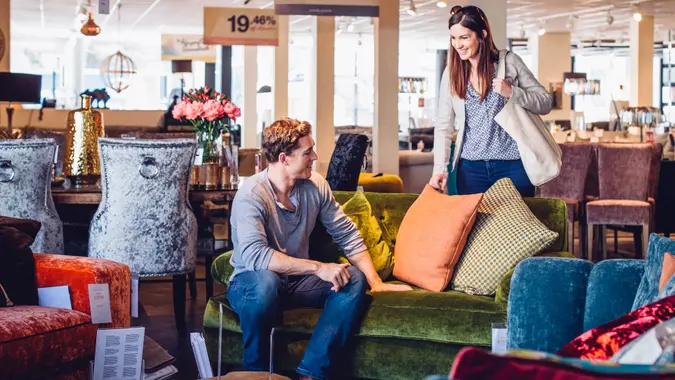 SolStock / Getty Images
As the U.S. continues to navigate through the pandemic, costs of goods across the spectrum are rising, putting an extra strain on consumer's wallets. In 2021, we saw the prices of everything soar — from bacon and eggs to used cars and rental vehicles. The root cause of the inflation points back to the major global stressor we're still battling: COVID-19.
Economy Explained: Inflation's Ups and Downs — How It Impacts Your Wallet
In the News: Rising Inflation Is Causing Many Retirees To Worry About Their Nest Eggs
"The world went into a deep freeze where demand fell off a cliff for the first half of 2020 due to uncertainty and fears, then the panic buy of essentials and rise of eCommerce and contactless delivery drove unforeseen demand surge that has continued," said Shri Hariharan, corporate vice president, Blue Yonder, a supply chain management provider. 
"Then came the release of pent-up demand, where savings from discretionary spending  and the stimulus checks/tax breaks drove consumers into alternate areas of spending (over holidays, vacations, travel, outside entertainment). We saw massive increase of in-home consumption, spending on home improvement,  wellness, apparel and automobiles." 
Hariharan explained that when manufacturing, distribution and shipping lanes were jammed, the global supply chains were unable to recover. "That remains a challenge," Hariharan said. 
Inflation isn't looking like it will die down anytime soon either, and the surge in pricing will likely extend to other categories and products. So, act now to save on these items before inflation hits them, too.
Coca-Cola, PepsiCo and Mondelez Products
"Coca-Cola and PepsiCo have announced general price increases due to continuing supply-chain issues as well as staffing problems," said Julie Ramhold, consumer analyst with DealNews.com. "Mondelez products will also see a price increase of 7% to start at the beginning of the year, so it's best to stock up on things like Oreos and Sour Patch kids now before prices (potentially) get even higher."
Learn: 5 Times Inflation Is Actually Good for Your Finances
Clothing
"Clothing prices are expected to climb by around an average 3%, but some companies are forecasting price increases of 10% or more," Ramhold said. "If there are clothing items you need right now, especially if they're staples and not necessarily related to any one particular season, you might want to go ahead and pick them up before prices go up."
Electronics
"We're already seeing problems with less inventory due to the global chip shortage, which means the scarcity will force prices higher, or at the very least, prevent discounts," Ramhold said. "If you can get your hands on something you want and can afford the list price, it's basically in your best interest to go ahead and grab it while you can. If you wait, the odds are good that the item will sell out and restocks are hard to predict for some products right now. And if you aren't worried about it selling out, then you can count on the prices increasing."
Read: Understanding Interest Rates — How They Affect You and the US Market
Furniture
"If you're still working from home and need new furniture for it, now's the time to get it," Ramhold said. "Thanks to shipping containers increasing shipping costs, furniture prices are expected to climb by at least 10% this year, although industry experts are forecasting they could go even higher."
Gasoline
"Gasoline saw a massive spike in its prices in recent years and is expected to rise in the upcoming months as well," said Kevin Miles, a finance analyst from loanadvisor.sg. "Oil-producing countries curtailed their gas production in the early pandemic, which led to rapid price hikes in the global market."
Related: Cars, Electricity and the Other Areas Hit Hardest by Inflation in 2021
Meat, Poultry and Fish
"Now is the time to stock up on meat, poultry and fish, since they can last up to a year in the freezer," said Nate Hansen, CPA and founder, SuperFastCPA. "These items have already gone up in price anywhere from 9% -19% in the past 12 months, and they will continue to get more expensive in the near future. The price of these items are so sensitive to inflation because there are so many inputs that go into their production: things like feed, handling, processing and transportation. So when all of these costs get more expensive, it quickly drives up the price of meat, poultry and fish."
Find: Planning a 2022 Wedding? Here's How Inflation Will Affect Your Budget
Cheese  
"Cheese prices have increased 11-12% in the last 12 months, and will only keep getting more expensive," said Hansen "A lot of people don't know that harder cheeses or shredded cheeses do great in the freezer, especially if they will be primarily used in meals where it will be melted later on, which makes it a great item to stock up on. If you're going to put cheese in the freezer, it will do best in its original packaging. Cheese, like the other food items on this list, increases in price so quickly during inflation because it takes a lot of inputs to produce cheese and ship it to your grocery store."
Apple Products 
"Now is a good time to consider upgrading your Apple products because it's expected that we will see a price hike across all of their products in 2022," said Jenna Carson, financial partner at Money Lucid. "This is partly fueled by inflation across all technology materials, rumors circulating that international production is decreasing and latest research will be a red flag to the company. A report out recently said the average American keeps their phones for over 30 months before replacing and their computer software for over five years — this could be the catalyst for hardware companies to increase prices, if sales are dropping for this reason."
More: What Did Biden and Congress Mean for Our Wallets in 2021?
Kitchen Appliances 
"If you're in the market for new appliances in the next year or so you'll want to grab them sooner than later if you want to find the best deal," said Sylvia Fountaine, CEO and founder at Feasting at Home. "In the last year appliance prices have shot up 10% to 20% as wholesale costs increase and overall supply decreases. With the average rise of appliance costs at 3% per year, we're likely to see far higher inflation rises again in 2022."
Coffee 
"I highly recommend stocking up on coffee (that you brew at home) now, as prices will be going up significantly in the next couple of months," said Brian Mellin, founder and CEO at Joe 2.0 Coffee. "Coffee has been one of the biggest casualties of general food inflation, and the prices of coffee beans have increased 90% over the past several months. This has been driven by a confluence of factors including the supply chain crisis, and dry weather caused by climate change in many of the world's coffee producing countries."
More From GOBankingRates