I'm a Financial Advisor: 6 Money Questions I Get Asked the Most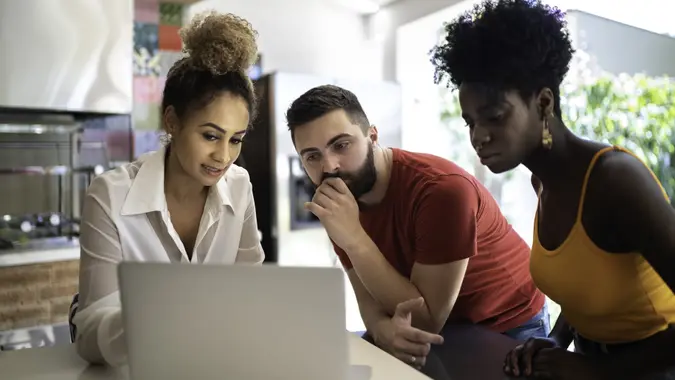 FG Trade / iStock.com
If you have a money question, a financial advisor has an answer.
GOBankingRates' 2023 Top Money Experts survey polled 1,045 Americans on where they get their money advice. Over the last year, 18% of overall respondents said they went to an accountant or financial advisor. Broken down by age ranges, 30% of respondents 65 and over received personal finance advice from a financial advisor.
Clients ask financial advisors many questions ranging from investing to retirement planning. GOBankingRates spoke to four financial advisors to learn about the top questions clients ask them regarding the future of their finances. 
How Can I Reduce What I Pay in Taxes?
Many clients ask Jim Eutsler, CFP and wealth advisor at HCM Wealth Advisors, how they can reduce what they pay in taxes. As a financial advisor, Eutsler said he is able to walk people through the complexities of the U.S. tax code and help determine options for reducing their tax liability.
Which Investments Will Make Me the Most Money?
This is another common money question clients frequently ask Eutsler. 
"This question almost always involves a bolt-on discussion around volatility because people need to realize no investment goes on a sustained upward linear path indefinitely, or everyone would put their money in it," said Eutsler. 
Should I Do Anything Differently To Protect My Portfolio From Market Uncertainty?
In times of economic or market uncertainty, Nick Pileggi, CFP and senior wealth advisor at Marshall Financial, said clients will ask if there's anything they need to do differently to protect their investment portfolios. 
Many people see a breaking finance story on the news or social media and worry how it may affect them. Pileggi said working with a financial advisor can better delineate how this news may or may not impact their specific financial situation.
Should I Open a Roth IRA or a Traditional IRA?
Asher Rogovy, chief investment officer at Magnifina, said many people ask whether they should open a Roth or Traditional IRA. The exact answer, Rogovy said, depends on individual tax situations. 
"If you expect your tax bracket to increase by the time you retire, a Roth IRA is better. If it will decline, a Traditional IRA is better provided that you invest your tax deduction from the IRA contribution," said Rogovy. "For most of my clients, younger ones benefit more from a Roth IRA and clients closer to retirement are better off contributing to a Traditional IRA."
What's Going To Happen With the Stock Market in the Next 6 Months?
This is a common money question Paul Peeler, financial advisor at Integrated Financial Group and founder of The Preparedness Project, receives from his clients. 
While no one person, financial advisor or otherwise, has the exact answer to this question, Peeler said an experienced and ethical financial advisor can enter a conversation with clients and help them place information into context within their life.
How Do I Know If I'll Have Enough Money To Retire?
Every financial advisor GOBankingRates spoke to is asked questions about retirement. Other iterations of this question include asking when you can retire and whether you're still on track financially to retire. 
To answer this question, Eutsler will walk individuals through specialized financial planning software and ask clarifying questions based on years of advising experience about what matters most to them.
"If the final outcome is what they were targeting, I tell them to keep it up," said Eutsler. "If the outcome is not what they were expecting, we discuss ways to get them there."
More From GOBankingRates