Ignorance About Retirement Savings, Budgeting & More Is Costing Americans Big Money — Why Financial Literacy Matters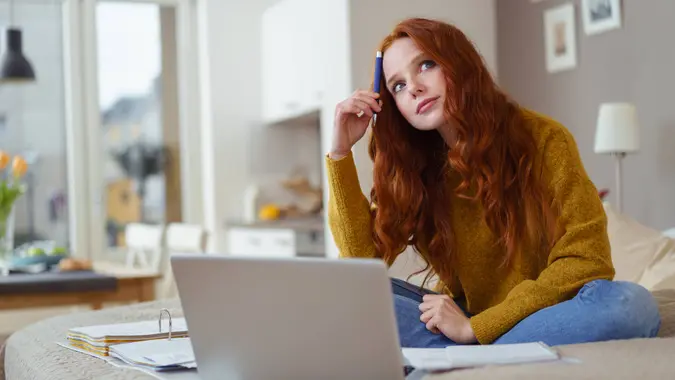 ©Shutterstock.com
According to a recent GOBankingRates survey, most Americans believe their lack of financial knowledge has resulted in real monetary losses. Over 10% of respondents revealed that it has cost them more than $10,000 in the past year alone, and a staggering 62% of participants reported losses ranging from a cent to $10,000. Only a quarter of those surveyed reported no financial damages.
Clearly, financial illiteracy is an issue that needs to be addressed throughout our society. Another way to put it — a lack of money knowledge can be costly.
Here are several reasons financial literacy is an important life skill you can't ignore. 
Better Manage Your Finances
Others studies have also shown that most Americans lack financial literacy. According to the 2022 TIAA Institute-GFLEC Personal Finance index, U.S. adults correctly answered only 50% of the index questions, which cover a range of topics including debt, saving and investing. 
Without financial knowledge, it can be difficult to make the right investment decisions and confidently allocate your funds in a way that'll yield positive returns in the future. By taking the time to educate yourself, you'll be more in control of your money and better equipped to make financial decisions on your own. 
Take Our Poll: Are You Concerned About the Safety of Your Money in Your Bank Accounts?
Avoid Debt Traps
Debt traps are vicious cycles that can be challenging to pull yourself out of, especially if you lack financial literacy. While credit cards and loans might seem like easy solutions to our money problems, not knowing how to manage them wisely can often leave you struggling with payments for years. 
With financial literacy, you can better understand the terms and conditions of loans and credit cards and make informed decisions about borrowing money. Plus, you'll know how to recognize the signs of predatory lending and avoid falling for lenders who take advantage of borrowers who don't fully understand their options. 
Empowers You To Plan for Your Future 
Understanding financial concepts such as compound interest is crucial if you want to achieve financial freedom and plan for retirement.  
For example, let's say you start investing $200 per month (assuming a 6% return) at 25. By the time you turn 65, you'll have a nest egg worth close to $400,000. However, if you wait until 35 to start saving $200 a month, you'll only have half of that amount by age 65. By taking control of your finances and educating yourself on financial concepts, you could unlock a lifetime of financial stability. 
Ways To Educate Yourself on Money 
Don't worry if you're not where you want to be in terms of your knowledge on money — It's never too late to improve your financial literacy. Here are some tips to help you get started. 
Learn the Basics of Budgeting
Without a budget, it's easy to find yourself drowning in bills and expenses that you just can't seem to keep up with. And even if you make $100,000 a month, you could still struggle to keep your finances afloat if your expenses are greater than your income.
So, to become better at managing your money, you must have a budget. Here are some ways to get started.
Using a budgeting app. Free budgeting apps like Mint and Honeydue are great tools to help you categorize and track your expenses. These apps connect to your checking accounts and will automatically update every time you make a purchase. 
Choosing a budgeting method. If you're not tech savvy and prefer not to use budgeting apps, you can still create budget by following budgeting methods like the 80/20 or 50/30/20 methods. The former suggests allocating 80% of your income to expenses and the remaining 20% to savings, while the latter recommends dividing your expenses into three categories: 50% for necessities, 30% for discretionary spending, and 20% for savings. 
Using a budgeting worksheet. Another way to learn how to make a monthly budget that fits within your lifestyle is by using this budgeting worksheet to track your spending. This budgeting worksheets help you identify your fixed and variable expenses so you have a better idea of where your money is going each month. 
Read Financial Books and Blogs, Listen to Podcasts
With the myriad of financial books, blogs, and podcasts available online, it's never been easier to educate yourself on financial topics. Here are some of our favorite resources you should look into:
Best finance books to help you build wealth:

'Get Good with Money' by Tiffany Aliche
'21st Century Wealth' by Rachel Podnos O'Leary
'The Richest Man in Babylon' by George S. Clason
'How to Turn $100 into $1,000,000' by James McKenna
'Zero Debt' by Lynnette Khalfani-Cox
Best finance podcast for financial advice: 

The Personal Finance Podcast
Suze Orman's Women & Money
The Side Hustle Show
Millionaire Mindcast
Afford Anything
Best finance blogs for personal finance tips:

GoBankingRates
Money Crashers
Money Under 30
The Penny Hoarder
Wise Bread
Know Your Credit Health
Your credit report is like your personal financial report card. Creditors like mortgage lenders scrutinize it closely to determine your creditworthiness and decide whether to lend you money. If you have multiple late payments and negative items on your credit report, you may have trouble securing credit in the future.
So, if you haven't already, head to annualcreditreport.com to get a free copy of your credit report from the three major credit bureaus — Experian, Equifax, and TransUnion. By staying up to date and monitoring your credit report regularly, you can catch any inaccuracies or fraudulent activity early, and know whether you need to improve your credit health. 
Talk to a Financial Advisor
If you're serious about improving your financial literacy, consider hiring a financial advisor. While this may not be the most affordable option, it could be worth considering if you want an expert to guide you through the process.
Financial advisors can help you create a personalized financial plan that's tailored to your lifestyle and goals. They can also provide valuable guidance on how to manage your investments, reduce debt, and maximize your retirement savings. And most importantly, they will review your current financial situation and offer actionable advice on how to get your finances back on track.
More From GOBankingRates