12 Best Personal Finance Blogs To Help You Reach Your Financial Goals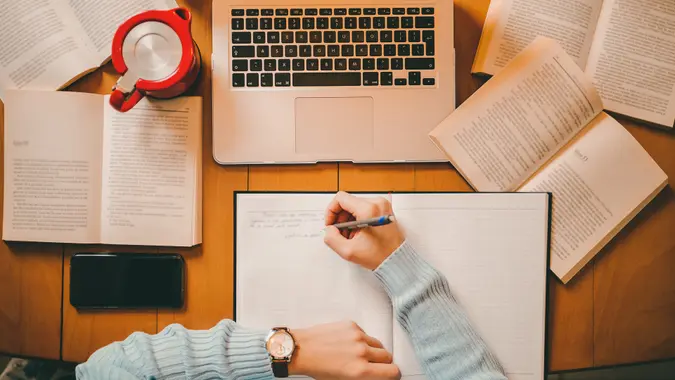 Ivan Pantic / Getty Images/iStockphoto
GoBankingRates appreciates readers who turn to this website as a top source of news and personal finance tips. But it's always good to get different perspectives and viewpoints when it comes to topics like budgeting, investing and wealth-building.
Top 12 Personal Finance Blogs
As finance writers, of course, the GOBankingRates team is made up of voracious readers, as well! Here's a sampling of some of the best personal finance blogs that can help you achieve your financial goals — whether that involves picking up a side gig or joining the FIRE (Financial Independence, Retire Early) movement.
Or, you can aim for the same achievement personal finance blogger J. Money recently accomplished: WIFEFI, or Wife Enabled Financial Independence. Read on to find out why his blog, Budgets Are Sexy, made this list of the top 12 personal finance blogs, and see the other top picks, too.
Inspired Budget
Inspired Budget identifies as "the #1 website on the internet where women can come to learn how to manage their money in a totally compassionate, fully supported, non-judgmental environment." Featured in multiple news outlets, including Forbes and Business Insider, blogger Allison Baggerly shares her keys to achieving your money goals through careful budgeting.
A proponent of the envelope method, where you allocate funds for specific purposes each month, Allison offers tangible tips for saving money. Her blogs are breezy and fun to read, with her friendly voice shining through in every word.
Penny Pinchin' Mom
Penny Pinchin' Mom is another fun, woman-owned personal finance blog. Tracie Forbes, aka the Penny Pinchin' Mom, emphasizes coupons, deals and DIY tips to help you save money. Tracie and her husband paid of $37,000 in debt in just over two years, and she is a strong believer in couponing.
However, the blog also talks about financial literacy for children and adults, budgeting and making smart money choices. Whether you come for the coupons and stay for the financial advice or simply like Tracie's style, you're sure to find actionable takeaways at Penny Pinchin' Mom.
Money Crashers
Founded in 2009 by Gyutae Park and Andrew Schrage to help deliver financial education to individuals and families who need it most, Money Crashers has grown to be a comprehensive resource for all things personal finance. Money Crashers works with top finance experts and personal finance writers to deliver tips about saving for retirement, choosing the best loan products, managing money and more.
Easy to navigate and chock full of content, Money Crashers is designed as a personal finance site for regular people looking to get out of debt, save for retirement and build wealth. All the content is written in a straightforward, informative style that helps make money matters simple to understand.
Family Money Adventure
Kevin and Barb Payne started Family Money Adventure after spending the first 20 years of their married lives learning how to manage money. A combination of videos — the Family Money Adventure Show — and written content, the website aims to help you "make money moves that feel right for your family."
Whether you are looking for travel tips or friendly inspiration, you should make Family Money Adventure one of the stops on your personal finance journey.
Budgets Are Sexy
J. Money has been a personal finance blogger since 2008, and it's been fun to see how Budgets Are Sexy has evolved. Today, he posts content sporadically, but the value of his blog has stood the test of time. In November 2022, he declared himself "Financially Independent," admitting that it's possible because his wife still works. He writes that, somewhere around the $400,000 mark, he achieved "financial peace."
If you're looking for a finance blog known for transparency and a casual, witty tone, J. Money delivers. You'll also find budgeting resources and tips for minimalist living.
Money Under 30
A comprehensive website with credit card and bank reviews, finance and investing tips and budgeting tools, Money Under 30 helps Gen Z and young millennials navigate the money landscape. Founded in 2006 by David Weliver, who paid off $80,000 worth of debt in three years, today the site features tons of content from a team of talented finance writers.
Crediful
Delivering "actionable tools and insights you need to take control of your finances," Crediful launched in 2007 as the AAACreditGuide. Today, Crediful works with a team of finance writers, editors and experts in the field to deliver in-depth credit card and bank reviews, financial education, investing basics and more.
Crediful is easy to read and informative, offering the tools and resources you need to help you make smarter money decisions. Reviews and other topics are extensively researched and deliver honest feedback about a variety of banking, credit card and investment products.
The Penny Hoarder
Find tips on saving money, making money and stretching your money further through careful budgeting at The Penny Hoarder. Fun and creative content, updated daily, makes The Penny Hoarder one of the top picks for personal finance websites.
The site also includes the beta version of The Penny Hoarder Academy, a collection of resources to help you learn how to manage money. You'll find a fairly active community where readers discuss topics on money management, investing and savvy shopping.
Wise Bread
Promoting "Living Large on a Small Budget," Wise Bread offers pages upon pages of personal finance tips and advice. The website's categories include Credit Cards, Personal Finance, Frugal Living, Career and Life Hacks. That means it basically covers every segment of finance, from earning more to saving money.
The Life Hacks section is especially interesting, with thought-provoking articles like, "Should You Pay Your Kids for Good Grades?"
The Krazy Coupon Lady
If you're looking for a finance blog that is heavy on the deals to help you save money, it's Krazy Coupon Lady to the rescue. Most finance bloggers agree that couponing can help stretch your budget. The Krazy Coupon Lady takes it to an extreme, with deals as low as 34 cents for 7 popular name brand grocery items, from organic pasta sauce to Kraft Macaroni and Cheese.
Some of her deals take patience and the use of digital money-saving apps like Ibotta. But you'll also find coupons and money-saving tips on the website, making it one of the best places to visit if you're interested in, ultimately, building wealth.
Debt Free Guys
Debt Free Guys was launched and is run by David Auten and John Schneider, a married couple who also host the podcast Queer Money. Their site and podcast are devoted to helping the LGBTQ+ community manage money and achieve financial freedom.
With the tagline, "Live fabulously, not fabulously broke," the Debt Free Guys blog offers honest advice on how to make money, save money and pay down debt. The couple admits to living beyond their means at one time, as compensation for past pain and bullying experiences.
Since so many aspects of money management require self-awareness — the ability to really pinpoint why you are spending money you don't have — this blog offers a unique angle that can help many people.
Ramsey Solutions
Ramsey Solutions, the website bearing bestselling personal finance author Dave Ramsey's name, features content from Ramsey and other top finance experts, deemed "Ramsey Personalities." With a no-nonsense tone and practical tips, Ramsey Solutions can help you navigate life's stickiest financial situations and answer hard-to-ask questions like "Do Stay-at-Home Parents Need Life Insurance?"
Not everyone is willing to follow Ramsey's philosophy of living without credit cards, but there's still a lot to learn from the website.
Final Note
Experts in the field of neuroscience say reading for at least 15 to 30 minutes a day leads to better brain health — and reading about personal finance can help you reach better financial health, too.
Personal finance websites can provide inspiration, tangible tips and insights from experts. It's a smart idea to add a few blog posts per day to your reading routine. You've started here at GOBankingRates, but the sites on this list are also worth a visit.
FAQ
Here are some quick answers to common personal finance questions.
Are personal finance blogs profitable?

They can be! If you're willing to put in the work to gain a following, you could make money through hosting ads, affiliate marketing, sponsored content and even selling merchandise.

What are the four rules of personal finance?

Four important rules of personal finance are:

What are the five pillars of personal finance?

The five main components of personal finance are income, spending, saving, investing and protecting your future.

What is the No. 1 rule in personal finance?

The first rule of personal finance is to save before you spend – also commonly phrased, "pay yourself first."