Gen Z: 5 Not-so-Obvious Financial Goals Worth Setting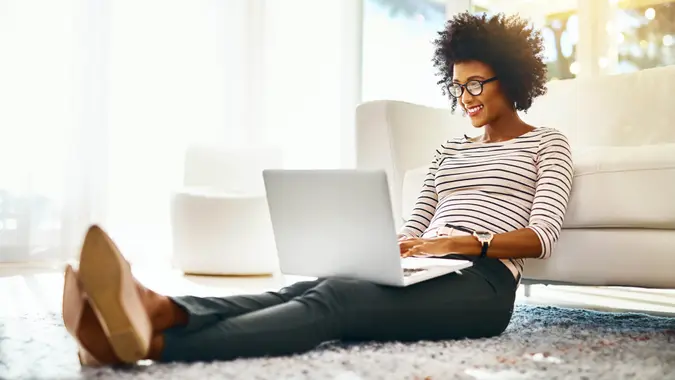 PeopleImages / Getty Images
When it comes to financial goals, it's often easy to write them down or tell yourself you'll start saving next week, but it's far more challenging to actually follow through with the goal. If you are a member of Generation Z and newer to the financial sphere, creating a budget and investing might seem like a daunting task. Further, if setting a financial goal seems overwhelming, you will likely put it off and potentially increase your financial stress and worsen your situation. In an effort to make healthy financial habits more feasible and less overwhelming, GOBankingRates has broken down five unusual financial goals that every Gen Zer can start in 2023. 
Experts: Here's How Much You Should Have in Your Checking Account
Find Out: With a Recession Looming, Make These 3 Retirement Moves To Stay On Track
Keep reading to discover some fun and practical financial goals that will help you save more money every month and improve your financial discipline.
Avoid Impulse Buying
Fighting the urge to not spend impulsively is one of the most challenging obstacles to overcome — especially in today's consumerist society where Gen Z is constantly watching spending hauls and seeing purchase recommendations online. While it is a challenging financial goal to set, an important goal for Gen Z to consider setting is avoiding impulse buying. 
Impulse buying often leads to poor budgeting habits and financial stress. Despite the initial serotonin boost of buying something online, the later financial anxiety is far less pleasurable. If you are finding yourself struggling with impulse buying, a great way to fight against this poor habit is by having an accountability partner. Asking a financial planner or family member to help you spend responsibly can help you build financial discipline and focus on spending money on financial needs.
Invest In You
Similarly to practicing self-care and taking time to do tasks and activities for yourself, it's important to invest in yourself. If you are a member of Gen Z, you might be working an on-campus job or just entering the workforce and experiencing some financial insecurity due to high costs of living and student expenses, with limited time and credentials for a well-paying job. While it might feel impossible to save money now, if you can afford to set aside a small portion of your income, your future self will be very grateful.
A helpful way to think about this saving is to pretend your income is taxed a 5% to 10% "future self" tax that future you will be collecting from your paycheck. This practice can help you set aside money and stay motivated to save. By putting this money in an untouchable account, you will have a decent nest egg at the end of the year for emergencies, travel and other goals.  
Take Our Poll: How Much of a Tax Refund Do You Expect in 2023?
Have a Zero-Spending Challenge
What better way to save money than by not spending it? Although this is much easier said than done, a zero-spending challenge can help you save money by challenging yourself to avoid buying things on certain days of the week and putting more thoughtful planning into your shopping and spending. For example, you could make Mondays and Wednesdays zero-spending days and avoid buying anything on these days. By making these days no-spending days, you might feel empowered to do grocery shopping over the weekend in order to not need to buy takeout during the week. 
The key takeaway with a zero-spending challenge is to plan and contemplate purchases before making them. Although it might be easy to simply order everything you were planning to order on Monday on Tuesday instead, this will defeat the entire point of the challenge. This practice should be a manageable and realistic way to plan purchases in advance in order to save money. 
Financial Literacy
Often forgotten about, financial literacy is an essential skill to learn and the sooner you are able to grow your financial literacy, the better. For Gen Zers, financial literacy and proper budgeting can be very beneficial when it comes to getting out of sticky financial situations.
"Financial literacy empowers young people to develop a sound understanding of money management, budgeting, and financial decision-making," said Gary Gray, co-founder of CouponChief, a site for online coupons with a mission to help users save money. "It encourages productive financial habits and gives them the tools to handle the complexities of saving and spending."
Through basic financial understanding, Gen Zers can make informed financial choices and focus on saving and growing their wealth without making risky financial choices.
Diversify Your Investments
If you are a member of Gen Z, investing might seem scary and overwhelming. From retirement planning, saving and the stock market, it can be difficult to feel prepared to enter into an area of finances where you may have little experience. When it comes to investing, one of the most important decisions to make is how to diversify your investment portfolio. In other words, if and how much you want to invest in bonds, equities, EFTs and mutual funds and real estate. 
"A heterogeneous investment portfolio is crucial for managing risk and maximizing profits," said Andrew Lokenauth, finance expert at BeFluentInFinance, a website dedicated to helping people make smarter financial decisions. "In addition to stocks and bonds, alternative investments such as commodities, private equity and Real Estate Investment Trusts (REITs) can broaden one's investment perspective."
Investing in multiple areas can be very beneficial for Gen Zers because there is less risk in having multiple assets and it is a highly effective way to build wealth.
More From GOBankingRates