Grant Cardone Says a Recession Is Coming, Here Are 3 Ways He's Preparing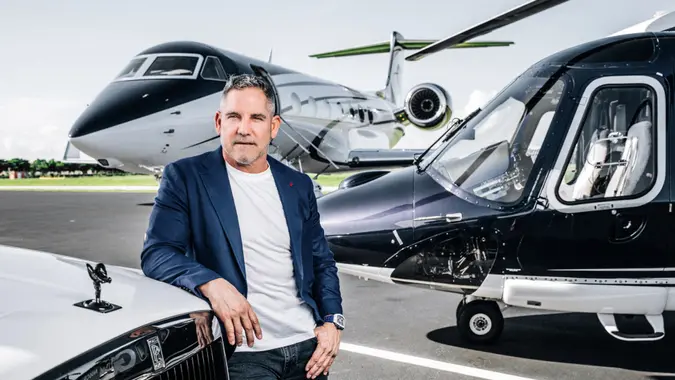 ©Grant Cardone
There was a time not long ago when most economists and investors were warning Americans to brace for a near-certain recession in 2023. So far, the downturn hasn't fully materialized, aided by a somewhat stable economy fueled by steady job growth and surprising consumer spending despite high inflation.
Many experts have backed off their ominous predictions, either postponing recession talk until 2024 or cutting it out altogether. For Grant Cardone, CEO of Cardone Capital, an economic decline is still very much a real threat. In short, "recession is coming," according to the bestselling author and financial speaker.
"Everyone in America should plan for a major, serious, nasty, long recession," Cardone recently told GOBankingRates. "You can see signs of this everywhere — credit card debt is at [new] heights, automotive payments are hitting historical heights, used car pricing is coming down, real estate mortgages are at 22-year lows, people are starting to be late on their rent, not to mention all the commercial real estate some of the biggest institutions in the world are walking away from."
Taking to X on Sept. 11, Cardone doubled down on the inevitability of a recession, and provided three things he is doing to prepare. Want to know what Cardone is doing with his finances if a recession comes? Read on.
1. 'Accessing ALL Assets & Liabilities'
In the event of a recession, both liabilities and assets will need to be categorized and values determined. Making a comprehensive list of all of your assets and liabilities will enable you to sell off anything you don't need or which causes you to hold debt. Liquid assets can help you cover immediate expenses during a recession, so try to identify which assets can be easily converted into cash in the short term.
"Get rid of anything that you have a liability on that you can get rid of and recycle right now," Cardone told GOBankingRates. "If it's a liability and you can get rid of it, get rid of it."
"If it's an asset and you're not using it, if it's sitting in the garage and nobody's using it, sell it," he added. "If there's any stuff sitting around that will be an asset for somebody else that you're not using, dump it, sell it get, your money."
2. 'Increasing Targets thru Contraction'
Much of Cardone's success can be attributed to hard research and work, and jumping when others aren't. According to Grant Cardone TV (GCTV.com), "Don't wait for it (a recession) to get here operate like it is here now. Out work everyone now as though the contraction is fully here."
If you do whatever it takes to increase income, spend nothing and prepare to invest when real assets get cheaper, you'll be able to "steal when the market capitulates (throws up)."
3. 'Adding Systems to Scale'
Adding systems to scale during a recession can be a strategic move for investors and businesses looking to not only survive but also thrive in challenging economic times. This might involve expanding your customer base, increasing production capacity, entering new markets or embracing AI technology and systems that can automate and improve your processes.
"The only preparation for life's contractions is expansion," Cardone told GOBankingRates back in July. "Expansion is the only solution for a family's survival. You need to scale your business so it becomes recession-proof. It's important that you become 'too big to fail.'"
Grant Cardone is most famous for creating the "The 10X Rule" franchise, which oversees a portfolio of over $4 billion in multifamily properties. He will be hosting a 10X Your Business Summit on Sept. 15-17 in Aventura, Florida.
More From GOBankingRates