Grant Cardone Says 'Everyone in America Should Plan for a Nasty Recession': 4 Ways To Be Prepared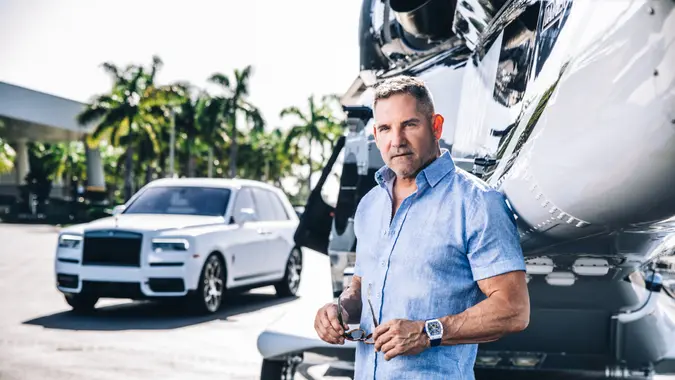 ©Grant Cardone
While economists have been going back and forth about whether or not we will see a recession (or are already in one), Grant Cardone, author of "The 10X Rule," believes that we are indeed on the cusp of an economic downturn.
"Everyone in America should plan for a major, serious, nasty, long recession," he told GOBankingRates. "You can see signs of this everywhere — credit card debt is at [new] heights, automotive payments are hitting historical heights, used car pricing is coming down, real estate mortgages are at 22-year lows, people are starting to be late on their rent, not to mention all the commercial real estate some of the biggest institutions in the world are walking away from."
Cardone, who will be hosting the 10X Your Business summit Sept. 15-17, said that given the inevitability of a recession, everyone should "plan for the hurricane."
Here's what he says to do to be prepared.
Improve Your Job Skills
Recessions typically mean layoffs, so now is the time to become irreplaceable.
"You need to get great at whatever you're doing right now," Cardone said. "You need to get great, because other people will be let go. Don't resent it, don't hate it, don't ask for a pay raise right now. You need to get so good that people are like, 'What is going on? You're a freak of nature!' If they're not calling you a freak of nature, you're going to lose your job in this cycle."
Reevaluate How You're Spending Your Time and Money
Make sure that every minute and dollar you spend is being spent wisely.
"Economize," Cardone said. "Quit wasting time in clubs. Quit wasting time on the internet. Quit wasting time looking at other people's selfies. Economize your time and money. Anything that is a waste of time, energy or resources, quit doing it."
Get Rid of Anything That's Causing You To Have Debt
"Get rid of anything that you have a liability on that you can get rid of and recycle right now," Cardone said. "If it's a liability and you can get rid of it, get rid of it."
Sell Anything You Don't Need
In addition to freeing yourself of liabilities, Cardone said to sell any assets that you no longer need.
"If it's an asset and you're not using it, if it's sitting in the garage and nobody's using it, sell it," Cardone said. "If there's any stuff sitting around that will be an asset for somebody else that you're not using, dump it, sell it get, your money."
This could be anything, such as an old bicycle that your kids haven't used in months.
"Reinforce your reserves right now," Cardone said.
More From GOBankingRates