12 Hidden Purchases Couples Often Keep Secret — and How They Can Upend a Relationship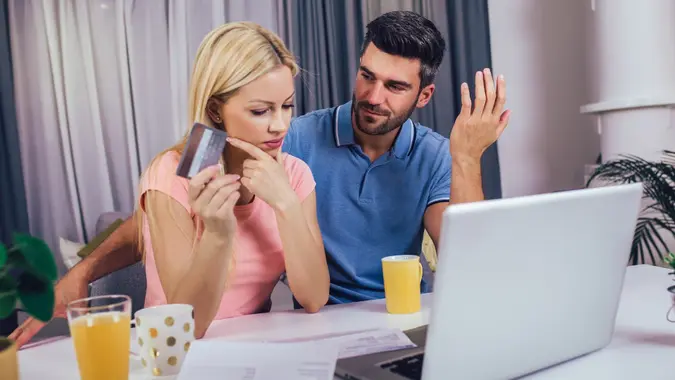 Jovanmandic / iStock.com
With the holiday season approaching, you may be stashing Amazon boxes in closets, attics or under the bed to hide gifts from your children and keep the spirit of Santa alive. But it's not just holiday shoppers who are hiding purchases.
Partners in a relationship often hide purchases from their significant other, a new study from last-mile delivery platform Circuit revealed. The organization's 2023 "Financial Infidelity Report" revealed that 64% of people living together in a committed relationship hid a purchase from their partner in the last year.
Hannah Workman, project manager working on behalf of Circuit, commented, "What surprised us the most about the survey findings was the revelation that, despite 1 in 4 respondents considering hidden financial behaviors as relationship cheating, and 1 in 10 stating that their partner's secret spending would be more hurtful than an emotional affair, the prevalence of such behavior remains high."
On average, people hide as much as $475 annually, but men hide their spending at a higher rate than women; men spend $545 while women spend $410. Women are 15% more likely to feel guilty about their purchase, the study showed, while men relished the excitement of illicit spending.
What purchases are people hiding, and why? The Circuit study revealed the top 12 purchases people lie about or hide.
What Purchases Are Couples Keeping Secret?
These are the purchases people hide most often:
Clothing (27%)
Gifts (26%)
Beauty products (21%)
Video games (16%)
Food or grocery delivery (15%)
Adult toys (15%)
Electronics (13%)
Shoes (13%)
Alcohol (11%)
Jewelry (9%)
Home decor (9%)
Cryptocurrency (8%)
You might scratch your head at some of the items on this list. Certainly, there's nothing to be ashamed about when buying food or paying for grocery delivery. It turns out, most of the reasons people hide purchases are related to their fears of what their partner might think, or because of their own feelings after the sale.
Why People Hide Purchases
In most cases, individuals do not have bad intentions. Survey responses imply that most people are concerned about how their partner might react.  
Here's the breakdown of reasons people hide purchases, based on survey responses:
To avoid judgement or criticism (41%)
Impulse-buying guilt (28%)
Insignificant purchase (27%)
Personal privacy (25%)
To surprise someone (23%)
To avoid financial disagreements (22%)
Fear disapproval (20%)
If you've made secret purchases and can't live with the guilt, there are ways to come clean, Workman told GoBankingRates in an exclusive email interview. "Honesty is key," she said. "[C]hoose a calm moment to confess, emphasizing your desire for transparency moving forward and acknowledging the mistake."
If your secret spending leaves you and your significant other in a financial bind, it may not be an easy or immediate fix. "Be prepared for a range of emotions, and offer a plan to address any financial concerns together," she said. "Building trust takes time, so patience and genuine remorse go a long way in rebuilding the relationship."
The Hidden (Emotional) Costs of Hidden Purchases
Hiding purchases is not without risks. More than 25% of shoppers got caught by their partner when they were hiding a purchase other than a gift, according to the survey. Many would agree, of course, that hiding gifts is an acceptable white lie when it comes to personal finance.
Of those who got caught hiding non-gift purchases, 43% admitted that they had relationship conflicts because of the secret purchase. One-quarter of respondents said they liken secret purchases to cheating.
Some secret financial behaviors may upset partners because they raise suspicions of a physical or emotional affair. More than half (54%) said that secret bank accounts, credit cards or large unexplained bank withdrawals and credit card charges would make someone question their partner's faithfulness.
If this sounds like you, Workman advised, "Initiate an honest conversation, expressing your concerns calmly and seeking to understand their perspective."
Expert Tips To Avoid or Fix Financial Infidelity
In general, any healthy relationship should have open communication surrounding finances, according to Workman. "Create an open and non-judgmental space to talk about finances, ensuring both partners feel heard and understood. Set clear financial goals together, establish a shared vision for the future, and discuss a budget that aligns with those objectives."
If you or your partner has been hiding purchases and suspect infidelity that goes beyond your bank accounts, it's especially important to open the books, so to speak, on the financial aspects of your partnership.
"Request transparency by sharing financial information and statements to rebuild trust and consider seeking the assistance of a financial counselor or therapist if needed. Establishing open communication and addressing underlying issues is crucial for resolving financial infidelity and strengthening the relationship," Workman said.
More From GOBankingRates