Food Stamps: 6 Delivery Services That Accept SNAP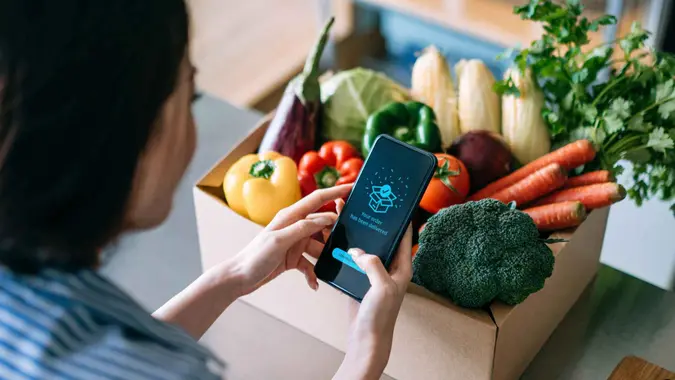 AsiaVision / Getty Images
Millions of Americans rely on the Supplemental Nutrition Assistance Program (SNAP), a federal program that provides monthly food benefits to low-income households to supplement their grocery budget. Most grocery stores and retailers accept SNAP EBT payments at the register, but some companies allow you to use your EBT card to pay for food delivery services.
Uber Eats recently announced it will offer SNAP recipients the ability to use their EBT cards to order groceries online in 2024.
"We know that online food delivery can have a meaningful impact in reducing barriers to fresh groceries, especially for the most vulnerable-including people living in food deserts, seniors, and those facing disabilities or transportation barriers," Uber Eats stated in a press release. "Helping to improve access to quality food is incredibly important to our work."
Here are additional delivery services that accept SNAP.
Amazon
SNAP recipients can use their EBT cards to order groceries through Amazon Fresh and Amazon.com and have them delivered to their front door. You can even get Fresh grocery delivery without Prime in select U.S. cities, CNBC reported.
Amazon charges non-Prime members between $7.95 and $13.95 for deliveries, but SNAP recipients can get an Amazon Prime membership at a discounted rate of $6.99 per month (regularly $14.99) to save on delivery costs.
DoorDash
DoorDash began accepting SNAP EBT payments in June of this year for grocery deliveries. SNAP recipients can order groceries on the platform through multiple grocery partners, including Aldi, Albertsons, Safeway, Meijer and participating 7-Eleven stores.
Make Your Money Work for You
To use your EBT card, enter your card information directly into the payment method section of the DoorDash app under "Program Cards." SNAP recipients can also get a two-month free DashPass membership, with $0 delivery fees on eligible orders.
Instacart
Instacart was one of the first grocery delivery companies to accept EBT cards — and the first to accept SNAP in all 50 states. If you haven't used your EBT card through Instacart, you can get free delivery on your first three eligible EBT orders of $35 or more through the end of the year.
To use your EBT card, add it as a payment method in your account settings. You'll also need a separate debit or credit card to cover fees, bottle deposits, taxes, tips and non-SNAP eligible items.
Target
Last year, Target announced that it would begin accepting SNAP EBT cards as payment for grocery shopping on Target.com. SNAP recipients can pay for SNAP-eligible groceries concerning contactless same-day services, including order pickup, drive up and same-day delivery with Shipt. There's no minimum fee or subscription required.
Uber Eats
Uber Eats recently announced that it would begin accepting EBT cards for online grocery orders through its app. USA Today noted that Uber has yet to reveal its rollout plan, but recipients can start using their benefits to access fresh groceries in 2024.
Walmart
Walmart accepts SNAP in stores and for online grocery delivery and pickup orders in all 50 states. You can add your EBT card information to your wallet on your Walmart.com account. Shop EBT-eligible items, select pickup or delivery from your store and enter your EBT PIN to complete the transaction. Walmart will also waive the order minimum ($35) if you select pickup and link your EBT card.
Make Your Money Work for You
More From GOBankingRates