Food Stamps: Could Battle Over Farm Bill Threaten SNAP Benefits?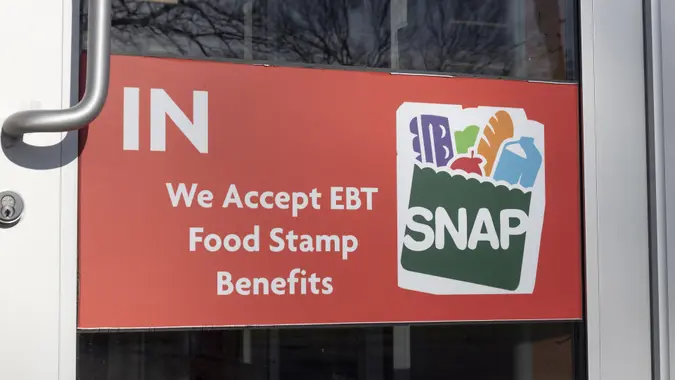 jetcityimage / iStock.com
Congress is embroiled in a battle over legislation that could lead to a reduction in food stamp benefits, though some experts say that's not likely to happen — if the legislation even gets passed at all.
At issue is the new farm bill, which is supposed to be passed by the end of 2023. To fund farm bill priorities such as crop subsidies, U.S. House Agriculture chairman Glenn Thompson (R-Pa.) suggested $50 billion in cuts, Successful Farming reported.
Those cuts mainly focus on climate change policies included in the 2022 Inflation Reduction Act (IRA) as well as public nutrition programs, such as food stamps, that are strongly supported by Democratic lawmakers. Thompson's proposal was "quickly rejected," Successful Farming noted, which means the clock is ticking on getting a farm bill approved by the end of the year.
Food stamps, formally known as Supplemental Nutrition Assistance Program (SNAP) benefits, are provided to low-income families to help them buy healthy food. The program is overseen by the U.S. Department of Agriculture and administered at the state level.
SNAP accounts for about 80% of farm bill spending, according to Successful Farming, which means less money is available for crop subsidies. Some lawmakers, mainly Republicans, want to shave the amount of money earmarked for SNAP to free up more funds to support farmers, but they have met resistance from Democrats.
As Successful Farming noted, Senate Agriculture Chairwoman Debbie Stabenow (D-Michigan) was "adamant against cuts" to SNAP — and she has plenty of company. Democrats in both houses of Congress have "shown little patience" for GOP attempts to cut SNAP or conservation funds included in the IRA climate legislation, The Hill reported.
Make Your Money Work for You
Meanwhile, Politico reported last month that "every Democratic member" of the U.S. House Agriculture Committee urged Thompson and U.S. Rep. David Scott (D-Ga.), ranking member of the committee, to avoid cutting SNAP and conservation funds.
That pushback apparently has led Thompson to abandon SNAP cuts. In an interview last week with The Hill, Thompson unveiled a plan intended to persuade Democrats to approve more money for cotton, rice and peanut farmers while avoiding cuts to food aid and securing the long-term future of IRA conservation programs.
But Congress appears "unlikely" to pass a new farm bill by the end of the year, The Hill noted. Some lawmakers continue to push for cuts to food stamps and conservation programs — something that has almost no chance of being approved by either President Joe Biden or the Democrat-controlled Senate.
The current farm bill, passed five years ago, is due to expire on Dec. 31, 2023. Scott has urged the agriculture committee to pass a temporary one-year extension to the bill instead.
"The extremism and cynicism that has taken hold of the broader House Republican Conference makes a five-year farm bill reauthorization by the year's end increasingly unlikely," Scott told The Hill. 
More From GOBankingRates