Experts: How Much Do You Need Saved for a Solid Financial Cushion in 2023?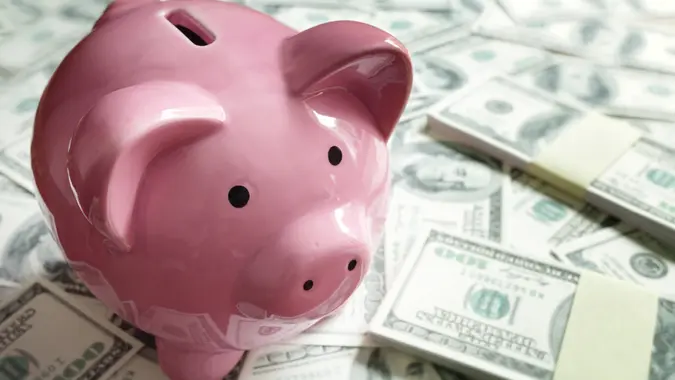 BrianAJackson / Getty Images/iStockphoto
An emergency fund can give you the peace of mind of knowing that no matter what happens, you have money saved up that can help you get by without having to take on debt. But how much do you actually need in this fund given the high cost of living in 2023? And are there other ways you can be financially prepared for whatever curveballs life throws?
I spoke to financial experts to get their insights on what it takes to build a financial cushion in 2023. Here's what they had to say.
Aim To Save About $34K
While everyone's financial needs are different, if you're looking for a hard money goal, Bryan M. Kuderna, CFP and host of The Kuderna Podcast, recommends a target of $34,000.
"As a CFP, I advise my clients to keep at least six months of their expenses in cash at all times," he said. "This general rule of thumb is adaptable to each household, as everyone has a different budget and lifestyle. With that said, a dollar amount can be estimated by looking at the annual average expenditures for a household, which is $66,928 per the [Bureau of Labor Statistics]. This would create a target savings of about $34,000."
Holly D. Johnson, personal finance expert and founder of the Frugal Travel Facebook group, agrees with this target.
"Having an emergency fund that's equal to three to six months of expenses becomes essential if you want to protect against financial emergencies, a job loss or [other] loss in income," she said. "For a family that has $70,000 per year in expenses, that figure translates to an emergency fund of around $17,500 to $35,000."
Some People Will Need More, Some Will Need Less
How much you will actually need to save depends on your personal living expenses and any existing financial safety net you already have. For example, a 23-year-old who can count on his parents for backup support will need less in savings than a 43-year-old mother of three who is the primary earner in her household.
Scott Stark, CFP, a financial coach at Financial Finesse, recently met with two clients fitting these profiles to determine how much they need to have saved.
Take Our Poll: How Much Salary Would Buy You Happiness?
"Matt, a 23-year-old starting a new job with a well-regarded company, would need $2,000 to make it through a month without having to drastically change his lifestyle. He's renting an affordable apartment in a city where he doesn't need a car. His company provides great health insurance and he lives fairly close to his parents, who are able to help support him if he suddenly loses his job. For Matt, his emergency fund goal is $6,000 — three months of living expenses in the event of a job loss," he said. "Given his parental safety net, and the fact that he's not at risk of a leaky roof, broken-down car or high health insurance deductible, this fairly low amount allows him to invest most of his extra earnings in the stock market."
Sarah, the 43-year-old mother of three, said she would need $6,000 to make it through a month without having to drastically change her family's lifestyle.
"She and her husband own their house and are paying off their two cars. While her employer is also a highly regarded company, given the economy, she's a bit nervous about job stability. Sarah's emergency fund target is $36,000 — six months of living expenses," Stark said. "She has a significant amount of risk in her life and wants to be sure her family is prepared for any outcome."
Vanessa N. Martinez, CEO of Em-Powered Network, notes that your living situation has a big impact on how large of a financial cushion you need.
"If you're a renter, your monthly responsibilities might not be the same as a homeowner," she said. "[When you are a homeowner], if an appliance breaks, there is a leak in your house or anything else happens to your home, you are responsible for covering those large expenses. There are also some additional costs like landscaping, filters for furnace and air conditioner, etc."
Given these differences, Martinez recommends saving the following amounts: $5,500 for homeowners, $4,000 for renters and $2,000 for those who are living with parents or other caregivers.
Ric Edelman, founder of The Truth About Your Future, cautions about aiming for a specific, one-size-fits-all number.
"It depends entirely on one's spending and income sources — and that varies from person to person," he said. "Telling some people to have $1,000 in reserves is plenty [for some], while for others, it's grossly insufficient."
Because the amount varies so much depending on an individual's circumstances, it may be beneficial to talk through your savings plan with a financial professional.
"The bottom line is there is no one answer that covers everyone," said Timothy Baker, chartered financial analyst with Metric Financial in Simsbury, Connecticut. "Having a financial professional to consult with is key."
Aim for Six Months of Expenses in Most Cases
Christine Luken, financial dignity coach, believes that six months of expenses is the magic number — whatever that number may be for you.
"An emergency fund is not just a cushion, it's a lifeline," she said. "Having at least six months of expenses saved can provide the financial stability needed to weather unexpected storms and provide a sense of security, especially in times of uncertainty. Six months is ample cushion to cover almost any financial emergency, so you don't have to incur debt or dip into your investments."
Eric Rosenberg, a personal finance writer, said you may be able to get away with a three-month emergency fund if you have a steady income stream, but if you're self-employed, having six months saved is key.
"When putting together an emergency fund, most people should aim to save at least three months of expenses in an emergency fund. If you're self-employed or don't have a stable income source, it's smart to double that to a minimum of six months of expenses," he said.
However, in the current job market, six months may not be enough.
"During the Great Depression or even the Great Recession, six months of savings would not be close to enough for most people, who were out of work many times for several years," said Jacob Wolinsky, investing expert and founder of ValueWalk.com.
Once you figure out how much you need saved, keep this money in an account that you won't be tempted to withdraw from.
"Personally, I prefer to keep my savings accounts in a separate bank from my checking or spending-related accounts," said Morgan Gray, head of Bask Bank and consumer strategy at Texas Capital Bank.
It's OK To Start Small
If you're starting from scratch, Jim Wang, founder of WalletHacks.com, said to start with a financial cushion of $400.
"When 3 out of 5 Gen Z consumers can't cover a $400 emergency expense, I think that is a good target to aim for," he said. "When you don't have an emergency fund, a large number can be discouraging. So if you have nothing saved, aim to save $400 so you aren't one of those statistics."
Other Ways To Build a Financial Cushion
Beyond building an emergency fund, Kuderna recommends doing the following to be financially prepared in 2023:
Check your credit score in case lending becomes necessary.
Open a Home Equity Line of Credit (HELOC) as a second emergency fund.
Understand the loan options around your 401(k) or cash-value life insurance.
See how much COBRA would cost in the event you lose health insurance.
Tune up your resume in case a recession strikes.
To be prepared for a job loss, Steve Davis, CEO of Total Wealth Academy, said to build a second stream of income that meets and exceeds your bills.
"The only true solution is a second stream of income that comes in whether you have a job or not," he said. "This is not a new idea — 30 or 40 years ago Warren Buffet said, 'Never depend on a sole source of income. Always invest to create a second.' However, very few people are doing this."
David Jamison, CFP with Schwab Intelligent Portfolios Premium, said that building a strong network is another great way to be prepared for an unexpected job loss.
"If you lose your job, most likely you'll need to find another one. You can build a good network now so if and when this happens, your time spent finding another job will be reduced," he said.
Having adequate insurance coverage is also an essential part of a financial cushion.
"It's important to have the appropriate amount of renters insurance, homeowners insurance, disability insurance and life insurance," said Sam Dogen, founder of Financial Samurai.
Jessi Fearon, author of "Getting Good With Money," said that having life insurance is particularly important.
"Another way to protect yourself is to ensure you and your spouse have life insurance," she said. "If you have an ex-spouse or someone you depend upon to pay child support, you need to make sure that you have a life insurance policy on them in the event that something happens to them and they are no longer able to pay child support."
More From GOBankingRates
Gabrielle Olya contributed to the reporting for this article.