How I Became a Millionaire by Age 30: 7 Steps I Took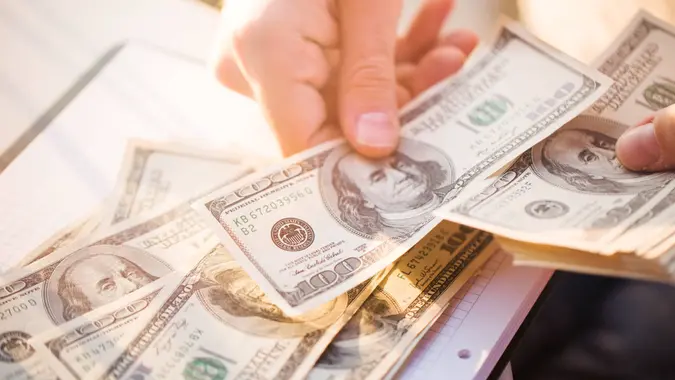 Xesai / iStock.com
Though your self-worth should never equate to your net worth, having a millionaire status at a young age can bolster both your income streams and cash flow throughout your lifetime. It can take both spending and saving money to make a little money, but it will take a strong work ethic and long-term commitment to make a million dollars.
But how can you be a millionaire by 30? Pack your bags for your trip from the middle class to the millionaires club as you follow these tips and tricks toward success.
How To Become a Millionaire by 30: 7 Steps
Hannah Chan knows her way around full-time content creation and marketing psychology. Through her TikTok account, she has amassed over 392,000 followers and 7 million likes. In one of her more popular videos, titled "Seven life rules that will make you a millionaire in your 20s," Chan outlines the keys to her success: 
Step 1: Know Your Worth
The language you speak about yourself is either a vitamin or a poison. Never say anything about yourself that is not empowering.
Step 2: Change Your Money Mindset 
The first step to making more money isn't about doing the right things in business. It's about changing your money mindset. You have to truly believe that you are worthy of making more money before that ever becomes your reality.
Given Chan's influence and results it makes sense to follow her lead in changing your mindset, especially where money is involved. Focus on the skills you bring to the table and what their worth, after that monetizing your effort and time will make more sense. 
Step 3: Weaponize Your Environment 
You can only grow as much as your environment will let you. Kind of like a shark that can't outgrow the tank that it's in. It's all about making small changes in your everyday space that help you normalize that next level of success. The key is doing this in a way that doesn't break the bank.
Step 4: B>Do>Have Rule 
In order to have something, like a million dollars, you have to first become the type of person that makes a million dollars. Just ask yourself: "How does that million-dollar version of me think, act and behave?"
How much you pad your savings account each month can not only depend on how much you earn but also on whether your actions match your words. Manifestation may seem optimistically ambitious, but many experts aside from Chan back the theory that believing you can do it is the first step to actually doing it. 
Step 5: Assess if Something Is a Cost or Investment 
$2,000 on a handbag is a cost. $2,000 on furthering your skill is an investment.
Chan makes a good point as you should always save to invest in yourself. Whether that means taking a swing in brokerage accounts or the stock market, the money you spend should be money you are investing in your future.
Step 6: Charge Based on Results Not Hours 
Even if your hourly rate is really high, we still only have 24 hours a day, which means our income is always going to be capped.
This advice from Chan rings true especially if you adhere to the thought that if you are good at something, you should never do it for free. Whatever your skillset, make sure you are getting paid for your talent, not just your time. 
Step 7: Normalize Losing Friends
As you level up, it's a lot easier for the people around you to try to bring you back down instead of being inspired to work harder themselves.
Though this last point may be somewhat controversial, it does suggest that you should surround yourself with those who nurture your growth rather than stunt it. Your success can be measured in more than just your passive income, but also who you have in your circle of influence and trust. 
Final Take To GO 
If you are in your 20s, becoming a millionaire by the time you turn 30 is not impossible. However, this is not to say that you won't have really push yourself both mentally and financially. Chan, who became a millionaire before she turned 30 is not a singular example, so this indicates there is not just one path you can travel that will lead you to your pot of gold. 
FAQ
Here are the answers to some of the most frequently asked questions about how to become a millionaire.
How can you realistically become a millionaire by 30?

Becoming a millionaire by the time you turn 30 isn't impossible but it does depend on many factors in your unique financial situation. This can range from debts you haven't paid off like student loans or credit cards, to your risk tolerance in how you approach investments in the stock market.

How much do you need to invest to be a millionaire at 30?

This would depend greatly on when you started investing as well as the amount with which you started. There are many contributing factors and calculations to consider.
For example, if your parents started an investment for you when you were 10 that earned a 3% annual return, for 20 years, you or they would need to contribute about $3,020 monthly to reach $1 million by the time you turned 30.

How can you turn $100,000 into $1 million in five years?

An investment timeline will always vary depending on many factors such as what your debt level is, how much real estate you own or even how liquid you are to contribute monthly to your investments. If you want to turn $100,000 into $1 million, here are some steps you can take:

Do an inventory of your assets
Assess whether your risk tolerance is high or low
Calculate your investment timeline
Balance your portfolio
Account for taxes and fees
Information is accurate as of June 29, 2023. 
Our in-house research team and on-site financial experts work together to create content that's accurate, impartial, and up to date. We fact-check every single statistic, quote and fact using trusted primary resources to make sure the information we provide is correct. You can learn more about GOBankingRates' processes and standards in our editorial policy.