How To Protect Your Money as Stocks Fall and Prices Rise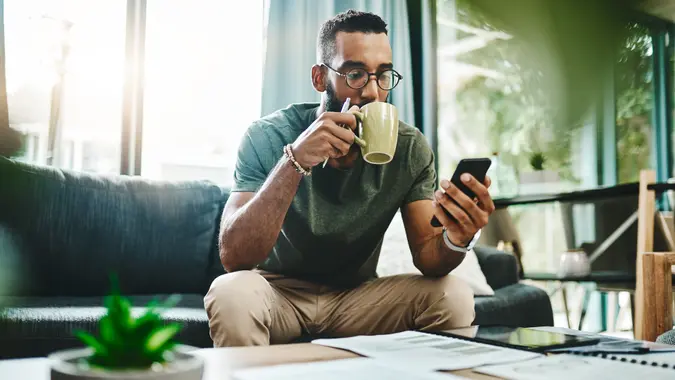 katleho Seisa / Getty Images
As recession fears loom large, the stock market has already been in bear market territory for some time. The S&P 500, for instance, officially entered bear market territory on June 13, 2022. At that point, the index had declined 21% from its high at the end of 2021.
But the index wasn't done dropping. On June 13, the S&P stood at 3,749.63, and four days later it was at 3,674.84. While it hasn't dropped below that low point on June 13, it is still hovering around 20% below its 2021 year-end high.
This makes for uncertain times for investors. The average investor wants their money to be safe, which puts them in a challenging position today.
There are things you can do to protect your money, though. Here are some of the best tips to protect your money as stocks fall and prices rise, including tips from experts.
Diversify Your Portfolio
Diversifying is a good idea in any economy, especially if you don't like a lot of risk. However, avoiding what investors call downside risk, or the chance an investment will lose value, is especially important right now. One of the best ways to lessen that downside risk is by diversifying. You can do this by adding investments to your portfolio with less downside risk.
There are many candidates to consider, but possibilities include defensive stocks and fixed income securities. "During an uncertain time like the one we are witnessing, fixed-return bearing assets will help cushion the overall portfolio from the anticipated fall in equity investments," says Kunal Sawhney, CEO at Kalkine Group.
"Meanwhile, investors can also include defensive stocks like consumer staples, healthcare, and insurance stocks, which are less volatile than the overall market. These stocks will provide stability to the portfolio," Sawhney says. These defensive stocks can still lag, especially in a recession. But the downside risk tends to be lower.
Fixed income securities, meanwhile, are those that provide regular, fixed interest payments to investors. There are many types of fixed income securities, but popular choices include Treasury bills, bonds and notes, corporate and municipal bonds, and certificates of deposit (CDs). The regular interest these investments pay is invaluable during periods of economic uncertainty. Plus, they tend to be safer investments than stocks.
Reduce Debt
Paying off debt is another move that is a good idea in any economic climate, but eliminating debt is especially important as interest rates rise. Rising interest rates mean it's more expensive to borrow money.
"The biggest thing you can do now to protect your money is to pay down your debt. The cost of any variable debt is going up as the Fed raises rates," says Jay Zigmont, CFP and founder of Childfree Wealth.
Variable debt includes everything from mortgages to credit cards. The latter will tend to have higher average interest rates, though, so it makes sense to prioritize them. If you can spare even an extra $50 or $100 per month to pay down those credit card balances, it's a good idea right now.
Start an Emergency Fund
Having an emergency fund is another recommendation that is important regardless of economic conditions, but uncertain times mean it's even more critical. If you don't have an emergency fund, it's a good idea to start one. And if you already have one, it might be a good idea to set a little more money aside to weather the possible storm ahead.
How much cash should you set aside? Recommendations vary. The common suggestion is 6-8 months of expenses when the economic outlook is strong. But one wealth advisor, Matthew D. Grishman of Gebhardt Group Inc., suggests a slightly more formidable emergency fund: he recommends 1-3 years of living expenses at all times.
Grishman says, "How much better would you feel if you were sitting on 2 years of cash right now? Would you feel less stress over the current market environment?" It's a question worth considering, especially in the midst of a bear market and with recession predictions hanging over our heads.
Speak With a Financial Advisor
This final suggestion is also one that is not relegated to times of economic uncertainty. However, it can be more helpful during times like these. A financial advisor can help you work through your strategy and avoid moves such as taking all of your money out of the stock market.
"Talk to your financial advisor," says Colin Gloeckler, chief strategist at Logicly. "His/her experience can guide you through these rough patches in the market and keep you on track with your life goals and financial objectives."
More From GOBankingRates