How To Say 'No' and Create Healthy Financial Boundaries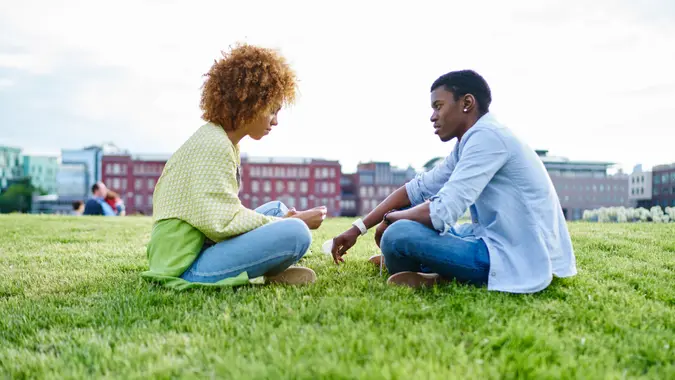 GaudiLab / Getty Images/iStockphoto
You've finally decided: No matter what — this time, you will stick to your budget. You resolve to say no to expensive dinner invites, weekly drinks with friends or reaching for your wallet every time you're asked to donate to a co-worker's birthday gift. Then your best pal asks you to go to the new gastropub that just opened and your resolve crumbles.

Important: 7 Things You Should Never Do When Planning for Retirement
Unfortunately, saying no and creating healthy financial boundaries can be difficult. But it gets easier once you figure out your "why." Why do you want to save your money instead of spending it each time an opportunity arises? Perhaps you're trying to build an emergency fund or maybe you want to contribute extra to your retirement account. Whatever the reason, it helps to have a goal in mind when it comes to saying no and creating healthy financial boundaries.
Change Your Mindset When It Comes To Saying 'No'
Saying no when someone invites you to do something that's beyond your budget can be uncomfortable. However, by changing your mindset, you'll soon be able to say no with ease.
"Don't be embarrassed to say no," said Christina Steinorth-Powell, licensed psychotherapist and author of "Cue Cards for Men: A Man's Guide to Love and Life." "Realize that you are the only person who is responsible for your financial well-being — not your friends, not your coworkers or your family. That said, don't let people pressure you into spending money that you have allocated for other things in your life."
How To Say 'No' to Invitations and Create Healthy Financial Boundaries
Here are some common spending scenarios that can occur, plus advice on how to say no while creating healthy financial boundaries.
Scenario 1: You're Asked To Go To Dinner at an Expensive Restaurant
Maggie Klokkenga, CFP(r) and CPA and owner of Make A Money Mindshift, LLC, recommends that when someone invites you to do something that involves spending money on something that's beyond your spending plan, you should thank the person for the invitation and suggest an alternative."For example, if you've been invited to dinner at an expensive restaurant, thank the person for the invitation, say that you cannot attend, but you'd love to see them soon and suggest another venue, perhaps having coffee at a local coffee shop," Klokkenga said.
By suggesting an alternative, you soften the blow of saying no. "This lets the person know that your reason for declining their invite isn't personal — it's financial, and it also lets them know you would still enjoy doing something with them," Steinorth-Powell said.
If you don't want to spend money on coffee, Klokkenga suggested coming up with another way to connect, such as checking out free events. "Depending on the season and where you live, you can go to a local farmer's market or vendor/craft fair, an art exhibit, or even just going for a walk at a local park," she said.
"You can always let the inviter know that you're working hard on your finances, and being vulnerable to share — that can allow the other person to continue the conversation about money," Klokkenga said. "You never know — the friend who invited you to the fancy dinner may also feel the need to get control of her finances, and now she has a friend to talk with about it!"
Scenario 2: You're Asked To Contribute To Gifts
When you work in an office setting, being asked to contribute to group gifts is common. But if you're trying to follow a strict spending plan, these types of contributions aren't an option.
Steinorth-Powell said, "You can say something polite like: 'As much as I would love to participate, I don't have it in my budget to contribute to the group gift.' And leave it at that. You may be surprised at how many people at work will actually follow your lead."
Anthony Martin, Forbes Finance Council member and CEO and founder of Choice Mutual, suggested using value-based phrases to explain why you aren't participating in something. Again, this can soften the blow and show that your choice not to participate isn't personal.
"For example, explain how you value time spent with friends above physical gift-giving, so this year around the holidays you'd prefer a celebratory pot luck dinner with friends rather than expensive rounds of secret Santa," Martin said. "The key is, again, to emphasize intentional, values-based language."
Scenario 3: You're Invited To a Destination Wedding
Destination weddings can be expensive for the bride and groom and the guests. According to The Knot, guests invited to destination weddings should expect to pay for their round-trip airfare and accommodations and any nonwedding meals, beverages and activities, which can really add up.
"Celebrate but don't participate," said Holly Wolf, former bank chief marketing officer, advisory board member at Berkshire Advisors and personal finance junkie. "Rather than being viewed as a negative person, share in the joy but don't participate. Say things like, 'Getting married in Morocco sounds amazing. I am looking forward to seeing all of your photos. I'm sure it will be stunning.' You share in the excitement, but don't commit to participating in something that will break your budget. It's NOT about you NOT going, it's about wishing THEM a happy celebration."
More From GOBankingRates