How To Set a Financial Resolution in 2023 — and Actually Stick to It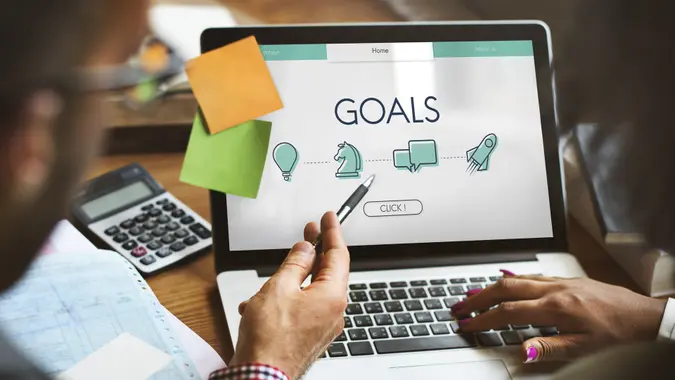 ©Shutterstock.com
As we prepare to welcome in a new year, many of us are making resolutions focused on money. According to a survey from The Ascent, a Motley Fool service, 66% of Americans are planning on making financial New Year's resolutions. 
Live Richer Podcast: Tips To Stay on Budget This Christmas
Take a Look Back: 2022 Year in Review
But inflation is an intimidating force to be reckoned with. According to the survey, 81% of those with financial resolutions think inflation will make it harder to meet their goals, and just 20% are confident that they will keep their financial resolutions.
This all prompts the question: How can we make a financial resolution and actually stick to it? Here is what financial experts recommend. 
Be Specific About What You Want, and Why You Want It
"The two keys to success are being clear about your priorities and choosing a particular goal," said Kyle Kroeger, an entrepreneur and finance expert at The Impact Investor. "Set aside some time to think about what you really want to achieve with respect to your money and financial situation and be specific."
Take Our Poll: How Long Do You Think It Will Take You To Pay Off Your Credit Card Debt?
Make It Realistic
"If your goal is to start saving or investing, and you've never done it before, don't set the bar too high," said Taylor Jessee, CPA, CFP, a financial planner at Impact Financial. "For investing, a realistic goal may be to try to save a certain dollar amount each month or year. An unrealistic goal would be to try to double or triple your money that year. That's not investing; that's gambling. Is it possible? I suppose so. But it's not very likely you can or will."
Make It S.M.A.R.T.
"Consider adopting the S.M.A.R.T. (Specific, Measurable, Achievable, Relevant, Time-bound) goal-setting technique when planning your resolutions," said Rebecca Gramuglia, consumer expert at TopCashback.com. "By putting more thought and mindfulness into your goals, you're preparing yourself for a better chance to succeed. Make sure you create goals that are measurable within a specific time frame — example: save $1,000 by March 2023 — along with a reasonable action plan to meet them."
Write It Down — and Keep It in Plain Sight 
"Make sure your goals are written down and posted somewhere you'll see them all the time," said Samantha Garcia, CFP, AIF, CDFA, a wealth advisor at Halbert Hargrove. "If you write them down in January and don't check until December, it's easy to lose track of them and lose sight of what you're doing. Writing them down keeps you accountable because now that's on paper, whether you use pen and paper or computer notes. By printing and putting them where you see them, you're more likely to keep your goals in check regularly.
"You should also add a monthly calendar reminder to check in on your financial goals. The regular notification during a time you are not busy will help remind you about staying on track." 
Start Right Away
"When you wake up on New Year's Day, you might think it'll be OK to start tomorrow," said Joel Ohman, CFP and the CEO of InsuranceProviders.com. "But it's essential to start right away; because, once you put off a resolution, it'll be easier to continue putting it off. And the next thing you know, it's February and you haven't started."
Enlist an Accountability Partner
"Consider setting up regular financial meetings with an accountability partner," said Kelli A. Hill, CFP, managing director, advice and planning at Wells Fargo Wealth & Investment Management. "When we make a commitment out loud to someone and ask them to help us be accountable to attaining goals, we are much more likely to do it. 
"For example, my husband and I have an annual financial meeting every January. This is when we assess where we can cut discretionary spending as well as evaluate how we did in adhering to last year's financial goals. Also, another way to help you be accountable is by setting up automatic deposits to your savings account so you don't even consider spending it."
Track Your Progress 
"Another way to make sure you stick to a financial goal is to track your progress," said Deacon Hayes, founder of Well Kept Wallet. "This can be done by simply creating a spreadsheet and updating it as you make progress. You could also draw a picture of a thermometer and put it on your fridge. With this, put your end goal at the top and fill it in with a marker as you make progress.
"For instance, if you are trying to save $5,000 for a trip, put $5,000 at the top of the thermometer. As you add money to your savings account, fill in the amount you saved with the marker. This visual can be a huge motivator to keep going as it is top of mind every time you walk in the kitchen."
Auto-Cheer Yourself On
"Create cheerleader reminder notes that pop up on your phone," said Jamie Sea, an author and wealth expansion coach. "The time between when you set the micro goal and when you want to achieve, mark it in your calendar. Then create empowering reminder notes that will pop up on your phone each day that encourage positivity and celebration of new behaviors that will support reaching the goal."
Do Not Throw Yourself a Pity Party Whenever You Fail
"If you fail, don't beat yourself up about it," said Steve Rose, vice president at MoneyTransfers. "Instead, dust yourself off, assess what went wrong and resume your efforts.
"The ability to get back on your feet after losing money is a big difference between people who give up and those who keep going. Forty to 60% of today's most prosperous investors, entrepreneurs and leaders have tried and failed at their ventures at least once. Those that recover the quickest and are the most effective are the ones who are able to put aside their emotions and focus on planning a rational course of action."
Find a Reliable and Trusted Financial Advisor
"Sometimes thinking about your financial life can be overwhelming," said Chelsie Moore, CFP, CFA, director of wealth management solutions at COUNTRY Financial. "There's a lot of information out there and decisions to be made. Experienced financial advisors can help guide you and keep you on track. It's hard to be the experts at everything, nor do we have the time to be. Having a skilled financial advisor can help us achieve the goals that are important to us."
More From GOBankingRates