I'm a Financial Planner From The World Trade Center: Here's How Financial Challenges Rebuilt My Career After Tragedy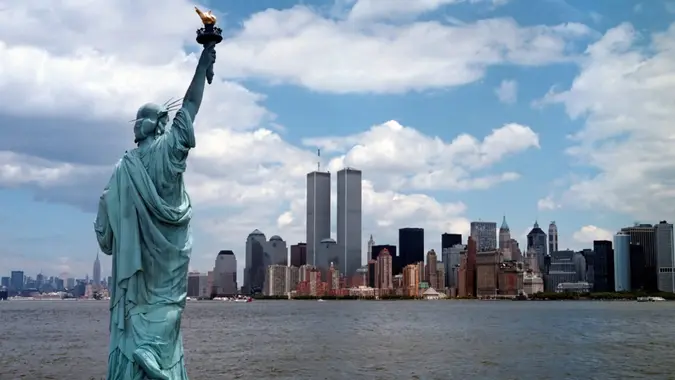 Sept. 11, 2001, was the day my world was shattered. I worked on the 73rd floor of the Second Tower World Trade Center as a certified financial planner in a major securities firm as a partner in a group and was in the building on that fateful day. After 9/11 changed everything, the message was clear. I wanted to help others. I began by developing a strategy to meet with people who suffered major or devastating experiences.
Read More: 7 Frugal Habits That Aren't Actually Good for Your Finances
Find Out: How To Get Cash Back on Your Everyday Purchases
I knew that an unanticipated illness, loss of job, unexpected death or comparable tragedy would disrupt any family. But after dealing with the issue at hand, the next question is always economic. How do we manage this issue financially?
My goal now is to deal with the emotional well-being of my clients as part of helping them with their finances. This is what I learned through experience and in alignment with my expertise. When people are overwhelmed, it can manifest itself in spending too much. A person can go out and blow $500 simply because they are emotionally impacted or devastated by the issues of life.
Discover: How To Build Generational Wealth From Scratch
People with special circumstances have unique issues. Someone with cancer may not qualify for life insurance and they are incapable of maintaining gainful employment because of the physical impact of cancer. An adult child may not advance in their career because they have become the primary caregiver to an aging parent. But there is a silver lining for everyone who has endured trauma.
I recognize it changes the course of life and those changes are further impacted by one's economic status. People need expertise and empathy. 2023 has personally been a great year so while I wanted to reflect on the past, I still wanted to provide hope to everyone regarding the possibility of a bright economic future.
Surviving the Unthinkable: Inside the Towers
When Tower One was hit, I was in a meeting with my support staff. We felt the impact, but I didn't think anything of it until I walked to my partner's office and looked out the window. There I saw burnt paper flying like confetti in a ticker tape parade. I decided to leave. My support staff and I were joined by the receptionist.  We didn't take the elevator but began to walk down from the 73rd floor. They were announcing over the intercom that "Tower 2 is secure, Tower 2 is secure." We didn't need to leave the building. Tower 2 was secure. They made that announcement repeatedly. So, I decided to go back upstairs.
We made our way to the 44th floor, got on the elevator and I hesitated. I literally felt that it was divine intervention because we got off and allowed the door to close. Not even 30 seconds later Tower 2 was hit, and the plane cut right through the high floors. There was an explosion and fireballs. People who I had just stood next to in the elevator perished and I was standing there, not affected by the fire.
Eventually, I got up and we walked down not having a clue about the magnitude of what transpired. It was when I reached the mezzanine level, I could see the harsh reality. I looked at the doors, wanting to leave the building but the first responders didn't allow us to leave that way. If you stood there for a moment, you quickly realized why. I saw people who jumped from the top of the building so the first responders ushered us downstairs to the building's lower levels and passageways, where the subway station and shops were.
I walked out of the World Trade Center and didn't look back until I went a couple of blocks to Broadway. I looked back and saw the plane dangling from the building. 
I survived, but a part of me died that day.
The Financial Implications of Tragedy
While I was grateful to be alive, I suffered survivor's guilt for many years thereafter. In addition, the stress took a toll on my career. I was so devastated. I didn't step foot back into New York City until 2004 and my income shrank from over $100,000 to less than $18,000 in one short year. I didn't consider the impact of the physical pain, the nightmares and the sleepless nights too numerous to count. I had physical symptoms, I couldn't breathe and had bronchitis and sinus issues.
I couldn't get my bearings. My lack of sleep affected my work. I was up all night and not falling asleep until 4 a.m. In my business, you can't show up for work at 11 a.m. I couldn't operate efficiently. Eventually, I was diagnosed with chronic obstructive pulmonary disease (COPD), asthma and post-traumatic stress disorder (PTSD). Medically speaking, I am permanently and partially disabled. But I didn't have any other options when it came to my career because managing money was all I knew.
So, I began to serve. It took me several years to understand that I had both the experience and empathy to help people recover from catastrophic and traumatic experiences emotionally, spiritually and economically. Helping others helped me the moment I decided Sept. 11, 2001, would not defeat me.
I entered the securities industry in 1991. Today, I frequently speak on the lecture circuit, and I have authored several books on financial and life planning. My most recent release, "The Quiet Shift," was awarded recognition with both the BookFest 2023 awards and the International Book Awards for 2023. I have been named as Investopedia's Top 100 Advisors for 2023 and was acknowledged with an honorable mention for a lifetime achievement award with Invest in Others. My commitment to serving others, especially during the most challenging seasons of their lives has proven to be my true purpose. I will forever remain available as a teacher, trainer, mentor and guidance counselor.
Sharing my story and road to recovery helps individuals see that emotional and economic recovery is possible. We cannot allow catastrophic and/or traumatic events to define our destiny. My financial planning practice has a purpose. 
There is a financial cost associated with the unknown and, I dare say, the inevitable. 
More From GOBankingRates