How To Live Richer on a Budget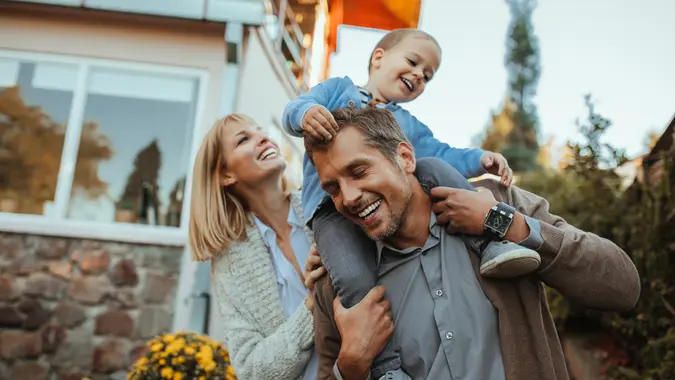 bernardbodo / Getty Images/iStockphoto
Day 4: GOBankingRates wants to help you Live Richer. For a month, we'll be sharing daily tips for how you can do just that, with advice on budgeting, saving, investing, making the most of your career and managing debt — plus money advice for every phase of your life. Check back each day during our 31 Days of Living Richer to learn everything you need to know to set yourself up for financial success and live the richest life possible.
You don't have to have a lot of money to live rich. Even though it can sometimes be hard to feel like you're living well while cutting costs, you don't have to ditch everything that makes life enjoyable. After all, living on a budget doesn't necessarily mean eliminating everything you love. By taking these steps, you still can live a rich life.
Day 3 of Living Richer: 5 Budgeting Apps That Can Help You Live Richer
Read: What It Means To Live a Truly Rich Life and How To Achieve It

Step 1: Figure Out What Makes Your Life Rich
A rich life isn't determined by the number of dollar signs in it, said Donna Freedman, longtime personal finance writer and author of the "Your Playbook For Tough Times" book series. "Money is essential to survival, but it's not all there is to life," she said.
Back to Day 1 of Living Richer: The Top 3 Budgeting Tips From Experts
And Then Day 2 of Living Richer: How To Set a Realistic Budget You Can Live With
The key is to identify what brings you joy — not what you see others enjoying on social media — and brainstorm ways to get those things as affordably as possible. You might find when making a list of things that make your life richer, such as spending time with loved ones or helping others, that you can have many of those things without spending any money.
Step 2: Finesse Your Budget
You might have more room in your budget for the things you enjoy than you think. Start by reviewing your spending to see if there are costs you can cut. "Chances are you may be wasting money without realizing it," money-saving expert Andrea Woroch said. For example, you might be spending more than necessary on auto insurance because you haven't shopped around to see if you can get a lower premium from another insurer. Examine all of your monthly expenses to see if you can trim them by switching providers or negotiating lower rates.
Find Out: Cutting Out These 25 Expenses Will Save You $16,142.08 a Year
"What's more, analyzing what you are spending money on can also help you identify the things you really don't need — whether it's because they don't serve your goals or don't bring you happiness," Woroch said. "A little finessing with your budget can go a long way in creating a rich life on less."
More: 11 Basic Money Moves Everyone Should Make in Hard Times 
Step 3: Look For Low Cost and Free Ways To Live Rich
There actually are plenty of ways to get the things you need, want or enjoy for little to no cost. Freedman recommends checking if there is a Buy Nothing Project Facebook group active in the area where you live. The groups allow people to give away things they no longer want, so you can find anything from free furniture to musical instruments to toys and clothes for kids. "What's great about the Buy Nothing group is it can help you meet some of your needs along with your wants — which means even more money to spend on things that matter," Freedman said.
See: The 50/30/20 Rule: Is It the Best Budgeting Method?
Other options for lower-cost items include the Facebook Marketplace and OfferUp, as well as thrift stores and yard sales. If you have a big event or even a job interview, you could rent an outfit through a website such as RenttheRunway.com for a fraction of the price you'd pay to buy it.
You can even get paid to do some of the things you might have eliminated from your budget, such as dining out. Jen Smith, the creator of Modern Frugality and Frugal Friends Podcast, said she and her husband continued to "experience life" even on a tight budget while paying off $78,000 in debt by being mystery shoppers. "We would pick up shops at nice restaurants, hotels, movie theaters and other activities and be completely reimbursed for anything we spent," she said. You don't have to pay a fee or join an association to work for mystery shopping companies such as Amusement Advantage, A Closer Look and iSecretShop.
See: Things You Can Get for Free in Every State
Step 4: Find Frugal Alternatives
If times are really tight, Freedman said you should accept that just because you want something doesn't mean you can have it right now. "But maybe you can get something like it," she said. For example, if you want a chocolate cake from a fancy bakery but you know you can't afford it, buy a cupcake instead and savor every bite.
Find Out: 17 Tips To Live Comfortably Off Just a Social Security Check
Another idea: You may not have the money to travel, but you still can explore new cities, tour museums and immerse yourself in other cultures. "With so many online virtual tours these days, you can travel right from home," Woroch said. She recommends this list of the 35 best virtual tours.
Step 5: Be Grateful for What You Do Have
Your life might feel richer if you focus on what you do have and what is going right. For example, maybe you want to upgrade your phone but can't justify the expense. Focus on the fact that you have a phone and that it works, Freedman said. Maybe you might not have the job you really want, but you can be grateful that you do have a source of income.
"There's nothing wrong with wanting things," Freedman said. "But when we focus on wanting the right things for the right reasons, we're more likely to be satisfied once we get them. If all we want is this idea of 'more' then we'll never be satisfied."
Day 5: Join us tomorrow for our Living Richer series when we look at how to save a little each month.
More From GOBankingRates
Gabrielle Olya contributed to the reporting for this article.
Last updated: July 4, 2021