One Money Move Suze Orman Says There's 'No Substitute For'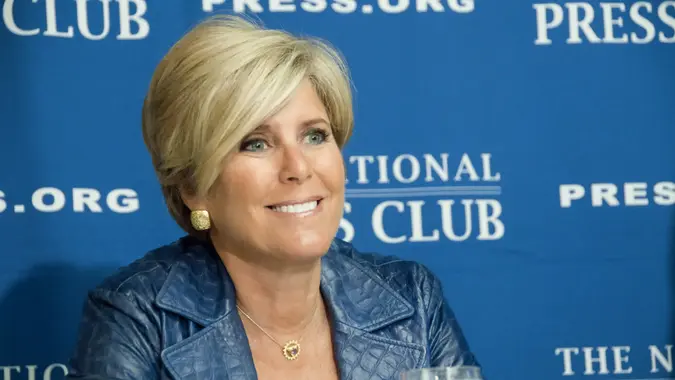 Albert H. Teich / Shutterstock.com
Suze Orman, financial guru and New York Times bestselling author, has been helping people find wealth for well over a decade. In addition to hosting the successful "Women & Money" podcast, she also writes continuously about how to take control of your financial future.
She is considered one of the most influential money experts in the country and is a highly sought-after motivational speaker. Her financial advice is often based on setting goals and ensuring that you achieve them. 
While she offers a wide range of solutions for everything from homeownership to retirement, she also says there is one money move that there is simply "no substitute for." Read on to find out the essential financial action Suze Orman wants you to take.
Set Up Safe Savings
In a 2018 blog titled "Get Paid More to Save Safely," Orman says, "There is no substitute for the security of knowing you have money in the bank that will not lose value in a bear market. That can be your emergency fund or money you plan to use in the next few years for a home down payment."
She explains that while she is all for investing money in "low-cost stock index mutual funds or exchange-traded funds," she is "also a huge fan of having safe savings."
As she notes, investing in mutual funds or exchange-traded funds is great for money that you won't need access to quickly. "Over the long-term stocks tend to produce higher returns than bonds, or cash," she states. However, it is no substitute for a fully funded safety net. 
She encourages her followers to look beyond traditional brick-and-mortar banks and "check out credit unions and online banks." She continues, "Doing some online comparison shopping for high-yielding bank accounts can be a great way to boost your guaranteed returns."
Take Our Poll: Do You Think AI Will Replace Your Job?
Give Your Emergency Fund a Boost
In 2022, she revisited the issue of building an emergency fund in her blog "Emergency Funds: When to Give Them a Checkup." She says that any time costs of living increase due to inflation or other causes, you should try to boost your emergency savings fund as well.
While many financial experts say that three to six months of expenses is sufficient, she argues that people should be setting aside much more. "You know that my hope is that you work your way toward having enough set aside to cover 12 months of essential living costs," Orman notes.
Savings Is Savings, Not Investing
Orman cautions her listeners not to be discouraged by the small return on investment that they receive from their savings account. Even a high-yield savings account will not produce significant returns.
She explains in "Your Emergency Fund is Not an Investment" that savings accounts are "a lousy investment." However, she points out that "an emergency savings fund is not an investment. It is security. It is peace of mind. It is protection."
Essential Foundation of Financial Security
In 2020, Orman wrote about the importance of building robust savings in "​​Can Your Roth IRA be a Backup Emergency Fund?" She called the emergency savings fund an "essential foundation of financial security," but acknowledged how hard it can be to grow it when times are tough. 
In discussing whether a Roth IRA could be seen as a backup emergency fund, she says, "While the goal should always be to leave money in your Roth IRA growing for your retirement, it is absolutely understandable if you also think of your Roth IRA as your temporary 'back up' emergency fund until you build up your actual emergency fund to the point it can cover a minimum of 8 months of living costs (I recommend to get it up to 12 months of living expenses to be safe though)."
However, she stresses that it's best to leave a Roth growing for retirement, even though it can be tapped into for an emergency at any age.
Be Prepared
Finally, Orman reminds her followers that a healthy emergency fund can help you get through a crisis in "Being Prepared for the Next Time." She said in May 2020, "The best way to plan for the next crisis is to focus on your emergency fund. For more than a dozen years, I have been insisting that it is wise to have eight months of living expenses set aside in a safe savings account." 
Of course, with high inflation and a high cost of living, she says it might be better to increase your savings to 12 months of living expenses — just in case.
More From GOBankingRates