7 Money Traps To Avoid in Your 30s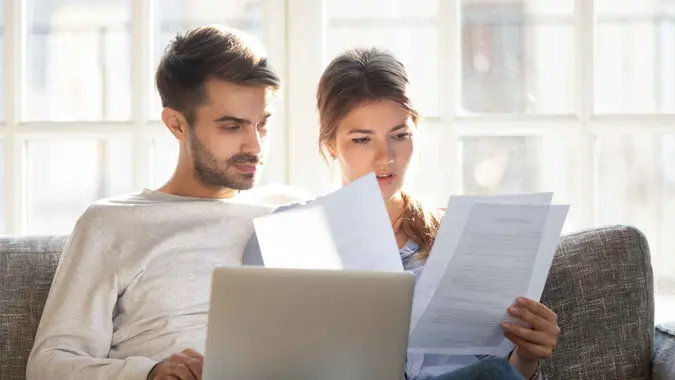 fizkes / Getty Images/iStockphoto
As you go through your 20s, your income will likely increase as you advance in your career. As your income increases, the hope is that your savings will also go up. However, there are many money traps that you could easily fall into when you reach your 30s. As you try to figure out the next stage of your financial planning, it's essential that you avoid common money-related mistakes that can hurt your future.
Here's a look at seven money traps to avoid in your 30s and what you can do about them. 
Money Trap 1: Lifestyle Inflation
Since you're making more money, it only makes sense that you treat yourself, right? Lifestyle inflation is a common money trap in your 30s, because once you finally improve your income, you will naturally want to adjust your spending. 
What Does Lifestyle Inflation Include?
Increasing your expenses as your income goes up.
Not saving more money as your income increases. 
Treating yourself to luxuries that you weren't able to afford previously.
Lifestyle creep can even extend to luxury items. For example, it's not rare to see someone purchase a new vehicle or a boat as soon as they get a raise at work. While it's worth treating yourself for your effort, you don't want to fall behind financially.
The best way to avoid this trip is to improve your savings rate as your income increases. You may want to boost your savings by paying yourself first, which would involve having a set amount of your paycheck deposited straight into a savings account. You'll also want to think twice before certain splurges, because sometimes you may not be at the financial level yet to make them.
Money Trap 2: Not Investing Enough for Retirement
If you don't want to work well into your golden years, it's critical that you start aggressively saving for retirement when you're young so that you have compound interest working on your side. In your 30s, it may seem like retirement is too far in the future to think about, but this money trap could hurt you when it's time to retire, and you realize that you don't have your finances in order.
You can avoid this money trap by aggressively investing towards your retirement in your 30s. If you're offered the option, you can do so by taking advantage of your employer's match with a 401(k). You can set up an IRA where you contribute independently if your workplace doesn't have a retirement plan. You should also look into ways to diversify your income streams, like real estate and index funds.
Money Trap 3: Not Building an Emergency Fund
When you're making decent money, it may feel like you don't have to watch your spending like you did in your 20s, when you were fresh out of college. It's easy to get stuck in the money trap where you don't put aside money for a rainy day because you feel like those days are behind you.
However, the best way to avoid this money trap is to remember that life can throw many surprises at you, from job losses to accidents. This is why you should always set aside three to six months' worth of expenses in a savings account.
Money Trap 4: Financing Your Life With Credit
It's tempting to use your credit card for major purchases because, at this point, you likely have a higher limit and could earn points from your card. However, this could be a money trap in your 30s, since you may rack up more debt than you can handle.
The only way to avoid this money trap is to ensure your finances are ready for every credit card purchase. If you don't have the funds ready, you shouldn't buy that large ticket item yet.
Money Trap 5: Not Diversifying Your Income
When you start earning a decent salary, you may feel this will never stop. However, as we've seen over the past few years, anything can happen. It's important that you recession-proof your life, because you could lose your main source of income at any point.
Here are the best ways to diversity your income to avoid this money trap:
Look into side hustles.
Keep on upgrading your skills so that your resume stays fresh.
Invest in real estate and other income-generating investments.
The goal is to find ways to diversify your income so that you're not 100% dependent on one stream.
Money Trap 6: Not Having Adequate Insurance
As exciting as it is to look for ways to boost your income, you have to do whatever you can to protect the money that you already have. Another common money trap in your 30s is not investing in the right amount of insurance to protect yourself and your loved ones. 
What Kind of Insurance Do You Need?
Health insurance. You want adequate insurance to pay for emergencies and any necessary procedures.
Term life insurance. This would help your family financially if something were to happen to you.
Property insurance. You need property insurance — renters or homeowners — to cover your home and valuables.
Proper auto insurance. You want to review your policy to ensure you're covered for all possible scenarios.
It's critical that you insure yourself properly so that you're protected financially in the case of an emergency. You don't want to lose all your hard-earned money because of a flood or unexpected scenario.
Money Trap 7: Buying a Larger Home Than You Need
A money trap many young people get caught up in is purchasing a bigger home than they need. This leads to increased expenses with a higher mortgage loan, hefty mortgage payments and additional consumption due to all of the space.
How can you avoid this money trap? Remember that just because you qualify for a certain mortgage doesn't mean you must use the entire limit.
Closing Thoughts
You should avoid these seven financial traps as you go through your 30s. If you take your finances seriously during this decade, you can set yourself up for a comfortable life into your 40s. The good news is that these money traps can be easily avoided if you review your finances periodically.
More From GOBankingRates