Moving Into a New Apartment? 7 Massive Fees You Might Have To Pay — And How To Avoid Them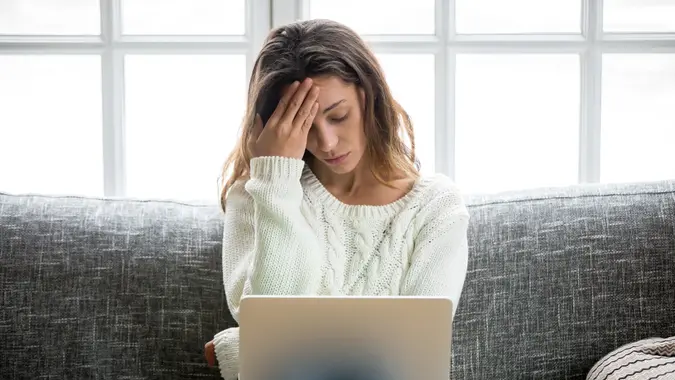 fizkes / iStock.com
Unless you own your own home, chances are that you're paying rent somewhere. According to Statista, the average monthly rent for a two-bedroom apartment in the United States is $1,320, an increase of $38 from the previous year.
While this is only a small increase, the cost of renting an apartment is on the rise in many parts of the country. In some states, it went up by over 20% from 2021 to 2022 alone. While some of the more expensive states, like New York and California, actually saw a slight drop in apartment rent prices, rent is still a major financial burden for many people.
According to a GOBankingRates survey, roughly 50% of renters spend between $751 and $2,000 on their monthly rent payment. Meanwhile, just 36% of renters spend $750 or less, while 14% of renters spend more than $2,000.
Not only is the cost of housing high, but many apartments come with hidden or additional costs that you might be expected to pay — beyond the typical rent itself. Here are some of the biggest fees and how to reduce them.
Application Fees
One of the most common fees when it comes to renting is the application fee, which landlords typically use to cover the background check.
"Potential tenants will have application fees that are typically non-refundable, from $45 an adult to $100 an adult," said Daniel Del Pozo, real estate agent at Leading Real Estate Companies of the World.
Some property owners might try to charge their tenants additional or higher fees during the application process, though.
"Make sure that the application fee is being used to only cover the cost of the tenant's background check," said Greg Helbeck, owner of Velocity House Buyers. "Besides this, there should be no other screening fees before you sign the lease."
Technology Packages
Some apartment complexes, especially newer ones, charge technology fees for things like video intercom systems, smart thermostats and mobile app access. The total cost depends on the apartment, but could be anywhere from around $20 to $90 a month.
"Prospective renters should be aware of various potential fees and hidden costs when considering an apartment," said Stacy Brown, director of technical training at Real Property Management, a Neighborly Company. "In addition to the monthly rent, these could include technology or internet and television packages."
You may be able to opt out of some of these fees, but it depends on whether they're part of the unit or an add-on. Review your lease and speak with the property manager about your options.
Community Amenities and Maintenance
Aside from technology, many apartment complexes charge additional fees for using their amenities. Common amenities include a business center, swimming pool, exercise center, on-site dog park, trash valet services and parking. These fees can add up — and fast.
For example, a reserved parking spot might cost around $20 to $30 a month, while a covered or garage parking space could cost even more than that. Other amenities and regular maintenance fees are often included in the leasing agreements, meaning you can't necessarily opt out of them.
Certain services, like a parking valet or concierge, could be optional. If you don't want to use these services, ask about opting out of them.
"To minimize renters' fees, consider negotiating with landlords, researching complexes with fewer fees, inquiring about move-in specials, bundling services and opting for pet-friendly spaces," suggested Brown.
Utilities
Some apartment complexes will include certain services, like trash removal and sewage, in the rent. But oftentimes, you'll be responsible for paying the utility bills as a separate expense.
You might also have to pay a deposit upon moving to a new place to the utility company, though this is more common for first-time renters. If a deposit is required for setting up utilities, you could be looking at anything from just under a hundred dollars to several hundred dollars — depending on your credit score and rental history.
Before making the move, look for "apartments with inclusive utilities [to] further help reduce financial obligations," said Brown.
Also, "make sure you can afford monthly expenses that you may not be paying for today: rent, utilities — e.g., electricity, water, internet — food," said Matt Gromada, managing director and head of youth, family and starter banking at JPMorgan Chase & Co. "If you're not paying for utilities or food today, ask whoever does pay for them how much they cost. The cost of rent/utilities/food differs widely based on where in the U.S. you live."
Other Upfront Costs
Depending on where you live, the upfront cost of moving into a new apartment can be rather hefty.
"At least for Las Vegas, [upfront costs] tend to include: admin fee (average around $120), key fee (average $50-$100), cleaning fee (average $300-$500), pet fee ($300-$500, and potentially 'pet rent' from $20 a month to $100 a month) and the deposit, which is normally the same amount as the rent," said Del Pozo.
All of this added together equals roughly $790 to $1,320, excluding the deposit.
Renter's Insurance
Renter's insurance, or renter's liability insurance, is another fee to consider. Depending on the policy you choose, you can either pay this all at once or split the cost across all of the months of your lease.
Each apartment complex is different in their renter's insurance requirements. More expensive or newer buildings might ask for a more expensive policy that covers such things as personal property, unit damages, medical costs and more.
Renter's insurance usually costs around $150 a year, depending on where you live and which policy you get. If you want to reduce costs, shop around for more affordable plans or opt out of nonessential coverage.
"Compare renter's insurance options, review leases carefully, explore no-fee apartments, plan for moving during reduced-fee periods and communicate openly with landlords," said Brown. These are all ways to cut costs — not only on renter's insurance but on other aspects of renting an apartment.
Apartment Orientation Fee
In addition to the fees you might already know about or expect, certain apartment complexes will find other ways to tack on additional charges when you rent with them.
"Some buildings even have an orientation fee, so they get paid to tell you about all the other fees," said Todd Stearn, founder and CEO of TheMoneyManual.com. "It's wise to ask about all the fees up front to eliminate surprises."
"A careful review of the lease agreement and proactive questioning can help renters understand and prepare for these potential financial obligations," added Brown.
Bottom Line
Renting an apartment could be more expensive than you think, especially if you're looking at higher-end or luxury units. But you might be able to avoid certain fees by shopping around, reviewing the leasing agreement carefully and simply communicating with the property owner.
"Rental fees are tough to get around, as many are required by the owner or property management company. My advice to find the lowest initial costs for a rental would be to work with a real estate agent that can search for properties easier than a tenant. Agents can also help negotiate rental deals," said Del Pozo. "With proper negotiation, an agent can either help skirt some of the fees for a tenant or even turn around a denial to an acceptance."
GOBankingRates surveyed 1,091 Americans aged 18 and older from across the country between Aug. 14 and Aug. 16, 2023, asking twenty different questions: (1) Have you had trouble paying your utility (gas, electric, heat, internet, etc.) bills in the last 6-12 months?; (2) Which of the following bills/expenses has been the hardest to keep up with over the past year?; (3) Have you bought a car/truck in the last 6-12 months?; (4) Have you ever been on food stamps?; (5) Have you or would you use artificial intelligence (AI) to earn a passive income?; (6) Where do you shop for the best deals on groceries?; (7) What is your current annual income?; (8) How much were you able to contribute to your savings this year?; (9) How much have your savings/investments decreased over the past year?; (10) Next year's (2024) Social Security Cost of Living Adjustment (COLA) will be 3% instead of the 8.7% it saw in 2023. Will this affect you?; (11) What assets do you have in your retirement portfolio? (select all that apply); (12) How much money do you currently have saved for retirement?; (13) How much personal savings do you currently have?; (14) What's the first step you would take if you were starting a small business?; (15) If given the choice between your current job and starting your own business, which would you choose?; (16) If you have any plans to start a small business, what is the timeline?; (17) How much do you currently spend on rent?; (18) How much do you currently pay monthly on your mortgage?; (19) How much has your housing (rent, mortgage, etc.) gone up over the past year?; and (20) How long do you believe it will take you to save, in order to buy a house?. GOBankingRates used PureSpectrum's survey platform to conduct the poll.
More From GOBankingRates