Paying Bills on Time: How To Better Manage Your Bills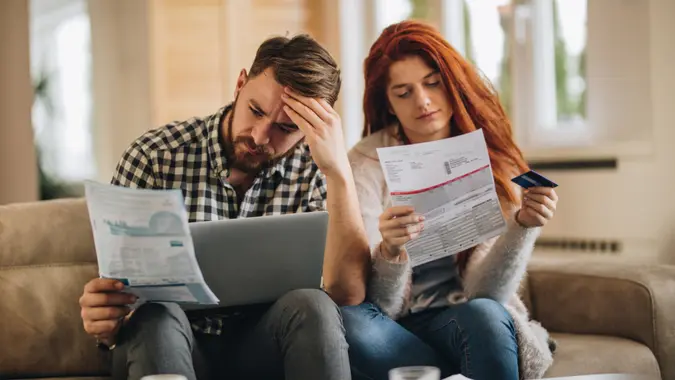 skynesher / iStock.com
Managing your bills can feel overwhelming. Between utilities, subscriptions, loans and rent, it's a lot to stay on top of every month. But paying your bills on time is the best way to keep your finances on track.
This quick guide will walk you through a few tips to manage your bills, including: 
Setting up autopay
Sticking to a schedule
Paying bills in order of importance 
Reducing your monthly bills
Why Paying Your Bills on Time Is So Important
In 2022, more than half of Millennials were living paycheck-to-paycheck, according to Bloomberg. As bills pile up, it's easy to fall behind on monthly payments and eventually slip into debt. Getting out of debt on a low income is doable — but the best thing for your financial future is to avoid falling behind.
Can Missed Payments Affect Your Credit?
Missed payments on your credit cards and loans can impact your credit score. Non-credit bills like rent and utility payments won't affect your credit score but may charge late fees if you don't pay on time. 
Steps To Manage Your Bills
Save yourself from late fees, interest and collection calls by paying bills on time. Here are a few steps to help you stay on top of your monthly payments.
1. Set Up Autopay
With autopay, you won't have to remember to manually pay a bill. The amount will be automatically taken from your bank account every month. To be clear, there are some bills you never want to put on autopay — this is best for any consistent monthly payment that you know won't drain your account.
For bills you don't want to put on autopay, set a recurring calendar reminder on your phone to remind yourself to pay.
2. Make a Schedule
Set up a payment schedule that works with your budget. That might mean picking one day each month to pay all of your bills, splitting your bills up into two monthly payments or checking your outstanding payments once a week. By making your payments part of your routine, you can keep bills from falling through the cracks.
A spreadsheet can also help you stick to your payment schedule. Create a spreadsheet or list that includes payment amounts and due dates and keep it up to date. That way, sitting down to make those payments is fast and easy.
3. Pay High-Priority Bills First
If your monthly budget feels stretched, it might help to schedule your payments in order of importance.
High-interest debt: The average credit card holder in the U.S. has nearly $5,500 in debt as of late 2022. That debt can easily spiral if you aren't making your payments on time.
Utilities with no grace period: Prioritize utilities that will be shut off after a missed payment.
Subscriptions: Your gym membership, streaming services and other subscriptions can be set aside if your budget is stretched — just make sure you're aware of any potential late fees if you skip a payment.
4. Reduce Your Bills Wherever Possible
If your bills feel overwhelming, look for ways to cut them down. Cancel any subscriptions you aren't using, avoid signing up for new services and consider unplugging expensive appliances. The more manageable your monthly payments are, the easier it will be to save.
Stay Ahead of Debt by Paying Your Bills on Time
If you feel like you can't pay your bills this month, don't panic. Make a schedule, pay your high-priority bills first and cut down costs wherever you can. Staying on top of those payments will keep you from slipping into debt and set you up for a stronger financial future.
FAQ
What's the best way to pay your bills?

Autopay can be a helpful method to pay bills that are predictable and necessary. However, if you're on a tight budget, you might want to make a schedule and pay your bills manually, starting with high-interest loans and utilities.

How do you pay your bills and still have money?

If your monthly bills swallow your whole paycheck, look for ways to cut costs. It's always better to pay your bills on time than go into debt, even if it takes all your spending money.
If there's still just not enough money left at the end of the month, consider picking up a side hustle

–

or two.
Our in-house research team and on-site financial experts work together to create content that's accurate, impartial, and up to date. We fact-check every single statistic, quote and fact using trusted primary resources to make sure the information we provide is correct. You can learn more about GOBankingRates' processes and standards in our editorial policy.