How To Recover After a Long Stretch of Bad Financial Luck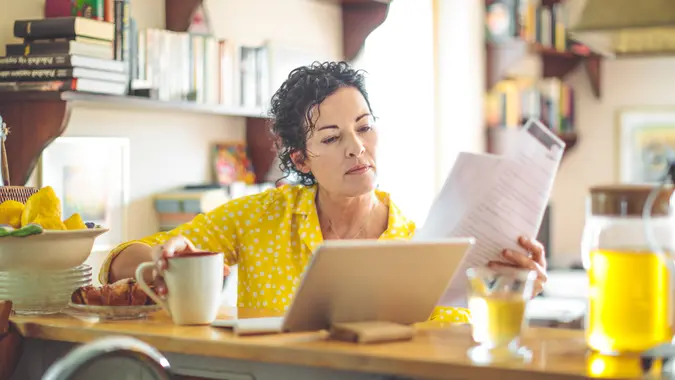 Eva-Katalin / Getty Images
If a grueling run of financial bad luck has sucked the fun out of everything for as long as you can remember, now is a good time to declare this moment rock bottom and begin to right the ship. No matter how far you've fallen, the clouds are beginning to break and people across the country who have suffered just like you are starting to dig out. You can, too.
See: Don't Miss Out on Nominating Your Favorite Small Business To Be Featured on GOBankingRates — Ends May 31
All you have to do is follow a few super-obvious tips that are easy to say and hard to do:
Save more

Spend less

Get out of debt

Start investing
See: 6 Career Mistakes To Avoid During an Economic Downturn
Strong ideas, indeed — but they're in the wrong order. Try this instead.
Start Investing Now
If you're drowning in debt and behind on bills, opening a free investment account with a no-fee brokerage firm might be the farthest thing from your mind. But do it anyway — you'll see why soon — and do it with one that offers fractional-share investing like M1 Finance. You might feel like you don't have a single dollar to spare, but what if you could come up with, say, just seven or eight bucks a month?
See: The Wildest Things Your Taxes Are Paying For
The iShares Core S&P Total U.S. Stock Market ETF (ITOT) — which gives you a sliver of nearly 4,000 small, medium and large American companies — is currently trading at around $90 a share. A monthly contribution of $7.50 will blossom into a full, dividend-paying, appreciating share of that ETF by this time next year. It's not a lot, but it's infinitely better than nothing — and psychologically, it's the foundation you'll build on.
Read: 13 Toxic Investments You Should Avoid
Investing Makes Saving Easier
Investing comes first because it's the prize you'll focus on when you start jonesing for that $7 Starbucks or Chinese food delivery. When you're tempted by the individual splurges that lead to the slow, steady drip of overspending, all you'll have to do is open that brokerage app.
Discover: 25 Investments That Make You Feel Good While You Make Money
When you see that little partial share growing and getting stronger, when you see that pie chart moving in the right direction, you'll be able to imagine what that latte or lo mein would look like in ETF form in your account instead of what it will taste like. Suddenly, you'll notice that willpower is much easier to come by and the twin drivers of financial recovery — saving more and spending less — will now be backed up by inspiration.
Helpful: Tips To Keep Your Finances in Order Without Sacrificing What You Want
Really Make Your Tax Refund Count
New Year's resolutions are great, but there's no extra cash coming in on Jan. 1. When the IRS starts accepting tax returns on Feb. 12, however, that won't be the case for the millions who are expecting a refund. Start planning now for how you'll spend every dollar. Consider things you have to do immediately (fix your car or pay your bills), that you need to do after that (pay down debt and build an emergency fund), and finally, things you want to do. Yes, it's OK to spend a little on yourself — even now.
Know: 10 Simple Habits of Money-Smart Individuals
Likewise For Any Stimulus Payments
Although Congress is still debating the particulars, it appears that more federal relief is on the way. Learn as much as you can about who qualifies for any new stimulus payments and what you can do to make sure you get your share in a timely fashion. Just like your tax refund, don't waste a dollar — that's not to say don't buy yourself something or splurge on a pricier to-go meal. It's been a rough go. You deserve to live a little. But don't splurge on a whim — budget for self-indulgence just like you would car repairs or anything else, then get back to work.
More From GOBankingRates
Last updated: May 7, 2021