Should You Trust Money Advice on TikTok?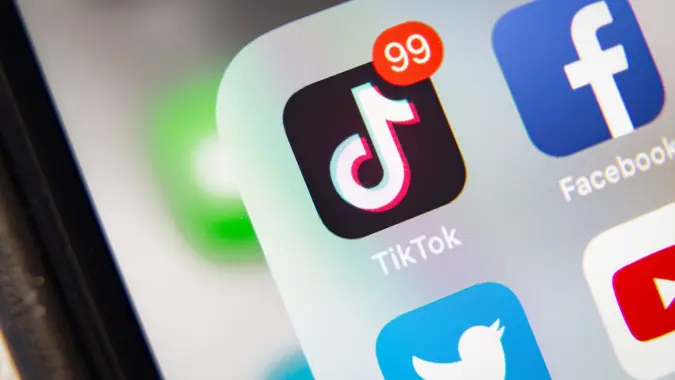 5./15 WEST / Getty Images
Searching for money advice online can be overwhelming — there's a lot of it out there, sure, but how do you know which advice to take?
Check Out: The 10 Best Stocks for the Gen Z Investor
The money advice on TikTok is an even more slippery slope. As #FinTok (finance TikTok), #StockTok and more money-related hashtags grow in popularity, it's harder to discern who's worth their salt and who's just trying to sell their e-book ("you can be a millionaire too…for the low, low price of my $29.99 course on day trading!").
In most cases, it's somewhere in the middle; but the only real price you should be paying is your view on their video.
Like all apps, TikTok can be a useful tool or a detriment, depending on how you use it. Here are some things to keep in mind before taking a TikToker's financial advice.
Top Podcasts: What Are People Listening To for Money Advice?
Avoid Any 'Get Rich Quick' Marketing
If a creator is trying to sell you something, that's an immediate red flag. In the age of the internet, you can find a lot of things online for free, so you shouldn't buy anything you're not 100% sure will help you — especially if it's coming from a random TikToker.
Moreover, anybody telling you there's a way to "get rich quick" is either lying or got lucky themselves. Maybe they did come up with a brilliant startup idea or invest $100,000 in GameStop. Either way, most people aren't successful overnight, and if they were it was probably on a big gamble.
See: Top 10 Richest TikTok Influencers
Look At Their Credentials
TikTokers aren't required to list their credentials in their bio, but some do. Believe it or not, there are certified financial planners and certified public accountants on TikTok, and you can usually Google their names to see if they're legitimate.
That doesn't mean that people who aren't CFPs and CPAs can't have good financial content. They may have authored a popular blog, or perhaps they own a successful business. Any of these things can help establish credibility and the idea that their content is more trustworthy than someone without the same background.
Find Out: The 10 Best Money Experts To Watch on TikTok
They Should Be Trying To Teach You, Not Tell You What To Do
Everyone's financial situation is different, meaning advice that works for a New York City real estate investor may not work for a small-town Texas house flipper. That's why personal finance creators should be trying to teach you to make your own financial decisions — not make them for you.
If a creator tells you that you need to invest in AMC right now, or that you're an idiot if you don't have crypto in your portfolio, it's a good sign they're not the wealth of knowledge they make themselves out to be.
Read: 10 Financial Books That Will Change Your Life (and Finances)
Don't Make Big Money Decisions Based on One Person's Advice
TikTok can be a good platform for finding financial advice. But even if someone says all the right things, has all the right credentials and seems like a genuine person, their financial advice may not be right for you. Before you make a big decision like buying a house or taking out a business loan, you should gather advice from multiple sources, do more research yourself and maybe even ask a financial advisor. A key component of financial planning is the planning part, and impulsive decision-making is what usually lands people in hot water.
More From GOBankingRates
Last updated: Sept. 13, 2021