To Create Generational Wealth, You Need To Have This Uncomfortable Conversation First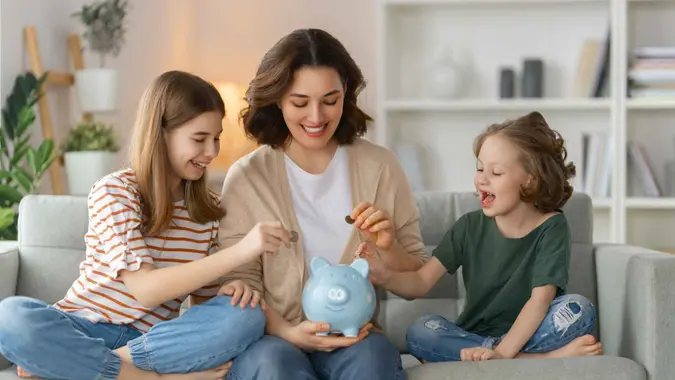 Choreograph / Getty Images/iStockphoto
Wherever you live, money can be an uncomfortable topic to discuss. Wealth management company Citadel recently introduced "Conversations — A Series" to encourage families to talk about money and break generational cycles of unhealthy money habits that keep people broke.
How To Make Talking About Money More Natural in Your Family
Citadel advisory partner Kirsten Smit shared her thoughts with South African outlet eNCA. Her tips apply to American families, as well — particularly those in the midst of raising children while caring for aging parents.
"Talking about money is awkward; it doesn't come naturally to any of us," Smit said. "By talking about money, you start to deepen your conversations, deepen your connections, and alleviate a lot of fear." She pointed out that having children often becomes the trigger for couples to start having money conversations. It's wise to bring your children into these conversations. Doing so can help build a solid framework to start creating generational wealth.
Talk About a Budget and Financial Choices
The first conversation to have, she said, should involve creating a plan or a budget. "It should be quite granular," she said, and should include the costs of childcare, schooling, and other household expenses.
She pointed out that it's never too soon to increase your children's awareness of money as a tool. "When kids see us paying with our phones, the concept of money becomes vague to them. You've got to really start talking about it, bringing it into conversations, and teaching them that money is an opportunity cost. It's a choice you make."
As children get older and their understanding grows, if you've laid the groundwork for talking about money in a natural way, you can introduce the concepts of asset classes, stocks, bonds, and money management.
Shift to a Savings Mindset
Most importantly, you can create a culture of saving in your home. Smit explained that it's common for parents to want to provide everything for their children, but doing so often comes at the expense of their own retirement savings. Parents expect the children will look after them — however, this creates a cycle of dependency rather than generational wealth.
"For us to break the cycle, we have to be deliberate," she said. "It's up to us to say there are limits to what we can spend and choices we have to make. Plus, we have to set aside for our own retirement so our children can move forward without having to look after us. I think that's critical."
Create a Contingency Plan for the Future
Finally, Smit recommended having conversations about emergency savings and life insurance. "You need a contingency cash account available, like an emergency slush fund," she said. You will also want to discuss insurance, which Smit referred to as "risk cover."
In the U.S., long-term disability coverage and life insurance would provide for your family's needs if you are unable to work or if you pass away.
More From GOBankingRates