Top 3 Expert Tips for Managing Debt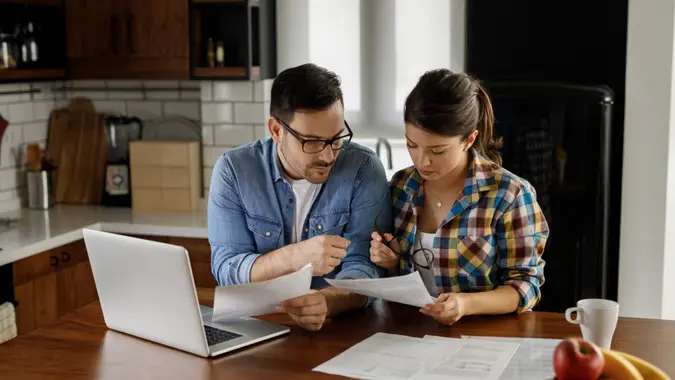 EmirMemedovski / Getty Images/iStockphoto
Day 21: GOBankingRates wants to help you Live Richer. For a month, we'll be sharing daily tips for how you can do just that, with advice on budgeting, saving, investing, making the most of your career and managing debt — plus money advice for every phase of your life. Check back each day during our 31 Days of Living Richer to learn everything you need to know to set yourself up for financial success and live the richest life possible.
The average American has $90,460 in debt between credit cards, personal loans, mortgages, student debt and other forms of consumer debt, CNBC reported. And when you owe nearly six figures (or more) it can be overwhelming to figure out what to do to get out of it. But no matter how much debt you have, it's possible to manage it, pay it down and come out the other side.
Here's what experts say to do to manage your debt.
Go Back To Day 20 of Living Richer: 3 Signs You've Found Your Dream Job
Day 19 of Living Richer: Top 3 Expert Tips for Salary Negotiations

Figure Out Which Debt To Pay Off First
"Debt that affects someone's shelter and security, such as mortgage debt, should be looked at first," said Howard Dvorkin, CPA, personal finance expert and chairman of Debt.com. "Credit card, medical and student loan debt can be looked at afterward."
Next, focus on the debt with the highest interest rate — typically credit card debt.
"The interest rate being charged is the key factor," said Scott Schleicher, advisor team manager and senior financial advisor at Personal Capital. "Many folks prioritize the size of the debt rather than the interest rate they are paying — which is wrong."
And Day 18: How To Achieve Better Work-Life Balance
Make More Than the Minimum Payment
"If you only pay the minimum each month, it can feel that it will take forever to get out of debt," said Ricardo Pina, founder of the personal finance blog The Modest Wallet. "If you pay a bit more — even if it's $25 or $50 more — it will help you pay your balance faster and it can boost your morale."
Day 17 of Living Richer: Top Perks To Look for When Searching for a New Job
Read Day 16's Advice: How To Find a New Job That Fits Your Life

Learn To Hate Debt
"Stop living beyond your means by using debt. Learn to hate debt," said Michelle Singletary, a personal finance columnist for The Washington Post. "If debt were a person, I'd slap it. If you learn to have a healthy hatred of debt, you can manage your budget better because less of your income would be used to service debt."
"The biggest mistake people make is thinking debt is an OK tool. It's not," she continued. "It may be necessary to buy a car or home, but make no mistake — it's like having a 50-pound weight on your financial shoulders."
Day 22: Join us tomorrow for our Living Richer series when we look at how you can stop accumulating debt once and for all.
More From GOBankingRates
Last updated: July 21, 2021
Jaime Catmull contributed to the reporting for this article.