How To Find a New Job That Fits Your Life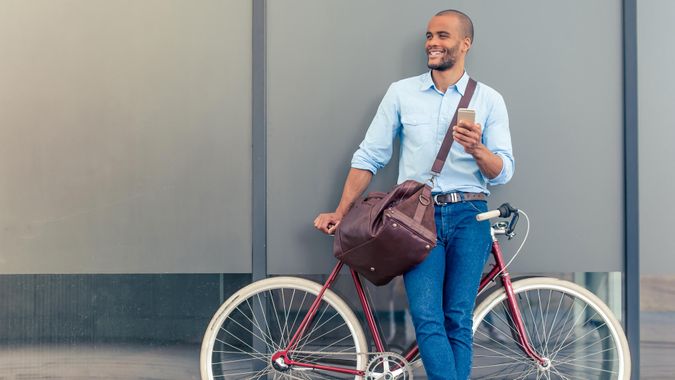 George Rudy / Shutterstock.com
Day 16: GOBankingRates wants to help you Live Richer. Throughout the month of July, we'll be sharing daily tips for how you can do just that, with advice on budgeting, saving, investing, making the most of your career and managing debt — plus money advice for every phase of your life. Check back each day during our 31 Days of Living Richer to learn everything you need to know to set yourself up for financial success and live the richest life possible.
Read Day 15: How a Side Hustle Can Help You Achieve Your Financial Goals
Here's Day 14: 3 Side Jobs To Consider If You Need Extra Income
Your job should ideally supplement your life — not take it over. If you're currently stuck in a job that you find unfulfilling or doesn't allow you the work-life balance you desire, it might be time to start looking for a role that's a better fit for you. But knowing how to land the ideal job for you can be tricky.
Go Back To Day 13 of Living Richer: How Investing Can Help You Live Richer
Here are a few ways to find a new job that fits your life.
Meet With a Career Counselor
If you're not sure what the ideal job is for you, start by meeting with a career counselor who can help you identify jobs your skills would be a fit for, as well as the types of roles that would enable you to live the life you want.
Check Out Day 12: How To Make Investing Part of Your Long-Term Financial Plan
Get Organized
Research the Industry You Want To Be In
If your goal is to work in a different industry, start by doing your research.
Read: What It Means To Live a Truly Rich Life and How To Achieve It
"Get a feel for the way the industry and respective companies function in the world, the services they provide to others and the types of jobs in that industry that could pose as a potential new career," said Matthew Warzel, president of MJW Careers. "I love using Google News, Google alerts, Salary.com, Glassdoor, Indeed and LinkedIn to uncover industry and job research."
Reach Out to People in Your Network
"The best possible thing a job seeker can do now to pave their way to a new job […] is to network," said Krystal Yates, HR expert and founder of EBR Consulting LLC. "While many people get nervous when they hear that, it doesn't have to be difficult. Renew your connections and start having conversations about where these people are working and what they are doing. Ask them what you can do for them and do it. When the time comes, you will have a much better idea of who in your network can help and how."
More Living Richer: How To Save When You Live Paycheck to Paycheck
Contact Recruiting Agencies
Recruiters can be an invaluable resource for your upcoming job search.
Discover: How Investing a Little Bit Each Paycheck Goes a Long Way
"Expand your early search strategy by tapping into the wisdom of the crowds and specialists," said Roger Maftean, a career expert at ResumeLab. "Let them review your resume, give you the latest and greatest from the battle lines, and see what the hiring outlook is for the next three to six months."
Find Out: 5 Budgeting Apps That Can Help You Live Richer
Day 17: Join us tomorrow for our Living Richer series when we look at the top perks to look for when searching for a new job
More From GOBankingRates