3 Signs You've Found Your Dream Job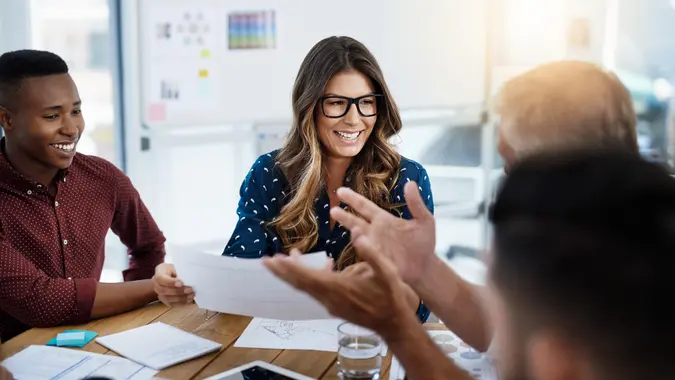 PeopleImages / Getty Images
Day 20: GOBankingRates wants to help you Live Richer. For a month, we'll be sharing daily tips for how you can do just that, with advice on budgeting, saving, investing, making the most of your career and managing debt — plus money advice for every phase of your life. Check back each day during our 31 Days of Living Richer to learn everything you need to know to set yourself up for financial success and live the richest life possible.
We spend a good portion of our lives working, so it's important to find a job you enjoy — or at the very least, that you don't hate. But if you're really lucky, you may just end up with a job that's a perfect fit for you. So, how do you know if you've found this elusive vocation? Here are three signs you've found your dream job.
Go Back to Day 19 of Living Richer: Top 3 Expert Tips for Salary NegotiationsDay 18: How To Achieve Better Work-Life Balance
1. It aligns with your personal values.
"Foundational to a robust job search is identifying your top values," said Maureen B. Weisner, co-founder and managing partner at Kickstart Your Transition, a career coaching and consulting service. "We recommend creating a list of at least five to 10 to begin. When those values are congruent with the position offered, you're on the right track. When there is a true alignment of personal values and the vision a company holds and executes, it's the ultimate in satisfaction."
And Day 17 of Living Richer: Top Perks To Look for When Searching for a New Job
Make Your Money Work Better for You
2. It genuinely excites you.
"I always advise people to look for a job that sparks their curiosity," said Caitlin Proctor, a career expert with ZipJob. "The right job will often inspire people to learn more, either to improve efficiency or impact. Because I mostly talk with people who are unhappy with their current jobs, it's easy for me to see when people are at the right job: they're eager to talk about the work their company does and their specific part in that work."
3. It allows you to live the life you want outside of work.
Money certainly isn't everything, but your ideal job will allow you to have the quality of life you desire.
"When it comes to landing the right job, salary is always part of the equation," Proctor said. "When you can afford to choose, your salary needs to support your financial goals. However, there are other important factors to consider. Flexible working hours are especially important to job seekers today, as well as remote work options. Paid time off, bonuses, profit sharing and medical coverage are also perks that can be negotiated to make a lower salary more valuable."
Day 21: Join us tomorrow for our Living Richer series when we look at the top three expert tips for managing debt.
More From GOBankingRates
Make Your Money Work Better for You
Last updated: July 20, 2021