5 Types of Insurance That Are Often a Waste of Money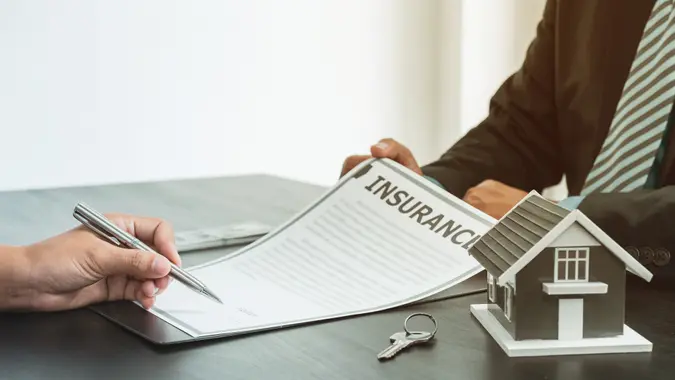 Lucky7trader / Getty Images/iStockphoto
For the average person, insurance is one of the most complicated and confusing services that money can buy. The people who sell it argue that it's always better to have it and not need it than need it and not have it, but when it comes to insurance coverage — more isn't always better.
Holiday Spending: Get Top Holiday Shopping and Savings Tips
Take a Look Back: 2022 Year in Review
Some policies just don't make sense for most people in most situations. Talk to a trusted professional if you're on the fence about any coverage you're considering, but assume that the following policies are unlikely to ever pay for themselves.
Dealership Gap Insurance 
Gap insurance covers the difference between what you owe on your vehicle and what the vehicle is worth. Considering that your car is worth less than you paid the moment you drive it off the lot, gap insurance might be a worthy investment.
Just don't buy it from the dealership.
"The dealership policies can cost between $500 and $1,000 and may have special conditions in them that are hiding in the fine print," said Joel McCool, VP of sales and operations for The Churchill Agency. "You can typically add this coverage to your auto insurance policy for as little as $25 per year, and it's called 'loan/lease payoff.'"
Whole Life Insurance
Andrew Griffith, CPA, associate professor of accounting at the LaPenta School of Business of Iona University, is so adamantly against whole life insurance policies that he never sold a single one when he worked as a licensed insurance sales agent.
Unlike term policies, whole life insurance lasts for the policyholder's lifetime and pays beneficiaries upon the insured's death. The other big difference is that part of the premium goes to cash savings, which the policyholder can borrow from before the inevitable happens.
Take Our Poll: How Has Inflation Impacted Your Holiday Shopping Plans?
When Griffith was in the Navy, an on-base insurance agent sold him a $100,000 whole life insurance policy for $50 a month, $5 of which went toward his cash value account.
He did some quick math and canceled the policy without delay.
"I was paying $50 per month for an insurance company to place $5 each month in a savings account for me and cover me with a term life insurance policy of not more than $100,000 that had a retail monthly premium of $8 per month. In other words, I was paying an insurance company $37 each month to accomplish something that I could easily do myself."
Protection Plans for New Purchases
No matter what you buy, there's a good chance it will come with an offer to pay for extra protection. But in most cases, you're throwing money away when you buy extended warranties on brand-new items.
"These are rarely used and are just a waste," said Lisamarie Monaco, a national independent life insurance agent and co-owner of InsuranceForBurial.com. "If you purchase a brand new item and something goes wrong, rest assured if it is from a reputable business or company, they will refund you or replace the item."
In most cases, they have no choice.
According to Upcounsel, state laws mandate implied warranties that protect consumers from factory defects whether the product comes with an express warranty or not.
"Normally, government-mandated warranty coverage spans the early days of a product's life, which is when early product failure is high," said Griffith. "The extended warranty period covers it when product failure risk is at its lowest in the product life cycle. Of course, most of these extended warranties end before the end of a product's expected life and those are often not renewable."
Supplementary Rental Car Insurance
When you rent a car, the agent will probably try to sell you a commission-based insurance plan and warn you about the dangers of driving off with insufficient coverage. If you already have car insurance, a simple "no, thank you" should do.
While it's true that most companies provide only minimal coverage for their vehicles, your own policy rides with you in your rental.
"If you rent a vehicle for any amount of time and something happens, your personal car insurance is what will protect you," said Monaco. "You truly don't need to spend the extra money on this insurance."
Travel Insurance
Melanie Musson of Expert Insurance Reviews has seen travel insurance surge in popularity since the pandemic. While she recognizes that it may be suitable for some families in some situations, she thinks those exceptions are few and far between.
"If the airlines cancel your flight, they'll cover a new flight, and your travel insurance policy won't expedite the process," said Musson. "If you're worried that you might miss your flight because you're sick or something unexpected happens, many airlines allow you to choose flexible tickets for a minor charge of around $30-$50 per round-trip, which may be less expensive than travel insurance."
Accommodations typically come with even looser flex policies. "If you booked a hotel, most let you cancel earlier than 24 hours before your stay," Musson said.
More From GOBankingRates