Financial Consultants: What They Do And 4 Reasons Why You Need One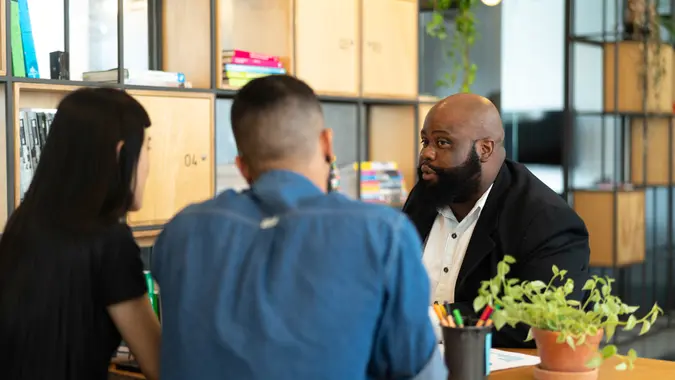 FG Trade / Getty Images
You've probably heard the term financial consultant tossed around, and you may wonder what these professionals do and how they can help manage your money. In general, they help you build wealth by designing personal financial strategies to achieve your goals based on your current financial situation. This includes anything from managing your investment portfolio, helping you with life insurance options, or even showing you how to achieve your retirement planning goals.
Read: What To Do If You Owe Back Taxes to the IRS
What Does a Financial Consultant Do?
When seeking financial advice about your personal finances and investment strategies, finding the right financial consultant for your needs is a great first step. A consultant typically works with individuals or companies. They help with a wide range of topics including financial planning, investment management, tax planning and retirement.
Depending on their background and certification level, a financial consultant may assist with more specialized needs like tax planning, insurance and estate planning. They may also help you identify the best investments based on your risk tolerance and goals.
4 Reasons You Need a Financial Consultant
Simply put, a financial consultant will help you achieve your financial goals by offering advice to build wealth. For example, if you want to save for retirement and you're not sure how a consultant will help recommend the right type of retirement account and how much to save. Here are four reasons you may need a financial consultant:
You're having trouble budgeting or saving
You're struggling to pay your debts
You're ready to invest
You have no retirement plan
1. You're Having Trouble Budgeting or Saving
Following a budget will ensure that you keep track of all your spending to achieve your financial goals. But if your previous budgeting has failed a couple of times, you may need a professional to help. There are several reasons people fail at budgeting — a financial consultant can help you create a budget you can live up to.
2. You're Struggling To Pay Your Debts
Many people have debt, whether it's a student loan, car loan or mortgage. If you're drowning in debt to the point where consolidating your debts becomes a burden, it's time to hire skilled personnel. A financial consultant can help you set up a repayment plan to pay off your debts in a manageable way.
3. You're Ready To Invest
Investing is a great way to build wealth. But if you don't have a solid investing plan, it can be intimidating. Depending on your short-term and long-term investment goals, a financial advisor can develop a strategy to help you become a great investor.
4. You Have No Retirement Plan
If you have no idea how much to save for retirement or which retirement account to choose, hiring a financial consultant will be wise. They'll walk you through different saving options depending on your retirement goals.
Types of Financial Consultants and How To Work With Them
Before financially advising, a financial consultant will look at your current financial health — this includes things like your assets, investments, income and debts. They will then sit down with you and develop a strategy to achieve your short-term and long-term financial goals.
The kind of service you receive from a financial consultant depends on the type you hire. If you're looking for a consultant, you may want to consider these three options:
Financial Consultant Options

Robo-advisors. If you prefer a hands-off approach when it comes to investing, a robo-advisor will help you manage your portfolio based on your risk tolerance and goals. On the plus side, robo-advisors offer inexpensive portfolio management, and some provide financial planning services.
Traditional financial consultants. Unlike robo-advisors, a conventional financial consultant can be quite expensive because they use a personalized approach to provide a wide range of planning options. As your needs change, a traditional financial consultant will guide you in making solid decisions based on your finances.
Online financial consultants. These professionals offer online financial planning services and are therefore suitable for individuals who don't want to hire a full-service consultant.
Financial Consultant vs. Financial Advisor
Financial consultant and financial advisor are two terms often used interchangeably in the financial services industry. However, there are some key differences to note:
Though both offer financial planning services, generally there is a large disparity between the length of relationships they maintain with clients.
Financial consultants address specific issues within a particular duration, and once the client's issue is taken care of, both parties go their different ways. 
Financial advisors, on the other hand, work with a company or individual on a long-term basis.
Consultants and advisors may have studied finance, economics or accounting, but certification levels may vary. Many hold designations such as chartered financial consultant, chartered financial analyst, certified public accountant or certified financial planner.
How To Choose a Financial Consultant
Hiring a financial advisor or consultant can seem intimidating, but going without one comes with plenty of risks. If you can't decide whether to hire a consultant, here are some factors to consider when looking for the best financial advisor:
Credentials
Financial consultants come from different backgrounds and offer various services. As mentioned earlier, some of the most common designations include ChFC, CFA, CPA, CFP and Financial Industry Regulatory Authority licenses such as series 7 and 66. Knowing their credentials will give insight into their areas of specialty and experience.
Fiduciary Duty
A fiduciary duty means an advisor must act according to the client's needs, not the advisor's interests. To receive the best services, your wisest bet is to choose a consultant who abides by fiduciary duty.
Fee Structure
Another crucial factor to consider is the cost of a financial consultant. These professionals get paid in the following ways:
Commission-based. Some consultants work on commission for the products they sell to customers.
Fee-based. Financial consultants who only receive fees might charge an hourly or fixed rate, which may vary depending on the parties' agreement.
Combination of fees and commissions. Some consultants prefer getting paid through a variety of fees and commissions.
Final Take To GO
Your financial circumstances will determine whether you need a financial consultant or not. These professionals can help you achieve your financial goals based on your current situation. However, before entering into a relationship with them, be sure to double-check their designations.
Lydia Kibet contributed to the reporting for this article.
Our in-house research team and on-site financial experts work together to create content that's accurate, impartial, and up to date. We fact-check every single statistic, quote and fact using trusted primary resources to make sure the information we provide is correct. You can learn more about GOBankingRates' processes and standards in our editorial policy.