Why You Should Think Twice Before Joining an MLM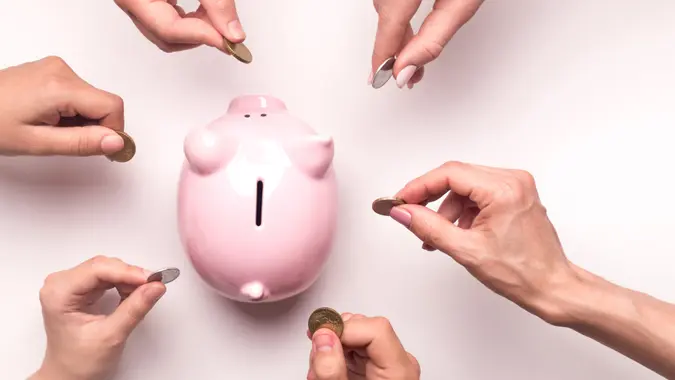 Prostock-Studio / iStock.com
In today's "Financially Savvy Female" column, we're discussing multi-level marketing companies and why you should think twice before joining one. These companies often target women, especially mothers and military spouses — those who want to be able to work from home and have flexibility in their work hours. In fact, according to the Direct Selling Association, three-quarters of direct sellers — also called "retailers" and "consultants" — are women, HuffPost reported. And while the idea of being your own boss can be appealing, there are many potential drawbacks to joining an MLM. Here, we chat with career experts and those with firsthand experience with MLMs to find out why this might not be the best career move for you.
Keep Up With the Latest: Sign Up for The Financially Savvy Female Newsletter
What Money Topics Do You Want Covered? Ask The Financially Savvy Female
It Takes a Lot of Time, Money & Skill To Be Successful
In theory, it seems like it should be simple to be successful at making money with an MLM company — just sell the products you buy at wholesale prices and keep the profits. But it's not quite so easy to become an MLM success story.
"For the vast majority of people, the payments for joining and the trainings that are heavily encouraged end up exceeding the commissions that are paid out," said Sean Sessel, founder and director of The Oculus Institute and author of "Soulfire: Break Out of a Burnout Job and Craft a Career That Inspires You." "Very few people have the marketing skills to get to the top echelon that's actually profitable, and if you do have or develop those skills, they can be compensated better elsewhere. The amount of time that is required is far higher than is generally promoted. Most often, people are effectively working as salespeople for less than minimum wage."
If It Seems Too Good To Be True, It Probably Is
Karisa Karmali, founder of Self-Love and Fitness, considered joining an MLM as a side hustle — but when she did more digging into how the company operates, she realized that the "dream" that they were selling was more like a nightmare.
"Since it was somewhat fitness-related and I have a huge passion for it, and they were super nice — almost sickeningly sweet — I almost signed the contract," she said. "Then I decided to slow down and ask more questions."
Survey Finds: 40% of Women Have Less Than $100 in Their Savings Accounts
After asking for a copy of the contract, she noticed a bunch of red flags.
"It turned out that there was a minimum fee to participate every month and they had an 'exit fee' of a high amount — double the participation fee if you leave before a year," Karmali said. "How they make their money is by recruiting 'independent consultants' and having them pay fees. [The company] clearly made its money from its employees rather than actual paying customers."
The Odds Are Stacked Against You
A 2018 AARP survey found that 73% of MLM participants lose money or make no money, and a 2011 report by the Consumer Awareness Institute found that at some MLMs, less than 1% of distributors earned a profit. MLMs require an initial investment to join — sometimes thousands of dollars — and based on those stats, chances are that you will never see that money again.
"Even if one is working from home and certain costs have been eliminated, an investment will still have to be made," said Joe Flanagan, senior career advisor at VelvetJobs. "All this to have a 1% chance of making money just doesn't make sense."
Get Going: 6 Steps You Should Take To Increase Your Financial Confidence
Not only are chances high that you won't make money, but you may actually end up going into debt.
"People who are lured into MLMs are sold on dreams of an extravagant earning potential while working from home, yet most people who join MLMs make very little to no money with many even losing money and falling into debt when they cannot sell enough products or recruit more salespeople," said Avantika Vaishnav, marketing manager at the job search tool Debut.
Alternatives to MLMs
MLMs may appeal to women who want to work from home and have flexible hours so they can take care of children and manage their households — but there are a growing number of career options that enable you to do this that don't involve the same risks.
"There are online job platforms such as Upwork, Freelancer, Fiverr and so on that offer the option of work-from-home opportunities," Flanagan said. "Some of them are opportunities like transcription, writers, proofreaders, virtual assistants, voice-over artists — the list is endless. These platforms are trustworthy, allow for one to manage their time and also have the option of handling more than one client at a time."
GOBankingRates wants to empower women to take control of their finances. According to the latest stats, women hold $72 billion in private wealth — but fewer women than men consider themselves to be in "good" or "excellent" financial shape. Women are less likely to be investing and are more likely to have debt, and women are still being paid less than men overall. Our "Financially Savvy Female" column will explore the reasons behind these inequities and provide solutions to change them. We believe financial equality begins with financial literacy, so we're providing tools and tips for women, by women to take control of their money and help them live a richer life.
More From GOBankingRates