7 Affordable Ways To Improve Your Work-From-Home Setup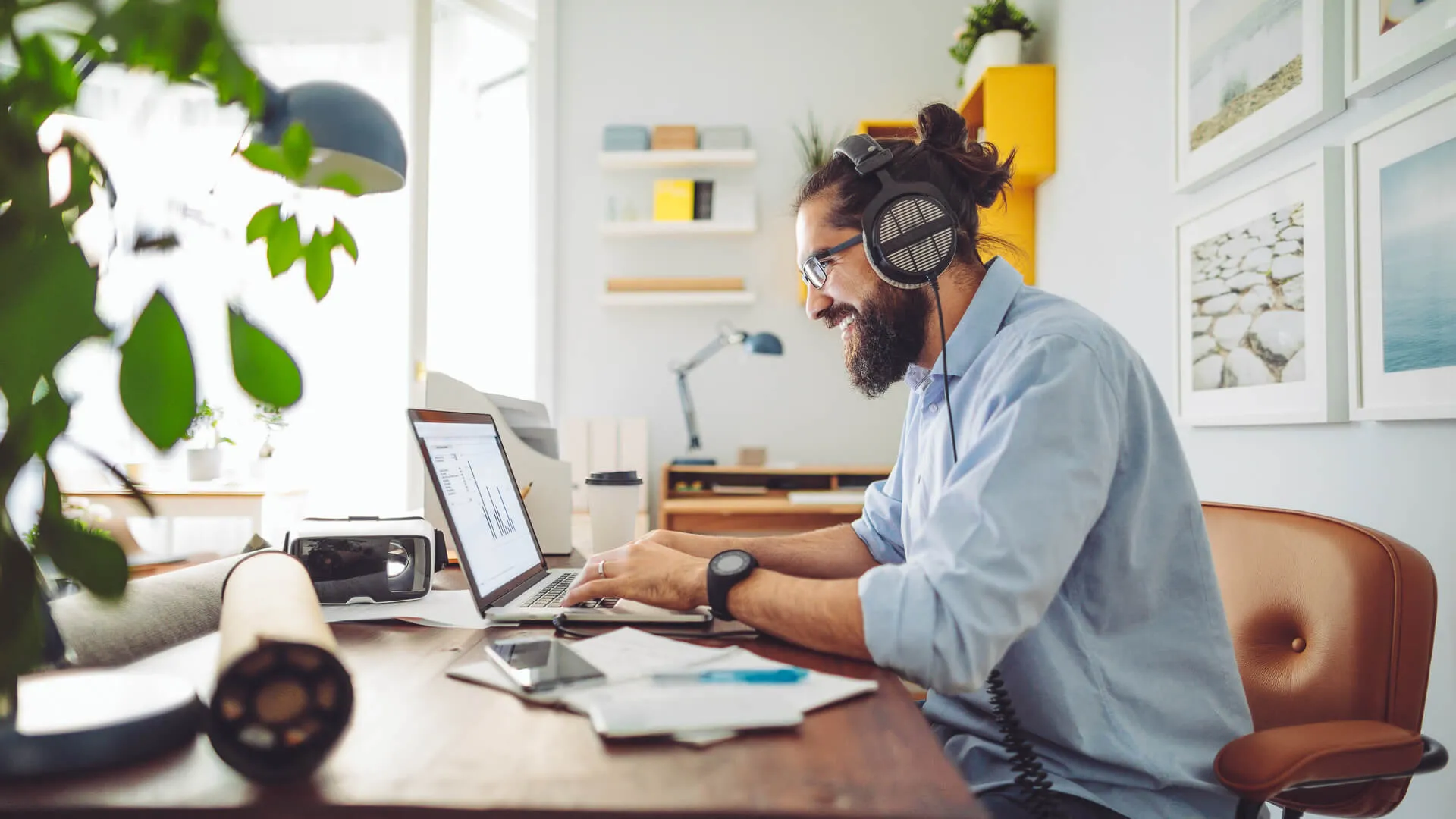 If you started working from home during the pandemic, like millions of other Americans, chances are you threw together a home office quickly, without much time to perfect it. Even now as states have reopened and many people have gone back to work, a large number of people are still working from home, including 72% of white-collar workers and 14% of blue-collar workers as of April 2021, according to Gallup.
If you are among them, it may be time to take a look at that home office setup you started haphazardly and refresh it to make it feel like a permanent office. Of course, nobody wants to spend a ton on an office upgrade, so here are tips to do so that won't break your budget.
Last updated: July 20, 2021
Clear Out the Clutter
Before you get started on any detail work, get honest with yourself: Everyone collects stuff over time and organizational systems often go out the window during busy or stressful periods. How much clutter can you clear out? Maybe you have piles of papers that need filing or shredding; books you've pulled off the shelf that haven't gone back; pens or tech littering your desk in an inconvenient way. Start by clearing out the clutter, according to Apartment Therapy, and you'll have a fresh canvas from which to upgrade.
Paint It
One of the easiest and most affordable ways to change the entire feel of a space is simply to add a layer of paint. If your space doesn't have a lot of light, consider a lighter paint color to make the most of it. If you've always stuck to a safe color, consider something bold and bright that will make you happy when you sit in it. If you paint it yourself, all you'll spend is the cost of one can of paint and a few brushes.
Make Your Money Work Better for You
Personalize It
If you've been working from home with half a mind that you'll be called back into the office any day now, you might not be fully inhabiting your home office or not making it feel as personal to you as you could. Put up some photographs, move some art that you love to look at into it and add some plants or your favorite chair. Make it feel like a place that reflects you and that you want to come to do your work in. It's free to do so.
Rearrange
A room or space can feel totally different with a new configuration of furniture or shelves. If you've been facing a wall, move your desk to look out the window. See what you can shift within your space to change the flow and energy of it to feel more open, or simply different, than what you've been working with. Sometimes a physical change can inspire a mental one.
Change Out or Add a Rug
Another simple change that can radically enhance the feel of a workspace is a simple rug. Not only can a rug add color and visual effects, if you don't already have one, it can feel great on the feet, as well. There are plenty of throw rugs that you can wash, as well, and ones that are affordable enough that you could buy several and change them out with your mood or the seasons.
Strengthen Your Work-Life Balance
One of the problems with working from home is that it's far too easy to keep working past the hours you actually need to put in to your job. This can bleed into overwork or even burnout, according to Skillcrush. So as you refresh your workspace, consider an overhaul of your work habits, as well. Are you taking enough breaks? Eating meals at regular intervals? Peeling your eyes away from the screen? Be honest with yourself and make changes accordingly.
Make Your Money Work Better for You
Coordinate the Space When Two of You Work From Home
If you and a spouse or housemate are both working from home at the same time, your home office situation might be a lot more challenging. If you have two workspaces, make sure they each feel true to the person working in it, per the recommendations above. If you have to share a space, Architectural Digest recommends that you consider setting schedules whereby you each get equal time in the ideal working space, particularly if there isn't great room for two. Maybe one of you takes the morning shift and the other the afternoon. Additionally, if you're working with kids or others around, you may need to create easy-to-understand visual cues, such as a sign on an office door, a white board propped in plain view or some other cue that alerts others that you are not available.
More From GOBankingRates