Best-Paying College Degrees of 2023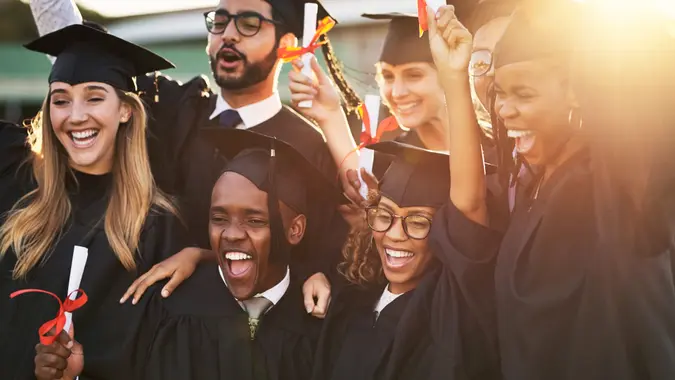 PeopleImages / Getty Images
You're planning to attend college but you want to make sure your investment pays off by choosing the best college degree. One way to do that is to find out what college degrees will help you earn the most. Degrees in the fields of engineering, science and mathematics are in demand and typically offer higher pay than other degree types. 
See: How To Build Your Savings From Scratch
To determine the degrees that pay the best in 2023, GOBankingRates picked 10 of the highest-paying bachelor's degrees by average starting salary from the National Association of Colleges and Employers' winter 2023 salary survey. Types of jobs you can get with each degree were sourced from the Indeed Career Guide. 
10 of the Best-Paying College Degrees
To set you on the right path, here are 10 of the best-paying college degrees of 2023. 
1. Petroleum Engineering 
Average starting salary: $85,000
With a bachelor's degree in petroleum engineering, you can become a petroleum engineer who helps locate oil and gas to fulfill a country's energy requirements. Different types of jobs that are available with a petroleum engineering degree include the following:
Plant engineer
Production engineer
Support engineer
Engineering technician
2. Software Engineering
Average starting salary: $80,000
Make Your Money Work Better for You
Software engineers oversee the system and software specifications related to projects. They may supervise software developers, analysts and testers as part of their job. The following types of jobs are available with a software engineering degree:
Software quality assurance engineer
Video game designer
Cybersecurity engineer
Applications engineer
3. Computer Engineering
Average starting salary: $80,000
With a bachelor's degree in computer engineering, you can work in hardware or software development or a blend of both. 
With a computer engineering degree, the following jobs are available:
Multimedia programmer
Web developer
IT consultant
Computer systems analyst
4. Computer Science
Average starting salary: $74,000
A computer science degree can help you get technical jobs related to development or design or land you a position in a computer engineering field. Typical jobs include:
Web developer
UX designer
Cloud engineer
Machine learning engineer
5. Management Information Systems
Average starting salary: $70,000 
With a management information systems degree, you'll have the ability to determine the technology objectives of organizations and develop a plan to make those objectives happen. You can get the following jobs with this type of degree:
Web development
IT analyst
Systems administrator
Data manager
Make Your Money Work Better for You
6. Physics
Average starting salary: $72,500  
A degree in physics can help you succeed in a variety of different careers and industries, but if you want a job that directly uses your physics knowledge, here are some to consider: 
Chemical engineer
Lab manager
Test engineer
Research scientist
7. Information Sciences and Systems
Average starting salary: $70,000 
If you have a degree in information sciences and systems, you are trained in the study of information systems and those related to computer hardware and software. Here are some examples of jobs you can land with this type of degree: 
Data analyst
Application analyst
IT consultant
Systems analysts
8. Biology/Biological Sciences
Average starting salary: $70,750
A biology degree can open up a wide variety of careers in the life sciences. Here are some jobs that you can pursue with a bachelor's in biology:
Forensic scientist
Environmental consultant
Science teacher
Microbiologist
9. Chemistry
Average starting salary: $70,750 
Having a bachelor's degree in chemistry is not only useful if you want to be a chemistry teacher. It can also help you land various chemistry-related jobs, including the following:
Synthetic chemist
Quality control chemist
Forensic scientist
Hazardous waste chemist
Make Your Money Work Better for You
10. Mathematics/Statistics
Average starting salary: $70,000 
When you think about getting a degree in mathematics or statistics, you might think of a job as a math teacher. However, there are many other opportunities available with these types of degrees. 
With a mathematics degree, you can confidently apply for the following jobs:
Purchasing specialist
Budget analyst
Mathematician
Algorithm engineer
A degree in statistics involves being able to apply high-level analysis skills to large amounts of numerical data. Examples of jobs you can get with this degree include the following:
Financial analyst
Market researcher
Cost estimator 
Actuary
What College Degree Is the Most Profitable?
When it comes to four-year college degrees, the most profitable ones are in the engineering and computer science fields, with engineering degrees leading to the highest-paying positions. 
According to the NACE survey, engineering majors claim the top-paid spot. And out of 15 engineering disciplines, two-thirds are reporting salary increases in 2023. However, the average salary projection for petroleum engineering majors is 3.4% lower than last year. 
How To Make $100,000 Without a College Degree
It's true that getting a college degree can cost tens of thousands of dollars, which is quite an investment — and it also takes around four years to complete. Plus, you might not be interested in pursuing a career in a mathematics, science or engineering field.
Make Your Money Work Better for You
If you're wondering if you can make great money without getting a college degree, the answer is yes. Your collective experience and knowledge in a specific field can help you earn $100,000 or more without a degree under your belt. For example, you can become a social media manager, advertising manager or freelance video editor and earn $10,000 or more per month. If you decide to go this route, it might take a bit longer to command high pay than it would if you had a college degree, but that's not always the case.
Our in-house research team and on-site financial experts work together to create content that's accurate, impartial, and up to date. We fact-check every single statistic, quote and fact using trusted primary resources to make sure the information we provide is correct. You can learn more about GOBankingRates' processes and standards in our editorial policy.