8 Best Work Abroad Programs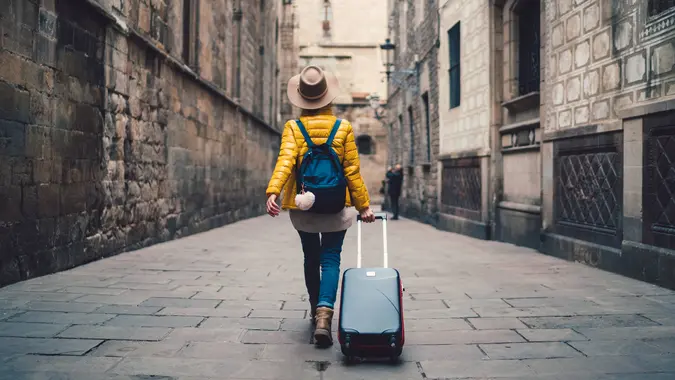 martin-dm / Getty Images
Working abroad can be an incredibly rewarding experience. There's nothing quite like gaining valuable job skills while learning about an entirely new culture. You might also pick up a new language as you engage in conversation with people halfway around the world.
Find Out: How Much Americans Have in Their Savings Accounts in 2023
See: Protect Your Financial Future With Gold and Silver
Check Out: GOBankingRates' Best Banks of 2023
Indeed, nothing matches broadening your horizons and helping people at the same time. But it can be difficult to find a job in a remote place that might be thousands of miles away. Fortunately, it doesn't have to be so tough if you know where to look.
These are some of the best work abroad programs to help you find a job in another country. Whether you prefer to teach English, be an au pair, or even help with nature conservation, you'll find everything you need on this list.
Abbey Road
Abbey Road has programs around the world that let students participate in fun, experiential learning. It has programs in nine countries, including Spain, Italy, France, and the United States.
Make Your Money Work Better for You
Programs take place over the summer, and the jobs are "much more demanding" than a typical 9-5 job, according to the organization's website. However, you get two afternoons off per week, and the jobs include lodging for the entirety of your stay. You also must be on-site, but group rates are available.
AuPair.com
Working as an au pair can be one of the best ways to fully immerse yourself in another country's culture. AuPair.com is ideal for that goal because it has families all over the world looking for au pairs.
Of course, every au pair gig is unique with its own specific needs. For example, it might include tutoring duties or some cooking and cleaning. If those tasks are needed, you could earn some extra cash. Of course, the best thing about being an au pair is the free accommodation.
Take Our Poll: Do You Have a Second Job or Backup Plan in Case You Are Laid Off?
Club Med
Club Med is an all-inclusive resort with vacation packages for families — so not necessarily a work abroad program. However, it has job opportunities like bartenders, technicians, front desk staff and child care coordinators.
Make Your Money Work Better for You
Positions generally have renewable six-month contracts and competitive salaries and healthcare packages. You also get room and board and all meals provided, full access to resort amenities, and round-trip airfare and transfers covered. If working at a resort sounds like your kind of gig, Club Med is well worth a look.
Fulbright
The Fulbright Program is a cultural exchange program that aims to improve intercultural relations between the U.S. and other countries worldwide. The program selects students and scholars, often from prestigious universities in the U.S., to receive scholarships and grants to research, study and teach abroad.
In some cases, people from other countries may qualify to do the same in the U.S. While the program is competitive, it is undoubtedly one of the best work abroad programs for those who are selected.
G Adventures
Another great way to learn all about another country while working abroad is to become a tour guide. G Adventures provides tours in locations all over the world, including Asia, South America, Europe, and Asia.
Make Your Money Work Better for You
At any given time, G Adventures has dozens of open positions, many of which are office positions if that is more your style.
JET
The JET Program is an educational program in Japan that aims to promote internationalization in Japan's communities through foreign language training and international education. The program places you for at least one year with the potential to extend as long as four or five years.
The vast majority of JET Program participants (more than 90%) work as assistant language participants, who mainly assist with foreign language classes, activities and extracurriculars. The starting compensation for participants is 3.36 million yen (currently about $26,000), and flights to Japan are covered.
The TEFL Org
The primary purpose of TEFL.org is to learn how to teach English as a foreign language from the organization's experienced advisors. That includes two courses — a 120-hour course and a 168-hour course.
One of the benefits of being a TEFL student is gaining access to the organization's job board, which has full-time and part-time English teaching positions and internships in many different countries. The site lists recommended jobs if you aren't sure where to start. These might include several perks, like flight reimbursement, paid holidays and health insurance.
Workaseason
If you prefer seasonal work, then Workaseason might be exactly what you need. Workaseason is the recruitment department for Inghams, Esprit, and Santa's Lapland, which are three ski companies.
Naturally, most of its opportunities are winter jobs involving supporting ski activities. Positions include representative and support roles, catering, childcare, and hospitality and front desk jobs. While speaking the local language isn't a requirement, it can greatly enhance your job experience.
More From GOBankingRates
Make Your Money Work Better for You