6 Major Companies That Offer Pawternity Leave for Pet Parents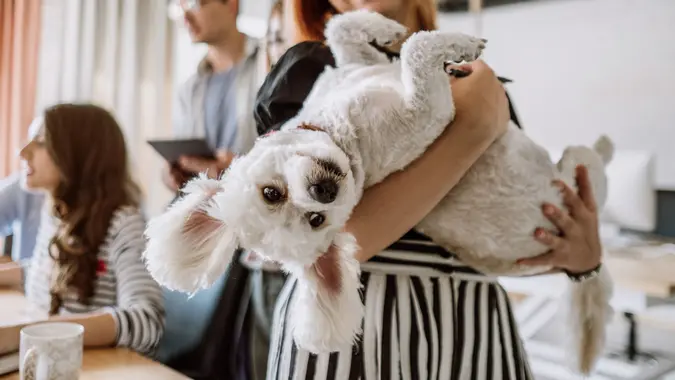 Pekic / Getty Images
For most of us, pets aren't possessions. They're family members, only with four legs instead of two. Recognizing this, corporate America has started to implement benefits in the workplace geared toward pet parents, allowing them to bring their loves to work with them, offering pet insurance and even allowing for "pawternity" or "furternity" leave in some circumstances.
To human resources professionals, the trend makes good business sense, especially when it comes to recruiting and retaining employees. 
"Millennials are currently the largest generation in the workforce. They have also become the largest pet-owning generation, with estimates as high as one in two are caring for a pet companion," said Cassandra Rose, a partner at Meritarc, creator of human capital management software. "If your company is looking to attract top talent, you'll have a competitive advantage by customizing the employee value proposition around current lifestyle trends such as pet ownership."
And those policies seemingly are paying off when it comes to employee satisfaction.
So just which companies are offering pawternity leave to their employees? The growing list has employers both big and small. Here are a few of them.
Read More: 30 Greatest Threats to Your Retirement
Find Out: 30 Best Jobs If You Want To Retire Early
Rover
Rover is the nation's largest networkers of dog sitters and walkers, and it offers its employees three days of paid bereavement leave when their pet passes away. Additionally, it has an open pet policy, with more than 50 dogs in the office on a daily basis, and paid time off for doggie responsibilities.
Make Your Money Work Better for You
"There's a rising sentiment in American society that dogs are, in fact, a part of our nuclear families — they aren't just pets. The pandemic only accelerated and strengthened those feelings," said Jovana Teodorovic, Rover's head of people and culture. "It's abundantly clear that pet-friendly benefits are not only appreciated by employees, but they're actually creating a more productive workforce and competitive hiring process. While some businesses may move to remote work, many others will transition back to the office or into a hybrid workplace plan. We anticipate more than ever that they'll consider where and how pets fit into the equation."
More: The Surprising Costs of Pet Ownership
The African Garden
Shannon Bernadin, CEO of The African Garden, said she installed a bereavement leave policy for pets at her company.
"Pets are part of the family and I wouldn't expect any of my employees to jump straight into work after their pet has died," she said. "I know I wouldn't be in any frame of mind to work, so this is a policy that I have in place for employees that need it."
Make Your Money Work Better for You
She said the Seattle-based company provides five working days for pet bereavement leave to its 112 employees. Given the flexible nature of their workload, employees are able to get away during the workday for vet appointments, as well, she said.
On the Job: More Americans Prioritizing Workplace Benefits — How COVID Highlighted 'Convergence of Health and Wealth'
Trupanion
Trupanion is a provider of medical insurance for dogs and cats. Its employee-benefits package includes $0-deductible insurance coverage for one furry family member, a free on-site dog walking service for dogs who come to work with their parent and bereavement leave for the loss of a pet. 
Learn More: A Financial Guide for New Pet Owners
Collective Measures
Collective Measures, a marketing agency in Minneapolis, offers a bevy of employee benefits, including 100% paid employee healthcare plans, a health and wellness stipend, and employee ownership. On its website, it highlights its commitment to parents of all types.
"We understand how important it is to bond with new members of our family, whether or not they're covered in fur, through paid parental leave and 'fur-ternity' leave," the company states.
Make Your Money Work Better for You
Related: How Pet Parents Can Financially Prepare For a Return to Office
Zogics
In Lenox, Massachusetts, Zogics – a provider of industrial cleaning and safety supplies – has a soft spot for pets. Dogs are welcome at the headquarters of the company, which has been named one of the most pet-friendly companies in America. 
Employees who bring home new puppies are given paid time off, a $200 pet store gift card and a lifetime supply of Zogics Pet Shampoo.
Learn More: 5 Things To Negotiate at Your Job Other Than Salary
PuppySpot
PuppySpot helps to match pooches and parents and understands the relationship between the two.
"At PuppySpot our mission is to make lives better by placing healthy puppies in happy homes," said Alisha Randy, the company's manager of recruiting. "Our dedicated employees always put the health and well-being of the puppy first to ensure we can safely deliver puppies nationwide.
"In turn, we treat our employees with top-of-the-line puppy centric benefits. We offer all our employees pet insurance, and we provide a 'Gotcha Day' policy. This is exciting since we encourage any PuppySpot employee who welcomes a new puppy into their family to take one free day to begin to acclimate their new family member into his/her home. We are hopeful we will be seeing more and more companies offer these PAW-some types of benefits and policies in the future."
More From GOBankingRates
Make Your Money Work Better for You