Expert Advice: How To Get a $5,000 Raise at Work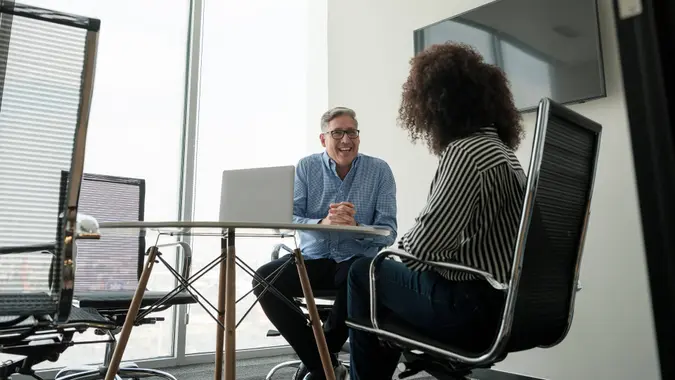 aldomurillo / Getty Images
Jaspreet Singh, CEO of Briefs Media and host of The Minority Mindset Show, has a wealth of personal finance and investing advice for individuals looking to improve their financial situations.
Singh also has a successful blog filled with financial tips and strategies. On his blog, contributor Ashley Simpson — a long-time personal finance writer — shared a post about how to get a $5,000 raise at work in 15 minutes. For many people, this is not only a significant increase in pay, but it's also a steppingstone in the right direction when it comes to building their careers and improving their incomes.
If you believe you're due for a raise at work, here are some best practices for asking for this raise and actually getting it.
Determine the Right Time To Ask
Figuring out the right time to ask for more money can be tricky, especially if you've never done it before. But getting the timing right is essential to increasing your chances of successfully getting the raise you deserve.
According to Simpson, there's no one right time to make the big ask. However, there are several ways to help determine the right time for you.
To begin with, ask yourself how long you've been working for this employer in the position you currently hold. Then, ask yourself when the last time you received a raise was. If it's been six or more months, it may be time to sit down with your supervisor. If it hasn't been that long yet, you might want to wait a little while longer.
Make Your Money Work Better for You
Six months is the sweet spot because it gives your current employer a chance to learn about your work ethic and abilities on the job. If you've recently started working for the company in this position, managers might not know you well enough to decide that it's worth giving you a raise. Plus, by waiting half a year or so, you'll have more time to build a solid argument for why you should get a raise.
Simpson also suggested timing your ask with your yearly performance or salary evaluations. Keep in mind that not all companies will conduct both of these reviews. But if yours does, ask about a potential raise about a month or so before it happens. That way, they'll have a chance to mull it over and budget it in.
One other thing to consider is your supervisor's stress level. If the person is currently stressed out or overworked, then it might be wiser to wait to ask for a raise. Consider setting a specific time to privately meet and discuss your options — ideally when they're not already busy.
Know Why You Want a Raise
Although the answer as to why you want a raise might be obvious to you, you'll need to convey it in a way that's also clear and reasonable to your employer.
One simple reason could be that it has been a long time since you last had an increase in your salary and that you've had a good work ethic so far. Another valid reason is that you want to further your education, such as through formal classes or a degree program. Still another is that you've taken on additional responsibilities at work, ones that fall beyond the scope of your job description.
Make Your Money Work Better for You
But remember that not every reason is equally valid. For example, some employers might not consider the rising cost of living as a sound reason to pay you more money.
Know How Much To Request
Whether you want to ask for $5,000 or even more, figuring out the right amount to ask for can be tricky. Simpson has several strategies that can help you decide how much to request.
The first step is to familiarize yourself with what others are making based on your experience, job title, additional job duties and other qualifications. One way to do this is to conduct some online research. If you have good rapport with a coworker, you might also consider privately asking them what they make. Alternatively, chat with a couple of recruiters about the average salary in your field.
Although there are no specific rules on how much to request, Simpson suggested asking for a 10% increase. For example, if you make $60,000 a year, then you should request a $6,000 raise. If you've taken on significantly more job duties and responsibilities at work, consider asking for a 20% increase.
However much you ask for, be prepared for your employer to provide a counteroffer or to say no. If you're reasonably certain you'll get a raise, ask for an amount higher than what you actually need. That way, if the company proposes a lower amount, you'll still get what you want.
Know How You're Going To Ask
Once you've determined when you're going to ask for a raise, and how much you need, the next strategy is to plan how you're going to go about it.
Make Your Money Work Better for You
Simpson recommended preparing a speech — but keeping it brief, professional and to the point. If you're not sure how to keep it concise, Simpson suggested making a simple bulleted list that contains the main reasons you deserve a raise. This could include things you've done for the company or times when you've taken on greater responsibility at work. It also could include examples of ways you've improved overall productivity or performance at work.
Whatever the case, it's important to stress what you've done for the company and why those things make you a good candidate for a raise. Try to avoid focusing too much on financial need.
If you don't think your supervisor will be able to sit down with you and chat about these bullet points, provide them with a copy and a simple letter expressing your goals.
Be sure to practice your speech in advance. You don't necessarily have to memorize everything, but it's beneficial to know your primary talking points before meeting up with your employer.
More From GOBankingRates