Experts: What To Do If You Lose Your Job in Your 40s or 50s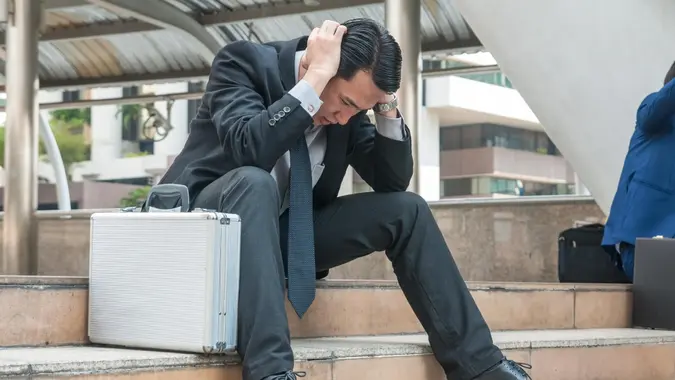 ©Shutterstock.com
Getting fired is always stressful, but a job loss in middle age can trigger crushing anxiety about what comes next. If it happens to you, it's OK to worry — but don't panic.
"Losing your job in your 40s or 50s can be an overwhelming experience, and it's important to acknowledge the realities of a rapidly changing job market," said Andrea Miller, an ICF-certified global executive and career coach. "However, rather than dwelling on them, focus on what you can control and the advantages you bring to the table with your experience. Embrace the fact that you've been through various professional challenges and have a lot to offer, particularly during uncertain times.
"In your 40s and 50s, you have the maturity and resilience to navigate these challenges successfully if you choose to believe you do and develop a clear plan of action."
Also see the first steps to take after losing your job.
Forget Your Old Career Path and Concentrate on What Comes Next
Even if it wasn't part of your plan, a career change in middle age is more feasible today than your boomer or Silent Generation parents could have ever imagined. Accept your situation and embrace the possibilities.
"One of the biggest obstacles for folks in their 40s and 50s is mindset," said Holder Leadership founder Miranda Holder, an ICF-certified professional career and leadership coach specializing in career transitions. "We are given a cultural model of what a career trajectory should look like: Climb the ladder to more money, power and success.
Make Your Money Work Better for You
"I talk with my clients about our careers being more like a jungle gym than a ladder, with many more possibilities to explore than we think if we expand our mental model. This can seem to some like forced positivity at first, but how we choose to look at a situation has immense power over our behavior and outcomes."
Holder outlined four steps to midlife professional recalibration.
1. Identify General Professional Targets
Holder says to start by making a list of every job you've ever wanted to explore and every activity that excites you.
"Don't say no to anything, even if it's not viable financially or logistically," she said. "By including everything, you can see important themes that inform your next steps. For example, you may notice every option you listed involves solving puzzles of one form or another, and that will be an important feature of what you do next."
2. Solicit Input
Next, talk with trusted friends and family members about what they see as your gifts and abilities.
"Where are you at your best and most energized?" Holder said. "Notice what resonates and leave the rest behind."
3. Concentrate Your Focus
Now, narrow your list to three to five serious options.
"Who in your network does this work or may be able to connect you with someone who does?" Holder asked. "You want to speak to people who do the work you're interested in learning more about to identify the next steps of how to move into a new career or job."
Make Your Money Work Better for You
4. Take Mental Notes
Holder's fourth step is to note what exhilarates you as you search.
"Because our values live in our bodies, we'll feel more connected to work that aligns with what makes us feel fulfilled," she said. "Use your brain as well as your heart as you navigate this moment."
Informational Interviews Precede Job Interviews
When you emerge from Holder's four-step process with a new career path in your sights, you might be eager to start sending out applications right away. But first, lay the groundwork with 15 or 20 rounds of what Dominic Monn, founder and CEO of mentorship platform MentorCruise, calls "informational interviews" — informal Q&As with professionals in fields or roles you're targeting.
"Come prepared with thoughtful questions about their work, industry trends, growth opportunities and insights on transferable skills from your background," he said. "Treat it as a two-way dialogue, not just asking for a job. With each conversation, you'll expand your connections while gaining valuable insider advice to refine your search.
"The personal touch of informational interviewing is far more effective than just applying to job postings online because it enriches your network. It allows you to tap into the hidden job market and potentially uncover unadvertised openings. It also positions you as a serious, engaged candidate, so you're top of mind for future opportunities. With a focused, sustained informational interviewing campaign, you can change up your career in middle age through the power of your network."
Make Your Money Work Better for You
Build an Age-Appropriate Resume
Matthew Warzel, certified professional resume writer (CPRW), certified internet recruiter (CIR) and president of resume-writing firm MJW Careers, knows from experience that older applicants have many advantages in the interview room.
"But the tricky part for an accomplished job seeker is getting into that room," he said. "People with a ton of experience and ever more wisdom face the harsh reality that some companies will want to hire younger — and cheaper."
Follow Warzel's eight tips for building a resume that puts you face to face with a hiring manager, where you can outshine younger applicants:
Stick to one to two pages maximum.
Highlight only the last 20 years in your summary.
Stop at 10 years of previous roles in the "experience" section. To note something stellar from earlier, add it in a "key accomplishments" section before the "experience" section.
Use your "experience" section to showcase your accomplishments and value offerings over tasks you've performed. This is your most important section — make it shine.
Remove the dates from your education/affiliation/licensure sections.
Use a modern email like Gmail and not a dated address like AOL.
Omit dated software and any computer skills not relevant to the target position.
Include applicant tracking system-compliant skills and keywords from the job description in a "LinkedIn endorsements" or "core competency" section to avoid being filtered out by HR software.
Consider Going Into Business for Yourself
If you have some money saved, good credit, a winning idea and the grit and determination of a born entrepreneur, you might ditch the resume altogether and become your next employer.
"It may sound like a cliche, but there's a lot of truth in the saying, 'When one door closes, another door opens,'" said Terry Kasdan, founder of the digital marketing agency atCommunications and adjunct professor of entrepreneurship in the University of Illinois Department of Advertising.
"Who is better suited to open the next winning business in an industry than the individual with 20 or 25 years of experience under his or her belt?" Kasdan said. "The internet makes it incredibly easy to form an LLC and hang a new business' virtual shingle. Platforms like Squarespace allow small business owners to launch their own websites quickly and inexpensively.
Make Your Money Work Better for You
"So take the knowledge, skills and industry connections you've acquired working all these years for someone else and start working for yourself. As I tell students in my entrepreneurship class at the University of Illinois, you're never too young — or too old — to start a new business."
More From GOBankingRates