6 Steps You Should Take After Losing Your Job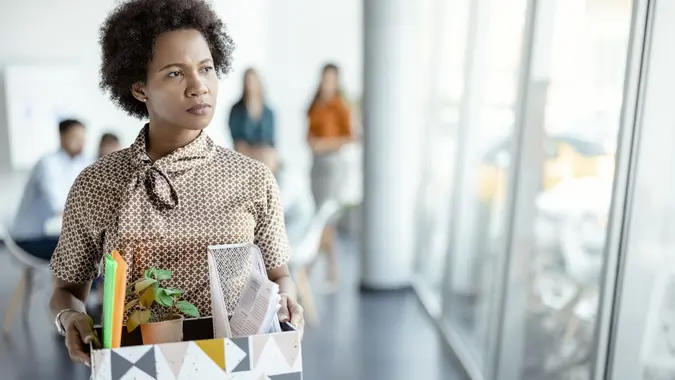 PixelsEffect / iStock.com
It is extremely common to lose your job. The Center for Economic Policy and Research reports that six million people lose or leave their jobs every single month. So if you're feeling discouraged, defeated or singled out, know it's not just you.
But even if you don't feel strongly about losing your job, now is not the time for complacency. Sure, it's fine to take a moment to catch your breath after the incident. But when you're ready, it's time to spring into action. Here are the first steps to take after losing your job.
1. Assess the Situation
You might be experiencing a range of emotions after losing your job. That can make thinking clearly about the situation more difficult, but clarity is key.
First, take a moment to process your emotions and the situation. Losing a job can be a big deal, but that doesn't mean it isn't something you can overcome. The same can be said about the emotions you're experiencing: to overcome these negative feelings, you must acknowledge them and understand why you are feeling that way.
Next, take some time to reflect on your strengths and skills. Think of what you are good at and what you enjoy doing. This may be important later, especially if your answers don't align with the job you have lost.
Next, evaluate your career goals. How much money do you want to make? Is it important that you have fulfilling work? Perhaps the job you lost wasn't satisfying those requirements, so this might be an opportunity, not a loss.
Make Your Money Work Better for You
2. Apply for Unemployment Benefits
If you lose your job, you may be eligible for unemployment benefits. While unemployment benefits usually hinge on you not being at fault for the job loss — such as with a layoff — there may be exceptions to this rule. So you should check with your state's unemployment program to learn all the details.
3. Review Your Finances
Losing your job could be a source of financial peril, but it doesn't have to be that way. If you have an adequate emergency fund and qualify for unemployment benefits, there might be plenty to get you through to your next employment opportunity. However, you should still take a closer look at your finances and adjust your budget as needed.
First, review things like bank accounts, credit card statements and bills to see where you stand. Check your savings to see how long they will last with your current spending habits.
You must adjust your budget if you don't have enough for at least six months of expenses. You can do this by cutting discretionary spending by canceling things like subscription services and gym memberships. You may also want to cut back in other areas, like eating out.
Once you have cut expenses you don't need, review your budget again. If you still can't cover six months of expenses, consider taking other steps, like seeking financial assistance such as a loan deferment or talking to a credit counseling agency.
Make Your Money Work Better for You
4. Update Your Resume and Online Profiles
If you have worked the same job for several years, keeping an updated resume or online profile might not have been front of mind. But having an up-to-date resume and online profile is key if you want to get back out there as soon as possible.
First, add your most recent experience to your resume if you haven't done so already. Also, add any achievements that might be relevant to the job search.
Then, tailor your resume to each job you apply for, highlighting the experience and skills most pertinent to that opportunity.
Next, take a similar approach with your LinkedIn or other professional platforms. You should have an up-to-date list of professional experience and skills, in addition to a professional headshot. You can also use LinkedIn to ask former coworkers and colleagues for endorsements or job recommendations.
5. Apply for Jobs
Once you have all your ducks in a row, it's time to start actively looking for your next job. You can start doing this by researching jobs and companies in your field on LinkedIn, Indeed or through a Google search. Find companies you're interested in working for and tailor your resume and cover letter to match the job requirements.
You can also attend conferences and job fairs to find leads on your next opportunity. These events can be great ways to meet employers, learn about job opportunities and make connections. You probably won't land a job on the spot, but you can plant seeds that may lead to an opportunity later.
Make Your Money Work Better for You
6. Consider Retraining or Upskilling
While the steps mentioned so far should put you in a solid place as you look for your next job, there might be situations where they won't be sufficient. For instance, you may want to switch careers but lack some of the skills needed for the new field. Or maybe you were at your job for many years and lack some of the training of newer people entering the field.
To see if you need retraining or upskilling, start by evaluating your skills and see if there are areas where you can improve. If there are, look for online courses, community college programs or vocational training to help you learn new skills. These will better position you and make you a more competitive job candidate as you look for your next job.
Final Take
Whether you've lost your job to the waves of tech layoffs or the incident was more isolated, you might feel a bit lost right now. You might be feeling emotions of anger, sadness, shock, disappointment and helplessness. But you should know that you are not alone. Job loss is very common but by using these six steps, you will be more prepared to hit the job market and turn this loss into an opportunity.
FAQ
Here are the answers to some of the most frequently asked questions about losing your job.
What should you do if you are losing your job?

If you know you are losing your job, you can follow these steps:

1. Assess the situation
2. Apply for unemployment benefits
3. Review your finances
4. Update your resume and online profiles
5. Apply for jobs
6. Consider retraining or upskilling

Is losing your job a big deal?

Losing your job can be a very big deal. Not only can it be a heavy burden emotionally, but if you don't have an emergency fund to help cover your expenses, you could quickly fall into debt.

What should you not do when you lose your job?

When you lose your job, you should not cause a scene. Stay composed and when you are in a space away from your employer, you can acknowledge your emotions. You should also not wait for unemployment benefits or assume your financials are in order. It would be best to sit down and do a thorough review of your bank accounts and credit card statements to see where you stand.

How common is it to lose your job?

It is very common to lose your job, six million people lose or leave their job every month.
Make Your Money Work Better for You
Information is accurate as of April 18, 2023. 
Our in-house research team and on-site financial experts work together to create content that's accurate, impartial, and up to date. We fact-check every single statistic, quote and fact using trusted primary resources to make sure the information we provide is correct. You can learn more about GOBankingRates' processes and standards in our editorial policy.