8 Highest-Paying Trade Jobs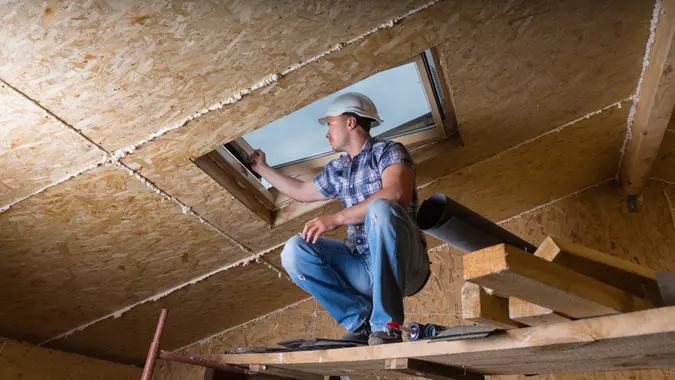 Vicheslav / iStock.com
Trade jobs are manual labor professions that require specific skillsets and expertise but not a college degree. Although some may assume that the only way to get a good job is by going to college, the highest-paying trade jobs let you generate six figures sans a degree.
Read: With a Recession Looming, Make These 3 Retirement Moves To Stay on Track
Highest-Paying Trade Jobs
Here is a look at some of the highest-paying trade jobs in the U.S.
Residential electrician
Heavy equipment operator
Commercial truck driver
Plumber
Construction manager
HVAC installer
Ironworker
Elevator mechanic
Keep reading to get an idea of what jobs are out there and the many opportunities you have to start a new career.
1. Residential Electrician
Median salary: $63,310
Highest earners: $104,920
Residential electricians are one of the highest-paying trade jobs. They install, maintain and repair electrical systems and fixtures in homes and residential buildings. Some of their duties include reading and interpreting blueprints, installing, and maintaining electrical systems and wiring, troubleshooting and ensuring compliance with safety codes and regulations.
Make Your Money Work Better for You
To become a licensed electrician, you must complete an apprenticeship program for up to four years. You can also enroll in a vocational or technical school program with a high school diploma.
2. Heavy Equipment Operator
Median salary: $69,664
Highest earners: $87,565
Heavy equipment operators use large machinery in construction, demolition, excavation, mining and other industrial settings. They move materials from Point A to Point B, perform maintenance, and maintain a safe work environment for others, as some of these machines are dangerous.
Becoming a heavy equipment operator requires specialized training and certifications to operate the machines. You can receive this training by attending vocational or technical schools, trade schools, apprenticeships or on-the-job training sessions. Some employers may also require a Commercial Driver's License (CDL).
3. Commercial Truck Driver
Median salary: $81,669
Highest earners: $124,243
Truck drivers also enjoy one of the highest-paying trade jobs in the U.S. They operate large commercial vehicles, load and unload cargo, follow safety protocols and ensure the completion of their deliveries on time. They transport goods and materials within a local region or across the country.
Make Your Money Work Better for You
To be a truck driver, you must have a CDL and extensive knowledge of safety regulations and traffic laws.
4. Plumber
Median salary: $58,500
Highest earners: $92,763
Plumbers install, repair and maintain plumbing systems in commercial and residential buildings. They diagnose and troubleshoot problems, read blueprints, and use tools to install and repair pipes, fixtures and appliances. More experienced plumbers can work on major projects like installing piping systems.
Many plumbers learn through apprenticeships or vocational training programs that take several years to complete. However, they do not need a college degree to work in their trade if they have proper training. Depending on state and local regulations, plumbers may need to be licensed and insured.
5. Construction Manager
Median salary: $119,986
Highest earners: $152,679
Construction managers oversee the planning, design and construction of buildings and infrastructure projects. They work with architects, engineers and contractors to ensure the completion of projects on time, within budget and to quality standards.
Construction managers must comply with environmental and safety regulations, zoning and building codes. Although you do not need a degree to start training as a construction manager, you need the right experience to earn lucratively.
Make Your Money Work Better for You
6. HVAC Installer
Median salary: $49,202
Highest earners: $79,000
HVAC installers, or technicians, repair, install and maintain heating, ventilation and air conditioning systems. They can work in residential, commercial and industrial buildings. They use specialized tools to install and repair HVAC equipment, including heating and cooling systems, ductwork, thermostats and other components.
While you do not need a college degree to become an HVAC installer, specialized training and certifications are necessary if you plan on making this role a career. Depending on your state of residence and local regulations, you may also need a license and insurance.
7. Ironworker
Median salary: $57,142
Highest earners: $80,333
Ironworkers work with metals to construct buildings, bridges and other structures. Their duties include installing, connecting and reinforcing steel and other metal components using specialized tools and equipment. They also read blueprints and plans, calculate measurements and make adjustments to ensure the structural integrity of the finished product.
You do not need a college degree to become an ironworker. Still, an apprenticeship and training are necessary before taking on this position.
8. Elevator Mechanic
Median salary: $82,460
Highest earners: $117,122
Elevator mechanics apply their engineering, construction and electricity knowledge to install, maintain and repair elevators and other moving machines. This job requires specialized knowledge of hydraulics, technical details and extensive training.
Although you need training, a college degree is not mandatory for this position.
Wrapping Up
The highest-paying trade jobs elevate your annual earnings while allowing you to pursue a profession you love. None of the trades mentioned in the article require a college degree — but that does not mean that you don't need the proper training.
If you are passionate about a trade job and have certifications and licenses, you can make six figures a year and live comfortably with a high quality of life.
FAQ
Here are the answers to some of the most commonly asked questions regarding trade jobs.
What are the easiest high-paying trade jobs for beginners?

If you are a beginner, completing an apprenticeship is necessary no matter how easy the job seems. Most trade jobs involve working with tools, some of which can be dangerous. Knowing the regulations and compliance keeps you safe and allows you to work within the boundaries established by your state and local regulations.

Can you make six figures working a trade job?

Yes, the highest-paying trade jobs allow you to make six figures. However, it depends on your career, qualifications, training, talent and experience. The more knowledge you have about your trade, the higher you can earn.

If you have a degree, can you earn more with trade jobs?

Although none of the trade jobs listed in this article require a degree, having one can increase your earning potential. When you combine a degree with experience, you are more likely to receive a higher salary as it demonstrates a commitment to your field.

What trade jobs pay $100,000 a year?

Some trade jobs that can pay $100,000 or more are residential electricians, commercial truck drivers, construction managers and elevator mechanics.
Information is accurate as of Feb. 16, 2023. 
Our in-house research team and on-site financial experts work together to create content that's accurate, impartial, and up to date. We fact-check every single statistic, quote and fact using trusted primary resources to make sure the information we provide is correct. You can learn more about GOBankingRates' processes and standards in our editorial policy.
Make Your Money Work Better for You