5 Freelance Jobs That Will Pay You $100,000 Per Year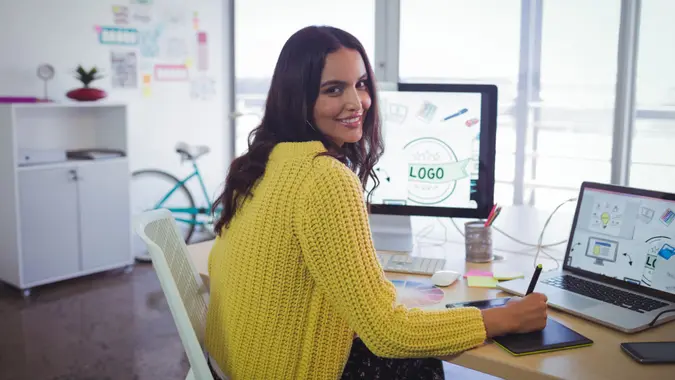 Wavebreakmedia / Getty Images/iStockphoto
We read headlines about individuals who earn six figures a year, but the way people earn that much doesn't always work for everyone.
Cut Costs: Unplug These Appliances That Hike Up Your Electricity Bill
See: With a Recession Looming, Make These 3 Retirement Moves To Stay On Track
If you're not able to pull in that kind of money through passive income or side gigs, there are certain freelance jobs that have the capacity to pay you $100,000 on a yearly basis. Where are these jobs and how soon can you start working them? GOBankingRates did the research to find out which opportunities have individuals making big money. Here are the freelance jobs that can pay you $100,000 per year.
Tasker for Taskrabbit
A Tasker for Taskrabbit can, indeed, earn up to six figures or more per year. GOBankingRates connected with William Young, a Tasker on Taskrabbit based in New York City (Midtown West). 
Young works in mounting, occasionally doing moving and furniture work through the app. Taskrabbit was 50% of Young's income in 2022. In 2022, Young said he earned roughly $100,000. He earned $160,000 in 2021, totaling a little over $200,000 in revenue for both years.
Make Your Money Work Better for You
Young, who has been completing tasks since July 2020, said Taskrabbit is a great platform to start freelance work in the handy/moving space or as an organizer/cleaner. He even keeps his equipment stored in a designated shop through the app.
"As a Tasker, Taskrabbit has given me the opportunity to have a little shop in Midtown where I can store all my tools and equipment. It's a place to drop by in between tasks during the day," Young said.
Take Our Poll: What Are Your Financial Priorities in 2023?
Grant Writing
Many freelance writers do earn upwards of six figures or more a year, and grant writing is among freelance positions that can pay $100,000 a year.
Meredith Noble is the co-founder and CEO of Learn Grant Writing (SenecaWorks LLC), and she said Learn Grant Writing helps teach those without prior business or grant writing experience how to make their first $15,000 freelancing. From there, the company takes grant writers step by step to hit financial milestones of $50,000, $100,000 and $250,000 a year. 
Make Your Money Work Better for You
Before starting a freelance grant writing career, Noble does have some recommendations:
Find a coach. A coach will assist you in determining how much to charge and learning more about the professional fees of grant writing.
Be patient when waiting for results. The momentum flywheel for seeing financial results takes up to four to six months. Those who hope to start earning a lot of money fast may feel discouraged by the lag in a few months. However, Noble recommends grant writers stay the course. "If you are consistent, the client work will come," Noble said.
Seek clients who pass the five-year test. "This means you can see yourself working with them for five or more years," Noble said. "If not, they likely are taking your energy, which will cost you in the future more than your earnings."
M&A Freelancing
M&A stands for mergers and acquisitions. Currently, the M&A and private equity market is fairly new to freelancing — and those who decide to work in it have the opportunity to earn six figures, said Tobias Liebsch, the co-founder of Fintalent.io, an M&A staffing platform. 
Previously, freelancing in M&A and private equity wasn't viewed as a serious career path. Liebsch said this is because for a long time, brands sold gigs. "If you didn't work for an established boutique, it'd be difficult for you to sell your services as the business is inherently relationship-based," Liebsch said.
Make Your Money Work Better for You
This has changed as remote work and freelancing have become more mainstream. Liebsch said freelancers in M&A can now attract and close clients and deliver work without paying a team of analysts. There's also increased access to data, which Liebsch said successful M&A boutiques circa 10 years ago required a team of analysts to collect information for them. Now, freelancers in M&A may use sophisticated tools and deliver work that previously required agency overhead.
Instructional Designer
What does an instructional designer do? These designers create eLearning materials for companies and other organizations.
Devlin Peck is the founder of DevlinPeck.com, a business that helps people learn how to become instructional designers. He started freelancing part time and became a full-time instructional designer after graduating from college. By his second year in business, his company had grown to become a six-figure business. 
While this freelance job does require specialized training, you can get started by using online resources to learn more. "Instructional designers are in high demand, especially today with the rapid growth of eLearning tools," Peck said.
Virtual Nurse or Therapist
The COVID-19 pandemic has had a transformative impact on the telehealth and healthcare industry and it isn't leaving anytime soon. More and more offices are employing virtual nurses or therapists to provide necessary services, said Debbie Winkelbauer, CEO of Surf Search, a recruiting firm specializing in the healthcare, medical device, pharmaceutical and biotech industry.
"A nurse, therapist or counselor specializing in workplace health can easily clear six figures with multiple contracts," Winkelbauer said. 
Those who do, it should be noted, will need to be on-call for a few businesses during select hours and may be asked to provide some emergency services too. For healthcare workers who currently feel burned out in high-pressure medical settings, working as a virtual nurse or therapist can be a great option to grow in healthcare and enjoy flexibility in their schedules.
More From GOBankingRates
Make Your Money Work Better for You