Go Get That Raise: Tips To Prepare Before Your Performance Review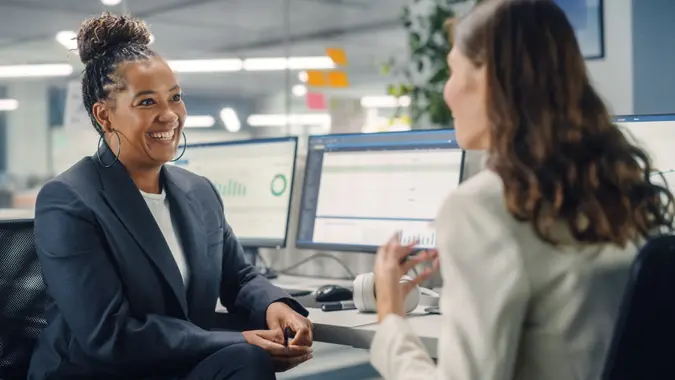 gorodenkoff / Getty Images/iStockphoto
An annual job review is a checkpoint for where you are and where you're headed with your current company. While your annual review can open doors for you to further your career or even earn a raise, it can also generate some nerves about how to approach this conversation as an employee.
See Our List: 100 Most Influential Money Experts
Read More: If Your Credit Score Is Under 740, Make These 4 Moves Now
That's why Susie Silver, senior consultant and innovation strategist at The Diversity Movement, wants to make sure this business practice is still as equitable as possible.
"Annual job reviews should follow a common process and procedure that is demonstrated throughout the entire organization, by all supervisors," Silver said. "Using common rubrics based on the team and/or organizational values, goals, and specific operations, helps mitigate bias in reviews and helps all parties involved understand where there are areas of strength and areas of necessary growth."
Make Your Money Work Better for You
Your upcoming job review is ultimately an opportunity for you to connect with your supervisor and be transparent about successes, sticking points, and your future with the company. So, here are some key steps to prepare for your job review this year, and how you can secure a raise.
Understand the Rubric
You may be a little nervous about your impending job review. Whether you're fretting about voicing your concerns to someone of a higher rank, how to combat implicit biases held by your employer, or what to do if you haven't been with the company for very long, it's normal to feel nervous facing an annual review.
So, it's completely fair to level the playing field.
As Silver said, your organization could use a common rubric on which they base their job reviews to make the practice more equitable. 
Request a brief meeting with your supervisor before your review to help you understand what you'll cover in the real thing. Are there any company-wide or department-wide standards they are reviewing with all employees? Is there anything specific to your position they will want to discuss? Knowing what to expect in the review is the first step toward acing it.
Make Your Money Work Better for You
Bring Your Stats
You should always come prepared for an annual job review. Even though your supervisor has been, well, supervising your performance over the past year, they may oversee a lot of other employees too. 
Preparing a shortlist of the improvements you've made to your position and the department as a whole can give you a leg up on your annual review, and make you feel more comfortable walking into the room.
"There are a variety of things an employee can prepare for an annual job review, including ways the employee has embodied and demonstrated the values and mission of the team and organization, areas in which they need support, and areas in which they desire professional development and growth," Silver said. 
You know better than anyone what you've accomplished over the past year, so it's important to champion those accomplishments.
Take Our Poll: How Long Do You Think It Will Take You To Pay Off Your Credit Card Debt?
Get Comfortable
Now that you know what to prepare and what you're bringing to the table, the best thing you can do is get comfortable talking to your supervisor. 
Make Your Money Work Better for You
Part of your supervisor's job is to be there for you as an employee. While your job review is a time to reflect on your own position, you should also feel comfortable preparing feedback for your supervisor.
If you have not had much of a rapport before now, your annual review could be a great time to start.
"An employee should never assume that a supervisor understands what an employee is thinking, what their motivations are, and what support they need to achieve their goals," said Silver. "The annual review time is a wonderful opportunity to ask questions and communicate things that are important to you."
Silver also acknowledged the difficulty in preparing for these conversations at many organizations, as an employee generally will not provide feedback unless they feel psychologically safe to do so. 
If you feel there are certain communication barriers between you and your supervisor or employer, consider just bringing this up in your job review. Ask if there is a way you can give and receive ongoing feedback outside of your annual review, and see if they would be willing to establish a feedback procedure with you moving forward.
Prepare for Money Talk
Now it all comes to a crescendo: you're ready to talk about a raise. Salary discussions can be particularly nerve-wracking for an employee. But, if you've come prepared, there should be no reason to hesitate. 
After demonstrating the work you've done this year, the improvements you've made, and discussing necessary feedback, it's time to put your money where your mouth is.
First, come with a number in mind for a raise. If your supervisor does not bring up the salary discussion first, and you feel comfortable doing so, start the conversation by reviewing the improvements you have made for the company in your position. You could bring up your initial job description, and talk about additional tasks you've taken on and the overall value you have added to the team. Then, talk about the ideal compensation for what you've added to the role.
If your annual review does not feel like a good environment for you to bring up your salary, this can be another conversation to open up with your supervisor. 
Silver recommends separating the annual job review process from bonuses and raises so that the review process is absolutely focused on an employee's performance, development, areas of opportunity and growth.
"For example, our organization provides annual reviews on the anniversary of employment, and all bonuses and raises are reviewed in March of each year," Silver said. "This often provides space for employees to be more honest in their review, as they are not worried that a bonus or raise is tied in any way to critical feedback they may provide to a supervisor."
Learn From It
If you do not receive a raise in your job review, do not consider that door completely closed. It's still a great time to ask your supervisor questions and learn from the experience. 
You and your supervisor can discuss your financial goal together, and even determine a date to regroup and see if you have met the benchmarks to receive a raise by then.
"It is absolutely okay to ask why, what would merit a raise, and collaboratively create a plan to achieve the financial goal," Silver said. "The employee should document all of this and remain proactive in achieving their financial goals."
More From GOBankingRates
Make Your Money Work Better for You