Here's How You Can Start a Business With Just $100
Consider these unique ideas, and go into business for yourself.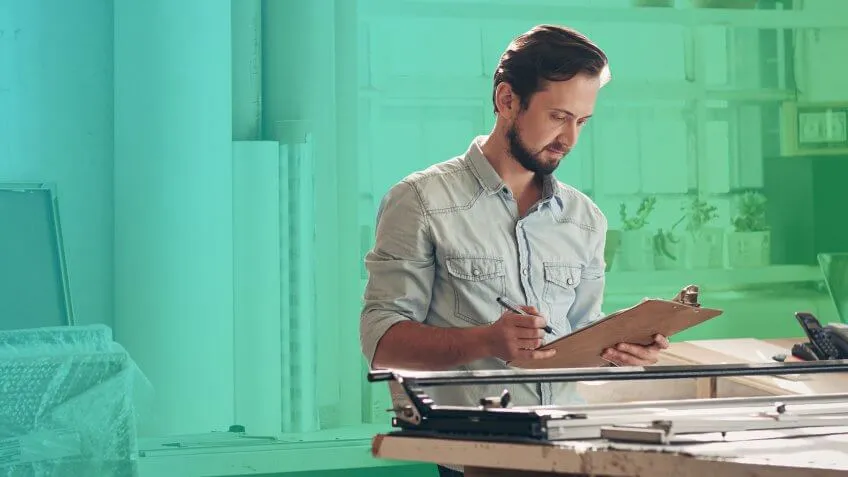 mavo / Shutterstock.com
Even if you enjoy your job, investing your time and energy into making someone else's dreams a reality can be a frustrating experience. If you're feeling uninspired by your current career, it might be time to start a business of your own.
While it can be challenging to turn a hobby or passion into a money-making endeavor, working for yourself can be one of life's most rewarding undertakings. Moreover, you don't have to be independently wealthy to be your own boss. In fact, many businesses begin with shoestring budgets.
Consider one of these ideas you can launch for $100 or less, and get ready to start your own business.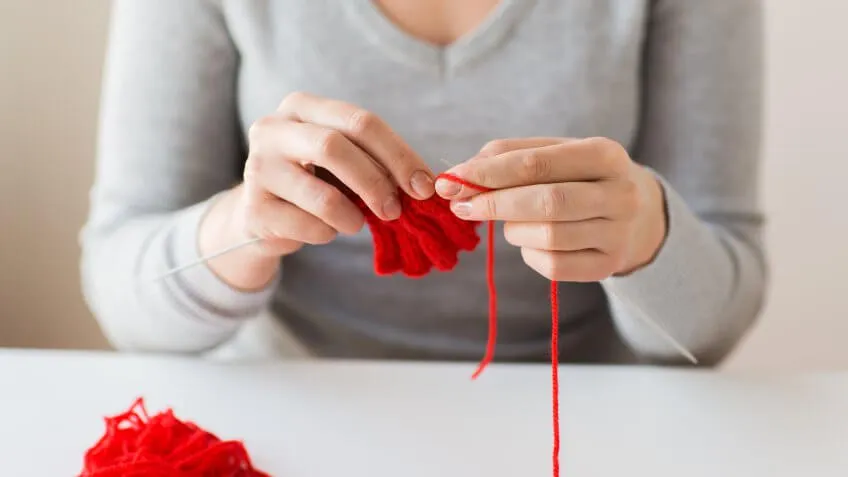 Syda Productions / Shutterstock.com
1. Start a Hand-Dyed Yarn Company
Whether you make rag-bag purses or hand-crocheted rugs, chances are good that someone is willing to pay for your creations. If you want to make some quick cash or turn your hobby into a full-time job, go into business as a crafter. For example, you can create a hand-dyed yarn company like Leann Ross did. Ross is the owner of Forbidden Woolery, where she sells yarn that she hand-dyed herself to knitters, crocheters and weavers.
"I got started through a love of knitting," she said. "My mom owned a craft store when I was little, so I learned how to knit and crochet when I was about 4 years old. It's always been a part of my life."
In about 2007, Ross picked up knitting again. As she continued to explore her passion, she discovered hand-dyed yarn and fiber for spinning. And when she saw all of the beautiful colors, she said, "I want to do that."
"I am a huge Harry Potter fan, and so, of course, the first thing I wanted to do was dye yarn and fiber in Harry Potter colors," said Ross. "So, that's what I did. I purchased a beginner's dyer kit and some spinning fiber ... and it cost me $75 for four colors of dye and three pounds of fiber."
At the end of the day, Ross said her $75 purchase provided her with 12 items she could sell. Two months after listing the products on Etsy, she made her first sale.
"After that, I started steadily making sales, and because I had a full-time job, I was able to reinvest everything that I made back into the business," she said. "And so I've just grown from there."
Ross' business became successful enough that she was able to quit her job. She now focuses on Forbidden Woolery full time. "I never thought that was going to be possible," she said.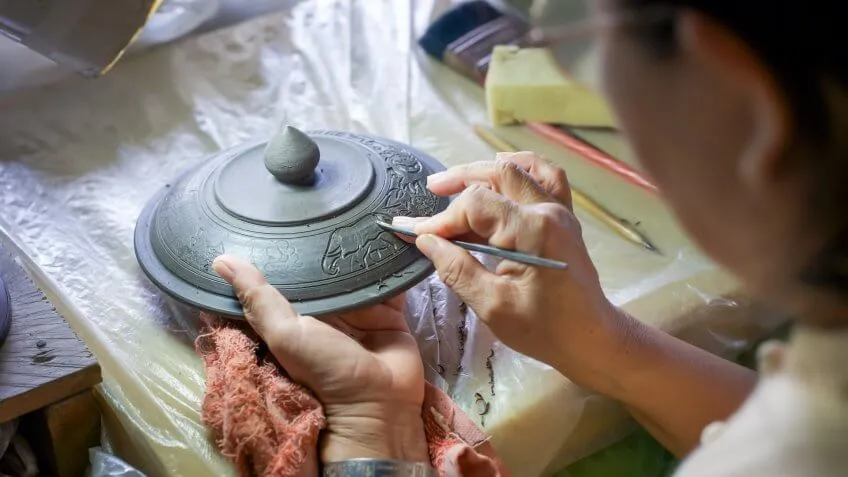 mirtmirt / Shutterstock.com
2. Sell All Types of Homemade Crafts
Perhaps you're creative and crafty, but hand-dying yarn isn't your forte. That's OK — there are still plenty of craft businesses you can start with a small budget of $100 or less. For example, your business can focus on selling:
Clothing
Accessories
Paintings, sculptures and other artwork
Pet clothing and accessories
Toys (for children and pets)
Candles
Soap
Books
And much more...
If you don't have the budget for a storefront to sell your goods, opt to list your items on a site like Etsy. For a 20-cent listing fee, your item goes on the Etsy website for up to four months. When it sells, you pay a 3.5 percent transaction fee, plus a payment processing fee of 3 percent plus 25 cents. While Etsy doesn't require sellers to have permits or licenses, expect to pay local sales tax for any item sold.
If you're making children's goods, acquaint yourself with child product safety regulations for choking hazards, flammability and lead content. Doing this helps you protect your consumers and avoid expensive lawsuits.
Related: Hidden Traps That Cause Startups to Fail — And How to Avoid Them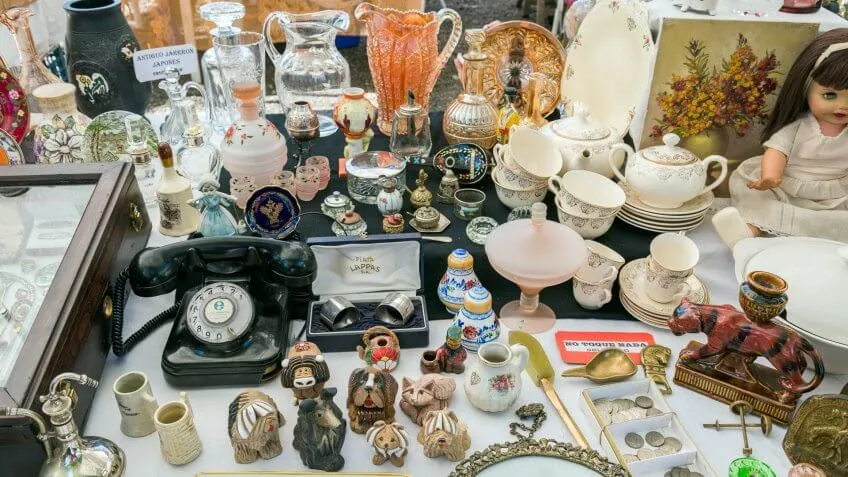 nd3000 / iStock.com
3. Sell the Estate
If you love getting organized and know a thing or two about antiques, you might want to go into the estate sale business.
Although estate sales typically occur on weekends, you'll spend most of your week researching prices, tagging items and getting the word out about your sales. Self-marketing skills are also essential, as you'll be in constant contact with potential clients, buyers and referring professionals, such as real estate agents and probate attorneys.
You must get a business license to run a professional estate sale business. Opt to purchase professional signs directing traffic to your sales for about $25 each or craft your own for less. Additionally, you can gain exposure by joining free networking groups on social media and score low-cost business ideas at one of the many Facebook estate sale liquidator groups.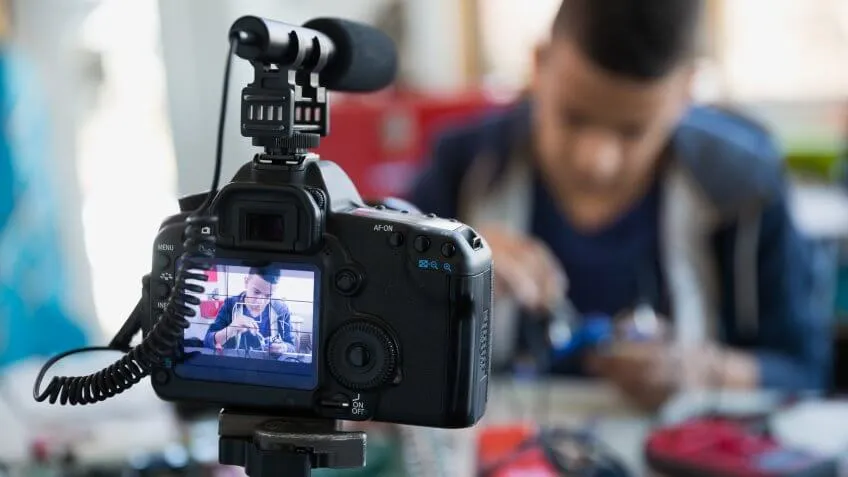 yio / Getty Images
4. Teach the World
If you have a knack for teaching others, online tutoring is a profitable business with minimal startup costs. Online tutors can set their own hours, and you might not need a teaching certificate or even a college degree to get started.
To qualify at Tutor.com, you need to be at least a college sophomore. Take proficiency tests in your desired teaching subjects to qualify. If you want to tutor finance, college statistics or economics, you will likely need to possess a degree from an American or Canadian college.
There's no fee to take the tests or register to teach. Online tutoring companies receive payments directly from students and deposit the funds into your PayPal account. Check whether the tutoring company provides liability insurance; if not, you can purchase tutoring liability insurance on your own from $22.50 per month.
Also See: How Much Teachers Make in Every State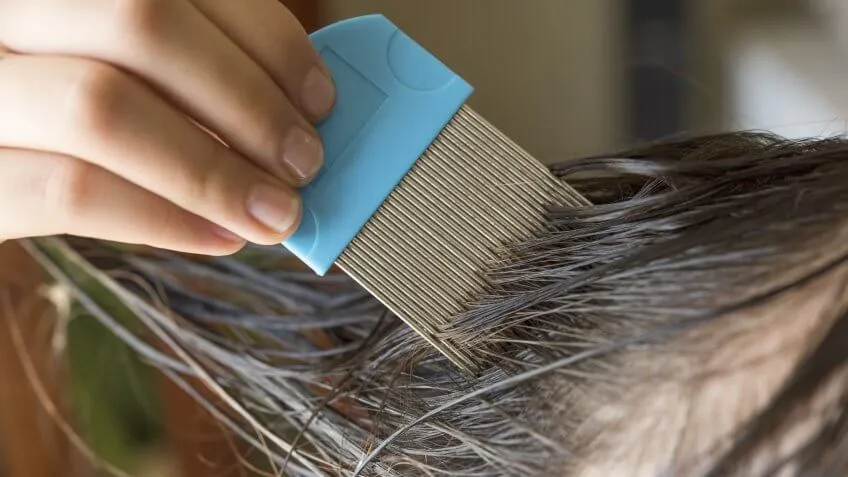 Hero Images / Getty Images
5. Be a Nitpicker
Each year, thousands of children across the country come home with lice, and parents and schools are always seeking help to deal with these pests. Clean up — literally — by examining children, educating their parents and preventing and treating lice outbreaks.
You don't need special certifications or accreditation to remove lice; however, having a medical background adds to your credibility. You can also learn the ins, outs and business hacks from free online videos available at websites such as The Lice Place and The National Pediculosis Association. You will, of course, need a license to go into business, and it pays to purchase liability insurance. The average small business owner pays around $62 per month, according to Insureon.
"Keep in mind that accidents, injuries and mistakes can happen in any field, but if you have a business in an inherently dangerous work environment, it might make more sense to have liability insurance," said Andrea Velazquez, digital marketing strategist with the marketing agency Bonafide. Naturally, having the proper licenses and insurance is especially important if you're working with children.
Check online to find out which companies in your area already offer this service. If you're in a rural region, you're probably going to be the only game in town in this fast-growing industry.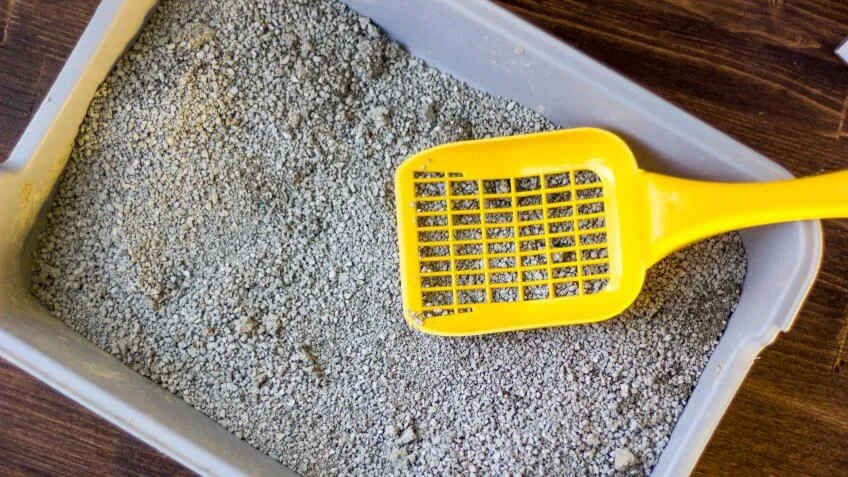 Yuko Sach / Shutterstock.com
6. Make a Doody Call
Ask any animal owner about his or her least favorite part of being a responsible pet parent, and picking up waste is sure to enter the conversation. Make bank by starting a waste removal service for the price of a plastic "apple picker," a bucket and some heavy-duty trash bags — less than $20 in all.
You'll also be helping the environment and protecting your community's health by entering this field. A gram of doggie doo can contain 23 million fecal coliform bacteria, which are known to spread diarrhea, intestinal illness and kidney disease to humans.
You don't need to spend anything on signage or advertising to get started in this industry. Just let the neighbors know about your services and post on local community buy-sell-trade pages on Facebook. And don't limit yourself to dogs — people with horses and cats don't like scooping poo either.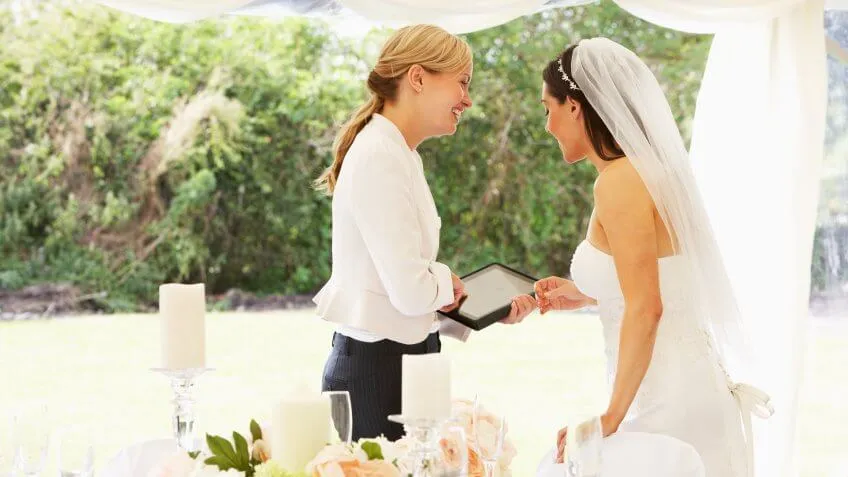 omgimages / iStock.com
7. Become an Event Planner
Do you have a knack for putting on events, such as birthdays, bridal and baby showers, graduation parties or even weddings? If you love throwing parties, have great communication skills and can multitask like a pro, perhaps you should look into starting an event planning business.
But before you jump in, do your diligent research. Start thinking about possible vendors you'd want to work with, reach out to potential clients and customers, and spend adequate time developing a strong business and marketing plan.
Also, look up certifications you might want to consider getting. You can find various event planning classes and courses online, and some of them cost well over $100 — especially if you take courses at a college or university. However, if the first step toward launching your business is finding an event planning class for $100 or less, there are deals to be found. For example, Groupon might feature deals on event planning courses or classes in your city.
Next Up: 45 Ways to Make More Money in 2017
Sydney Champion contributed to the reporting for this article.