How Much Do NFL Cheerleaders Make?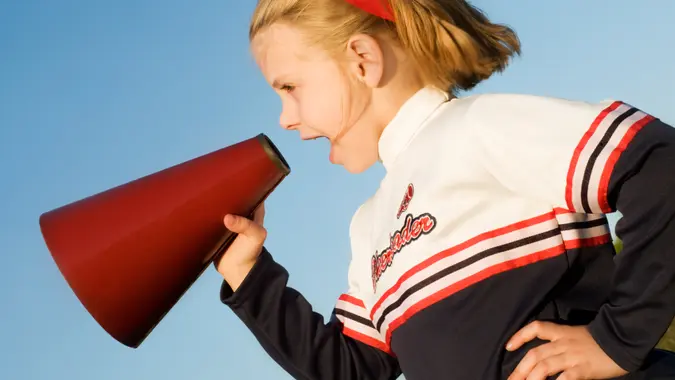 nautilus_shell_studios / Getty Images/iStockphoto
The NFL has some of the most valuable sports franchises in the world, raking in billions of dollars per year. But, how much do NFL cheerleaders make? Unfortunately, NFL cheerleaders don't make nearly as much as NFL players. 
According to different media sources, NFL cheerleaders typically earn an annual average salary of about $22,500. That averages to about $150 per game and between $50 and $75 per public appearance. However, professional cheerleaders can earn more or less depending on several factors. Continue reading to learn more.
What Exactly Do NFL Cheerleaders Do?
In addition to cheering at games, NFL cheerleaders perform several other duties to earn their pay. Here are some of their responsibilities:
Volunteer at charity events, hospitals, schools and fundraisers
Promote NFL franchise brands on social media
Choreograph and practice weekly dance routines and cheerleading stunts
Sell game tickets
Maintain a required level of physical fitness
Support the team in meetings and at special events
Make Your Money Work Better for You
Is NFL Cheerleading a Full-Time Job?
NFL cheerleading is not a full time job. Depending on the level of competition, some NFL cheerleaders might travel with the team for every game during the season, while others may only be required to attend one or two games per week.
What Are the Requirements To Become an NFL Cheerleader?
Demands vary from team to team, but here are a few common job requirements for NFL cheerleaders:
Have at least a high school diploma or equivalent
Audition for an NFL team
Attend an NFL team's training program
NFL cheerleader training can run from a few weeks to a few months. Selected cheerleaders attend dance, gymnastics and tumbling classes and learn the history of their team, the franchise's values and their role as a cheerleader.
What Skills Are Needed To Become a Successful NFL Cheerleader?
NFL cheerleaders work year-round and need to maintain their skills to successfully compete in the sport. This requires hard work throughout the year and not just during football season. Here are some of the skills required for a successful NFL cheerleader career:
Communicate effectively to a large audience
Work with, lead and motivate teammates
Organize and keep track of practice times, schedules, uniforms and other equipment
Make Your Money Work Better for You
How Much Do Pro Cheerleaders Make in the NFL?
How much NFL professional cheerleaders make depends on their experience level, where they live and which team they cheer for. The annual median salary for NFL professional cheerleaders is $52,570, which is $25.27 per hour. The top 10 percent of NFL professional cheerleaders earn $124,000 annually or $59.62 per hour. 
How Can NFL Cheerleaders Make Extra Money?
NFL cheerleaders can earn higher salaries based on their experience. They can also earn bonus money from playoff games and for performing at the Super Bowl. However, when they miss games, professional cheerleaders can lose money. If they miss games due to injury or for other reasons, supporting cheerleaders are called in to replace them.
Where Can NFL Cheerleaders Make the Most Money?
NFL cheerleaders who work for popular franchises, such as the Dallas Cowboys and Carolina Panthers, can earn as much as $500 per game. This equals about $15 to $20 per hour and an annual salary of about $75,000. 
Since NFL cheerleaders are independent contractors, franchises are not obligated to pay them salaries that align with states' minimum wage requirements. At one time, some NFL cheerleaders reportedly earned as little as $5 per hour. As a result, in 2021, cheerleaders filed several lawsuits against NFL teams for wage theft. Some of these lawsuits included other claims such as sexual harassment and unsafe working conditions. 
Make Your Money Work Better for You
Cheerleader Salaries Compared To Other NFL Professionals
NFL cheerleaders share the field with other participants besides the players. Here's an annual salary comparison of cheerleaders to others in the NFL:
Cheerleaders: $22,500
Water boys: $53,000
Mascots: $25,000
Quarterbacks: $7 million
Wide receivers: $2.8 million
Head coaches: $6.7 million
Referees: $205,000
Final Take
NFL cheerleaders are independent contractors who are continuously fighting for higher wages. The NFL is increasingly attracting more fans which could also increase the demand for more professional cheerleaders to pump up game crowds. NFL cheerleaders devote a lot of time and energy supporting their teams, so it's disappointing how little they earn compared to the players, considering the worth of NFL franchises.
Information is accurate as of Nov. 11, 2022. 
Our in-house research team and on-site financial experts work together to create content that's accurate, impartial, and up to date. We fact-check every single statistic, quote and fact using trusted primary resources to make sure the information we provide is correct. You can learn more about GOBankingRates' processes and standards in our editorial policy.
Make Your Money Work Better for You