How To Make $100K a Year if You're Self-Employed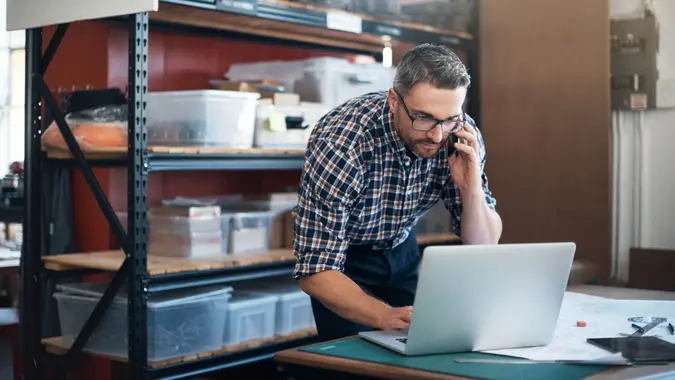 shapecharge / iStock.com
According to the Federal Reserve Bank of St. Louis, 11% of America's 157 million employed people work for themselves in 2022. The Great Recession triggered a steep decline in the self-employed share of the labor force, but the COVID crisis did not bring the same result. In fact, the self-employed population ticked up by 0.4 percentage points between February and August 2020, and the trend toward people working for themselves has only gained more steam since then.
Retirement at Any Age: Get Retirement Tips That Fit Every Stage of Life
The Future of Finances: Gen Z & How They Relate to Money
There was a time when the freedom of self-employment came with the tradeoff of lower pay. Not anymore. According to PayScale, the average self-employed person earns $63,059 a year. ZipRecruiter and Zippia estimate the average as being even higher — $81,991 and $84,305, respectively.
Compared to the national average, those are good salaries. But if good isn't good enough, you might be asking the question: how can I make $100K for myself?
Make Your Money Work Better for You
The answer depends, but your chances of success have a lot to do with the field you choose. The following lines of work earn an average of $100,000 or more per year and lend themselves well to self-employment. As an added benefit, those who master them can apply their skills to just about any industry or field.
Business Consulting
According to PayScale, the average self-employed business consultant earns $100,000 per year exactly. Good business consultants are paid well because they're skilled in solving and preventing problems, both of which can save their clients money and strengthen their businesses.
Companies typically hire business consultants during the early start-up phases to help them gain traction in those crucial early days, but businesses also seek the services of consultants during times of upheaval or transition. Examples include hiring consultants to make things go smoothly when they're changing management, adopting new technologies or merging with another company.
Business consultants are typically experts in specific industries, like hospitality or engineering, but some have skills-related specialties that can apply to many fields, like management or downsizing.
Make Your Money Work Better for You
Information Technology Security
In the modern age, every company is a technology company. Some businesses have the means and the need to keep an in-house IT security specialist on staff. Others, however, hire self-employed professionals on a contract basis to monitor, secure, test and analyze their information systems or to respond to a specific threat or attack.
Take Our Poll: Have You Ever Lost Wealth Due to a Natural Disaster?
According to the Bureau of Labor Statistics (BLS), the median pay for an information security analyst is $102,600. Like business consultants, cybersecurity professionals have the benefit of working in many different fields across nearly all industries, although some industries pay better than others.
The BLS says the highest-paying sectors for IT security pros include waste management and remediation, computer services, information services, computer and peripheral equipment manufacturing, securities and financial investment services and the motion picture and video industries.
User Experience Research
Most user experience (UX) researchers have a bachelor's degree and some have a master's, but they all have the same general mission. UX researchers gather and analyze data-driven insight into the experience that users have with digital products and services. Their goal is to help their clients find ways to improve, streamline or expand their offerings in a way that benefits their customers.
Make Your Money Work Better for You
UX researchers pass their findings off to UX designers, who then use their insights to design, implement and change products and services in a way that adds value to the people and businesses they serve. According to Indeed, the average salary for a UX researcher is $111,586.
This occupation has a high potential for self-employment for the same reasons as the previous two. Some businesses have the need and the means to hire full-time UX researchers, but many only require their services occasionally on a contract basis.
Web Development
According to Salary.com, the average senior web developer earns $104,697 a year. Like all the other occupations profiled here, the work lends itself to self-employment because many businesses need skilled web developers, but only intermittently on a contract basis and not as full-time employees.
Virtually every business in every industry needs a website, which means there's high demand for the professionals who design, create and maintain them. Companies might hire advanced web designers to build new websites or to improve the performance and functionality of existing ones.
Web development has many different subfields, too. For example, back-end web developers deal with technical construction, front-end developers are responsible for how a website looks, interface designers create the tools people use to navigate websites and web admins maintain and update websites.
To earn six figures in the field as a self-employed senior web developer, you'll have to be proficient in all aspects and ready to manage a team of specialists.
More From GOBankingRates
Make Your Money Work Better for You