I Help People Land Six-Figure Jobs: Here Are 10 Dos and Don'ts for Getting One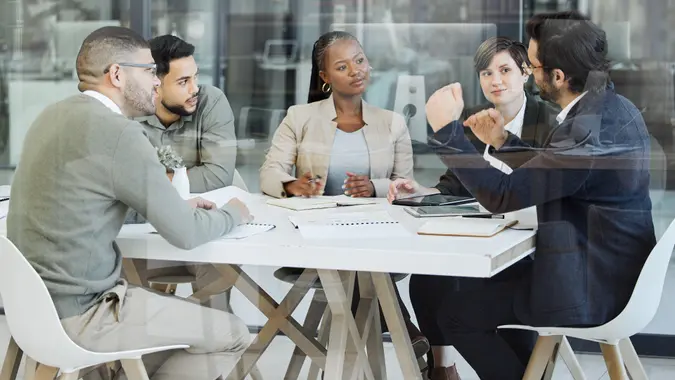 PeopleImages / iStock.com
If you're looking to evolve your career and make that next step from a five-figure job to a six-figure career, you may be wondering where to begin. To help you set off on this process, GOBankingRates contacted experts who work with people to get them high-paying roles.
Side Gig: Earn Up To $200/Hour With This Easy-To-Start Job, No College Degree RequiredLearn: How To Build Your Savings From Scratch
Here's a list of 10 dos and 10 don'ts in your quest to land a six-figure job, based on their insights.
The Dos
Define Your Career Goals
What are you looking for? What do you want and what do you need? Know this for yourself before you set out on your six-figure job hunt. 
"Clearly articulate your desired industry, role and long-term objectives," said Ujwal Surampalli, founder of InterviewBuddy, which offers 1:1 interview prep services for candidates across a range of experience levels and industries. "This clarity will guide your job search strategy and help you focus on opportunities aligned with your goals.
Focus on Your Impact
We all know the importance of a clear, sparkling resume. But when seeking a high-paying job, it's critical to present a resume that not only highlights your abilities, but also showcases the impact you've made in past roles. 
"Roles that pay six figures expect people who can communicate the impact of their prior work," said Brian Pulliam, the founder of Refactor Coaching, a career coaching practice focused on helping tech people achieve their job offer, promotion and career clarity goals. "If your resume isn't focused on impact, it will work against you."
Make Your Money Work Better for You
Cultivate a Strong Professional Network
Yes, it's time to get reacquainted with LinkedIn! It's also time to "attend industry events, join relevant online communities and establish connections with professionals in your target field," said Surampalli. "Networking can provide valuable insights, referrals, and access to hidden job opportunities." 
Develop a Compelling Personal Brand
In addition to crafting a clean resume and boosting your networking efforts, you should also "create a cohesive online presence that showcases your expertise and unique value proposition," said Surampalli.  
Polish Your Online Presence
It's not just your friends and family scoping out your social media; it's also, possibly, your future employer. 
"Review and enhance your social media profiles to align with a professional image," Surampalli said. "Employers often research candidates online, so ensure your digital footprint portrays you in a positive and professional light."
Showcase Your Accomplishments
During interviews, highlight your past achievements and emphasize the value you brought to past jobs. "Use specific examples to demonstrate your ability to deliver results and solve problems effectively," Surampalli said. 
Understand Exactly What Your Prospective Boss Wants 
Job descriptions give insight into the basics of what a hiring manager is seeking, but you need to ask questions directly from your prospective boss in order to meet their vision precisesly. 
"During the interview, make sure to ask questions that uncover the specific needs and expectations of the role," said Marc Cenedella, the founder of the job site TheLadders, which provides only high-paying job listings. "This will help you determine if you're the right fit and demonstrate your interest in aligning with the company's goals."
Make Your Money Work Better for You
Ask What the Company Considers Most Important for Success in the Role
"When setting up the interview, inquire about the three most critical factors for success," Cenedella said. "By understanding these priorities, you can tailor your interview responses to highlight your qualifications in those areas."
Invest in Continuous Learning
It's never too late to continue to learn and evolve your skill set. 
"Demonstrate a growth mindset by staying updated with industry developments and acquiring new skills," Surampalli said. "Seek out relevant training programs, certifications or workshops to enhance your professional profile."
Follow Up Professionally
After an interview, always send a personalized thank you email to the interviewer(s). 
"Reiterate your appreciation for the opportunity, mention key points discussed and reaffirm your interest in the position," Surampalli said. "This gesture shows your professionalism and enthusiasm for the role."
The Don'ts
And just as there are 10 things you should do in your pursuit of a six-figure job, there are 10 things you should never do. 
Don't Rely Solely on Online Applications
"While online applications are convenient, supplement your job search with networking and direct outreach," Surampalli said. "Cultivate relationships with professionals in your industry and proactively seek out opportunities through referrals and informational sessions."
Don't Overlook the Power of Soft Skills
Technical expertise is certainly valuable, but you should also take time to focus on the other ways in which you shine. 
"Highlight your soft skills such as communication, leadership and adaptability," Surampalli said. "Demonstrate how these skills contribute to your ability to excel in senior positions."
Make Your Money Work Better for You
Don't Underestimate the Importance of a Cultural Fit
You may want a six-figure job, but do you really want the job this particular company is offering? Consider that they may not be the right match for you in ways aside from pay. 
"Evaluate the company's values, work environment and culture to ensure they align with your own," Surampalli said. "A strong cultural fit enhances job satisfaction and long-term success."
Don't Discount Internships or Volunteer Work
Sometimes you need to put in a little extra work to get that higher-paying position. 
"If transitioning into a new industry or seeking to gain experience, consider internships or volunteer positions," Surampalli said. "These opportunities can provide valuable hands-on experience, skill development and networking connections."
Don't Burn Bridges
If you feel like you're about to close on a job that pays you more than your current one, be careful not to go out in a blaze of glory in your present job. 
"Maintain professionalism throughout the job search process, regardless of rejections or challenges," Surampalli said. "Treat everyone you interact with, from recruiters to interviewers, with respect and gratitude. Your reputation matters and positive relationships can open doors in the future."
Don't Embellish or Misrepresent Yourself
Be honest about your skills and experiences when applying and interviewing for new high-paying roles. "Misrepresenting yourself can have serious consequences for your professional reputation and jeopardize your chances of landing a six-figure job," Surampalli said. 
Make Your Money Work Better for You
Don't Neglect Self-Care
Job searching can be demanding. It's extra important to take care of yourself, body and mind. 
"Maintain a healthy work-life balance, seek support from friends and family and engage in activities that recharge you," Surampalli said. 
Don't Fail To Negotiate
Research and prepare for salary negotiations when looking for even a very high-paying job. 
"Understand your market value and be ready to advocate for fair compensation based on your qualifications and the value you bring to the organization," Surampalli said. 
Don't Forget the Big Picture
Many companies will cover six figure packages — even if they won't cover six-figure salaries. 
"Remember that bonus plans, performance bonuses [and] negotiating a six month review to get a raise are all topics to discuss once you get an offer," said Pulliam.
Don't Give Up
Job searches can be tiring and long. "Stay persistent, motivated and focused on your goals," said Surampalli. "Learn from rejections or setbacks, make necessary adjustments, and maintain a positive mindset as you navigate the process."
Ultimately, snagging a job that pays six-figures requires a multilayered strategy. But you got this!
"By understanding the needs of the hiring firm, presenting your achievements effectively and tailoring your resume and interview responses to highlight your qualifications, you can increase your chances of success," said Cenedella. "Good luck with your job search!"
More From GOBankingRates
Make Your Money Work Better for You