8 Industries Where a Six-Figure Salary Will Make You Happy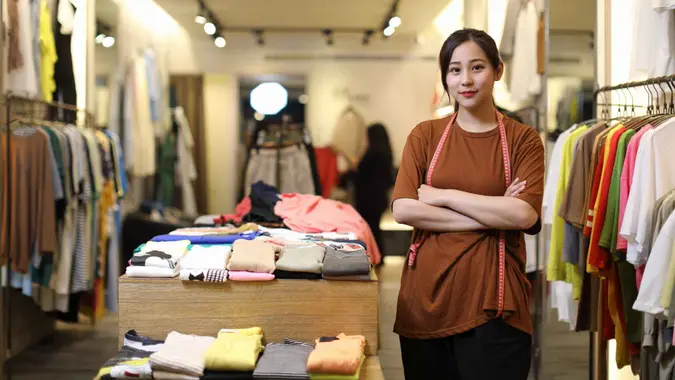 bernie_photo / Getty Images
Does money buy happiness, as the saying goes? An old study from 2010 found that once you reach annual earnings of $75,000, money doesn't make you that much happier.
Inflation, a pandemic, and rising housing costs may have changed that number since 13 years ago. Moneyzine.com recently surveyed 1,200 Americans to see if they are happy with their income. For eight professions polled, it takes at least six figures to be happy. Four other professions come in over the $75,000 mark, while most hover close to it.
According to the survey, janitors require the least amount of money to be happy. Based on the survey, janitors would be happy with a salary of just $57,600, but are only making an average of $28,950, according to the Bureau of Labor Statistics.
What professions would be happy with six figures but generally still need to earn it?
Retail
Retail workers show the biggest gap between what they earn and what they want to make to be happy. There is a 407% difference, according to the Moneyzine.com survey. It would take an annual salary of $106,815 for most retail workers to happily put up with angry customers, unreasonable demands, store clean-up, and whiny or crying children.
A district manager in a city with a high cost of living, such as Washington, DC, earns between $113,000 and $190,000 per year. But that job comes with a whole different set of challenges.
Customer Service
Customer service representatives, like retail workers, would require exponential raises to be happy. According to the survey, they want 294% more than they are making now. Customer service reps already make slightly more than retail workers, earning an average of $35,830. But they say they need $105,417 to be happy.
Make Your Money Work Better for You
Creatives
Individuals in creative industries such as art, graphic design and writing say an income of $119,737 would make them happy. Unfortunately, the average income for the industry is just $56,203, or 213% less than their ideal income.
For creatives looking to make more money, seeking outside income with freelance gigs might be a good idea. Creative fields should be inherently rewarding, but paying the bills in most parts of the country on less than $5,000 per month is hard.
Educator
Very few people would debate the importance of teachers for our children's future. But, in most parts of the country, educators aren't paid nearly what they need to be happy, much less earn a living wage. In 12 states, the living wage is less than the average teacher's salary of $62,870, according to a GOBankingRates report. Educators said they would like to earn $117,842 to be happy.
Business Professional
Business professionals also feel they are underpaid, according to the survey. They said a salary of $122,608 would make them happy, but they only earn an average of $73,560.
Healthcare
During the pandemic, few professionals suffered more than healthcare workers. Besides the constant threat of illness, they also had to deal with over-filled hospitals, family members who couldn't see their loved ones who were sick or dying, and long hours due to colleagues calling out sick.
It's no wonder healthcare workers said they need $107,179 to be happy. The average salary is only $75,330, a 142% difference.
IT Professional
IT professionals already earn six figures, on average, according to BLS data. But it's not enough to keep them happy. The average IT professional earns $110,140 but told MoneyZine.com they'd need $122,805 to be happy.
Make Your Money Work Better for You
Specialized Professional
Here's some good news. If you are a professional in a specialized field, you are already making more than enough money to be happy. According to the survey, specialized professionals need just $105,816 (less than retail workers!) to be happy but make, on average, $125,375.
Bottom Line
If you want to be satisfied with your salary, enter a professional, in-demand field. You might even find that you're making enough to pay the bills and be happy with your life and career choice.
More From GOBankingRates