Is the Quiet Quitting Trend Over?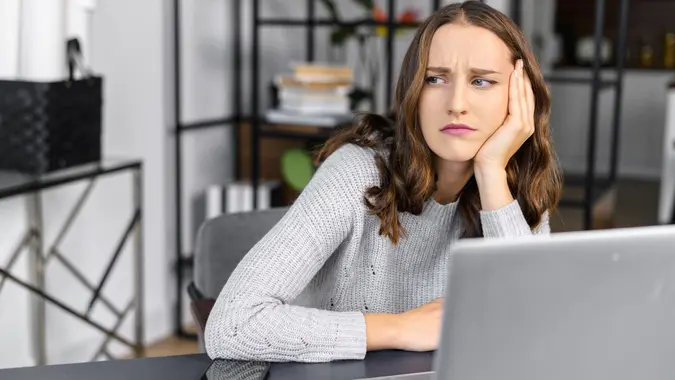 Vadym Pastukh / iStock.com
Last year, a new workplace buzzword became all the rage: quiet quitting. In short, quiet quitting means doing the sheer minimum the job requires, usually with the goal of achieving true work-life balance. It's sort of the reverse of hustle culture, and evidently Americans aren't too fond of it. 
Check Out: Here's How Much Americans Have in Their Savings Accounts in 2023
See: 4 Reasons You Should Cancel Amazon Prime
According to a poll by GOBankingRates, which asked the question, "Do you believe in quiet quitting?" and garnered over 9,600 responses, 56% replied, "No, I do more than the basics"; 21% replied, "I am not sure"; 10% checked off, "I have long done that"; 7% said, "Yes, I just started quiet quitting" and 6% responded, "Yes, but I don't do it myself." 
With the vast majority of respondents indicating that they don't believe in quiet quitting and that they always go above and beyond at their job, one may wonder: Is the quiet quitting trend mostly over? If so, why, and what are we headed for next? 
See four better options for 2023.
Goodbye Quiet Quitting; Hello 'Loud Staying' 
The term "quiet quitting" took off back in summer 2022, before we started to see mass layoffs happening across job sectors. We were still, in many ways, riding out the halcyon days of the Great Resignation. Things have changed. A recession is likely on the way soon and employees are feeling more anxious about job security. This could be causing a shift away from quiet quitting and into "loud staying." 
Make Your Money Work Better for You
Take Our Poll: Do You Believe in Quiet Quitting?
"Ultimately I think the next phase is 'loud staying,'" said Sara Causey, owner of Causey Consulting, LLC. "I was alive and well during the Great Recession and whatever you needed to do to keep your job, you did it. If that involved staying late or working on projects you loathed, you did it. At that time, I was working for a company where people called and walked in on a daily basis looking for work but there was nothing to offer them. If we see unemployment tick up — which I believe we will — people will not only settle in at work but will become overt about wanting to stay."
Companies Also Might Be Making Improvements To Retain Employees  
Perhaps not everything falls on the employee's actions. Kimberley Tyler-Smith, an executive at the career tech platform Resume Worded, believes companies are stepping up amid the quiet quitting revolution and bettering their acts, leading to the movement's end. 
"Companies are becoming more aware of the importance of employee wellbeing and are offering benefits and programs to support their physical and mental health," Tyler-Smith said. 
Tyler-Smith also observes positive changes in workplace culture and emerging growth opportunities. 
Make Your Money Work Better for You
"The workplace culture is shifting towards one that values and supports employees, reducing the stigma of asking for help or advocating for one's needs," Tyler-Smith said. "This can create a more positive work environment and reduce the motivation for quiet quitting.
"Companies are investing in their employees' development and providing opportunities for advancement and growth. This can increase job satisfaction and reduce the motivation for quiet quitting."
Finally, Tyler-Smith sees improved work-life balance at various companies as more offer "flexible schedules and remote work options to support their employees."
Did Quiet Quitting Ever Really Exist? 
As the debate for whether quiet quitting is still "a thing" burns on, one may ask, "Did it ever really exist?" Some argue that it didn't. 
"Quiet quitting never really existed to begin with, as this idea that 'people don't want to work' has persisted for decades and pops up in the news cycle every so often," said Walter Sabrin, SVP of Recruiting Services for Vensure Employer Services. "Like quiet firing, it may happen but it simply isn't commonplace." 
Make Your Money Work Better for You
What quiet quitting actually is, Sabrin suggests, is employee disengagement, which according to a recent Gallup survey, is at a nine-year high. 
"What we are seeing in the industry is that workers are less engaged in the workplace, which can feel like quiet quitting, especially with the rise of remote work and hybrid work models where you can't physically see employees at their desks and responsiveness may be a bit slower than managers are used to seeing," Sabrin said. "And that's OK. But what it means is that business and HR leaders need to review their employee engagement and training programs to ensure they have solutions in place to communicate with employees where they are in a meaningful way."
More From GOBankingRates
Make Your Money Work Better for You