10 Low-Stress High-Paying Jobs: Earn at Least $100,000 a Year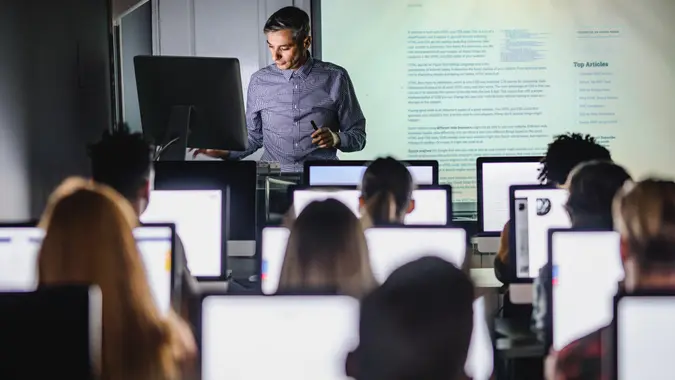 skynesher / Getty Images
The ratio of high-stress jobs that don't pay you nearly enough is unfortunately higher than it should be. When the goal is to aim for the opposite and find low-stress jobs that pay you a well above-average annual salary, you need to do some research as to what fields out there best fit your skillset and your idea of a positive work environment. 
Earn Up To $200/Hour With This Easy-To-Start Job, No College Degree Required

What Jobs Are Low Stress but Pay Well?
The following professions have a median salary of at least $100,000 or more, according to the most recent numbers from the Bureau of Labor Statistics, and offer a low-stress worklife overall:
Junior College Professor
Art Director
Economist
Mathematician
Actuary
Optometrist
Computer Hardware Engineer
Computer Information and Research Scientist
Dentist
Orthodontist
There are a variety of jobs in fields such as business and healthcare that are reported to be less prone to stressful situations. Though most workplaces come with some level of stress — you will have to accept feedback and deal calmly with both the good and bad it throws at you — it doesn't mean you have to settle for less than you are worth.
1. Junior College Professor
Median Annual Salary: $123,000
Post-secondary teachers tend to enjoy flexible schedules and are usually required to hold a Ph.D. or graduate degree. While some must teach classes at night or on weekends, which may not be ideal for everyone, these professionals generally find their jobs rewarding and appreciate the opportunity to share their expertise with students who are typically fresh out of high school.
Make Your Money Work Better for You
In addition to teaching, university professors advise students and conduct research in their fields. 
2. Art Director
Median Annual Salary: $100,890
Art directors have the potential to earn impressive paychecks. Responsible for overseeing the style and image choices for publications, movies and television, art directors also can find lucrative jobs at advertising and publishing companies.
Art directors do have to meet deadlines, which means working overtime on occasion, even when self-employed. The art directors who work for themselves can create their own hours, a fact that helps them achieve a better work-life balance. To pursue this career, you'll need some prior work experience and a bachelor's degree in art or design.
3. Economist
Median Annual Salary: $105,630
Economists spend their time studying the production and distribution of resources, goods and services. Economists work in both the private and public sector, with federal, state and local governments in need of their expertise.
A bachelor's degree is sufficient for some entry-level positions, but most economist jobs require a master's degree or even a Ph.D.
4. Mathematician
Median Annual Salary: $108,100
Mathematicians utilize techniques to solve problems in business, engineering and other fields. It should be noted that mathematicians enjoy a variety of professional opportunities.
To qualify for a mathematics position, you'll need at least a bachelor's degree in math. Some positions require further education.
5. Actuary
Median Annual Salary: $105,900
An actuary analyzes the financial costs of risks taken by businesses and clients. However, pursuing a career as an actuary involves little risk and plenty of rewards. South Dakota State University touts the profession for its "high pay, low stress, good job security" and contribution to solving important problems.
Make Your Money Work Better for You
Actuaries commonly hold bachelor's degrees in math or related analytical fields. Additional certification is needed to achieve full professional status.
6. Optometrist
Median Annual Salary: $124,300
Optometrists diagnose and treat patients' vision issues. While an aspiring optometrist needs to spend eight years completing first a bachelor's degree and then a doctor of optometry program, the payoff is a generous salary and high job satisfaction with lots of job security, too.
However, even with flexible hours, some optometrists do choose to see patients in the evenings or on weekends. All states require optometrists to have an O.D. degree from an accredited school and pass at least one test before they will be granted a license.
7. Computer Hardware Engineer
Median Annual Salary: $128,170
If you are tech-savvy and want the potential to earn a six-figure salary, you might consider a career as a computer hardware engineer. These professionals research problems, design systems, create solutions and run tests on computers, processors, routers and memory devices.
Many computer hardware engineers work for high-tech manufacturing firms. A viable candidate should hold a bachelor's degree in computer engineering from an accredited program, but employers often expect knowledge of computer programming.
8. Computer and Information Research Scientist
Median Annual Salary: $131,490
Computer and information research scientists regularly earn more than six figures, and moreover, these experts are in high demand in a variety of fields, including business, medicine and science. Computer and information research scientists are responsible for identifying issues and creating technologies to address them. 
Make Your Money Work Better for You
A significant percentage of jobs in the field are in the federal government. Those looking to enter the field might need to invest more time upfront, as many positions require an advanced degree, such as a master's or Ph.D.
9. Dentist
Median Annual Salary: $163,220
If you don't mind looking at teeth for a living, a career as a dentist could provide you with both monetary rewards and flexibility. Full-time dentists typically work 36-hour weeks in their practices. And because dentists are often self-employed, they get to make their own schedules.
Still, the road to becoming a dentist is a long one. You'll have to attend dental school and pass exams, as well as secure a state license.
10. Orthodontist
Median Annual Salary: $216,320
Orthodontists improve both the appearance and function of teeth. To become one, you'll need to earn a bachelor's degree, attend dental school for four years and complete a residency program. 
After all that education, you can relax in a career known for its low-stress levels and high pay. In fact, U.S. News & World Report found that the job offers great flexibility and below-average stress.
Final Take To GO
Whether or not you already specialize in certain areas or need to develop a skill set through higher education, there is no limit to what you can do, and more importantly what you can get paid for doing it. If you are unhappy with your current work environment — or trying to decide which career you should pursue after school — don't settle for years in a job that doesn't serve you well, mentally or financially.
Make Your Money Work Better for You
FAQ
Here are some answers to frequently asked questions about low-stress and high-paying jobs.
What jobs are low-stress but pay well?

A few examples of low-stress jobs that pay well are:

- Junior College Professor
- Art Director
- Economist
- Mathematician
- Actuary

What is the best-paying job with the least amount of stress?

One of the best-paying jobs with the least amount of stress is orthodontics. The average annual salary for an orthodontist is around $216,320.
Though you do have to pursue higher education and complete a residency program to work in this profession, the hours are flexible, the pay is good and the stress levels are low.
Caitlyn Moorhead contributed to the reporting for this article.
Information is accurate as of May 26, 2023.
Our in-house research team and on-site financial experts work together to create content that's accurate, impartial, and up to date. We fact-check every single statistic, quote and fact using trusted primary resources to make sure the information we provide is correct. You can learn more about GOBankingRates' processes and standards in our editorial policy.