Minimum Wage in Georgia for August 2022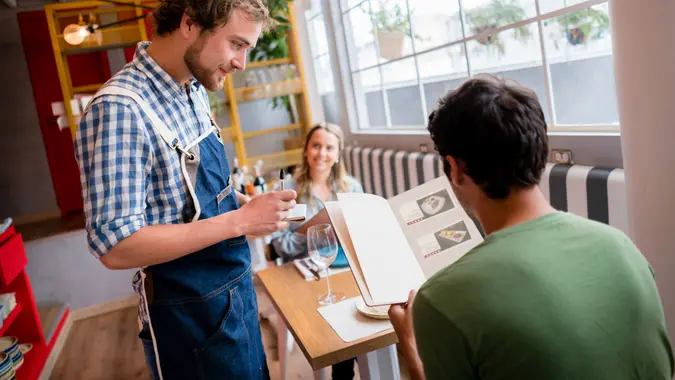 andresr / iStock.com
In the United States, minimum wage laws are set at the state and federal level. Although the federal minimum wage has remained at $7.25 since 2009, many states have increased their own minimum wage levels to supersede the national figure. In California, for example, the state's $15-an-hour minimum applies to employers of 26 or more workers in 2022, and to all workers in 2023.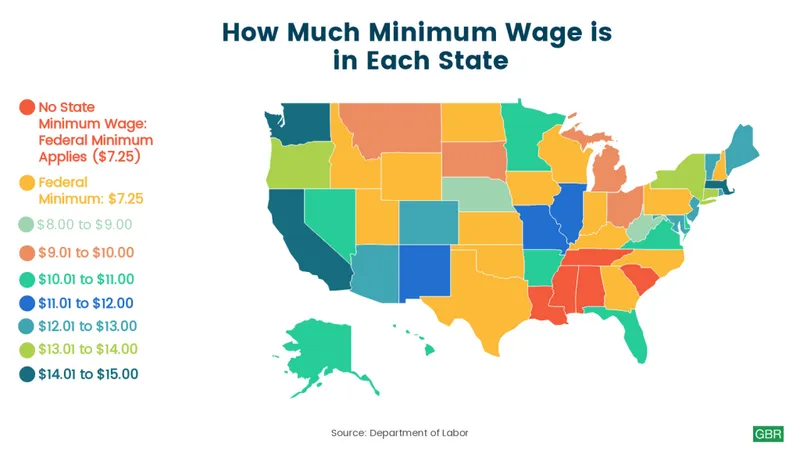 Some states raise their minimum wage according to an price index correlated to the cost of living. Others, like Georgia, set minimum wage levels through legislation or the use of ballot initiatives submitted to voters.
Minimum Wage in Georgia 2022
So what is the minimum wage in Georgia? By state law, it's $5.15 per hour — the lowest minimum wage in the country and a rate Georgia shares only with Wyoming. However, according to the Georgia Department of Labor, in most employment situations Georgia workers earn at least the minimum federal rate of $7.25 an hour.  
Make Your Money Work Better for You
Georgia may have the lowest state minimum wage, but lower rates are not uncommon among states in the southeastern region of the country. The five states with no state minimum wage at all — Alabama, Louisiana, Mississippi, South Carolina and Tennessee — are close southern neighbors of Georgia. 
Exceptions to Georgia's Minimum Wage
State law applies the federal minimum rate to all employers in Georgia subject to the Fair Labor Standards Act. This federal labor law sets out guidelines for employers, who may be exempt from the FLSA depending on the size or type of the business they're in. The FLSA dates back to the 1930s and was the original law to set a federal minimum wage in 1938, which at the time was 25 cents an hour. 
In Georgia, there are some exceptions to the federal minimum wage rate of $7.25. A special "training rate" applies to new employees under the age of 20, who can be paid $4.25 an hour for their first 90 days. Full time students in high school or college who work 20 hours or less per week can be paid $6.16, or 85% of the standard minimum wage, if their job fits a work-study program or other specified situations. 
Tipped employees in Georgia — typically restaurant workers — are subject to a minimum rate of $2.13 per hour. If an employer pays this rate, however, it must add a tip credit to make up the difference between the lower rate and the $7.25 federal minimum. This means that the sum of wages and tips, in a tipped employee situation, must reach at least the federal minimum wage level. 
Make Your Money Work Better for You
The Future of the Minimum Wage
The cost of living has risen quite a bit since 2009, and the federal minimum wage hasn't kept up with the cost of utilities, rents, groceries and other essentials. There has been some movement on the minimum wage front since the start of the COVID-19 pandemic in 2020, however. The pandemic created a shortage of workers and many low-wage occupations experienced worker shortages.
The U.S. House of Representatives passed a bill raising the federal minimum wage to $15 by 2025. Although the bill has not been passed by the Senate or signed into law, the federal government itself has taken the lead. In January 2022, the government implemented a $15 minimum for its employees. This action affected about 70,000 workers, most of them part of the Defense Department.
Takeaway
Conflicting state and federal laws on minimum wage can be confusing, and many employees may not know their legal rights. The same goes for employers, who must navigate a complex set of laws governing not just wages but also hours, working conditions, health insurance, vacation and family leave benefits.
To learn more about federal guidelines, workers can navigate to the Wage and Hour Division of the Federal Department of Labor. For employees in the state of Georgia, the Georgia Department of Labor provides links from its home page to information on a wide variety of federal and state laws, including a page dedicated to the Georgia minimum wage.
Make Your Money Work Better for You
Georgia employees facing issues of wages or working conditions on the job have many other information sources and advocates available. Georgia Injured Workers' Advocates, for example, is an association of attorneys dedicated to assisting workers hurt or made ill on the job. NELA Georgia is a state branch of a National Employment Lawyers Association, with a website offering a directory of attorneys specializing in discrimination, workers' compensation and other employment issues.
Information is accurate as of Sept. 6, 2022.
Our in-house research team and on-site financial experts work together to create content that's accurate, impartial, and up to date. We fact-check every single statistic, quote and fact using trusted primary resources to make sure the information we provide is correct. You can learn more about GOBankingRates' processes and standards in our editorial policy.
Make Your Money Work Better for You